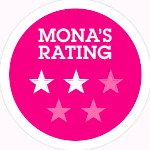 Advantages of having hubby in close proximity: cuddles; sharing of insider jokes and making yourself understood with the slight uplifting of an eyebrow while in public; the smell of gorgeous home-made food bubbling from the kitchen after a bonkers day; the smell of just-washed male hair; big jumpers that come down to the knee.
Advantages of hubby an international phone call away: overdosing on Maury and openly crying at the childhood sweethearts that have been reunited after 20 years; slobbing around the house wearing his big jumper without him catching me at it; listening to Reflex and singing out loud to Madonna without incurring chuckles, then wrath; lunch and shopping with the ladies.
Shopping is in Sliema. In the space of 30 minutes, we have cleared out Zara and Clarks. The latter I do on my own. I show a pair of really comfortable lace-ups to the Corporate Lawyer. "What do you think?" I ask. He raises an incredulous eyebrow and lets out an inner scream. "What is it about you women with your comfortable shoes?" I buy them anyway.
I am Queen of the Queens, but today, the queens have brought along a little lady along, a veritable fag hag. I don't like this; I'm used to being the only female born a girl in the group. What's more, she's pretty and her boobs are bigger than mine. Not to mention perkier.
We bond over boots, both acknowledging that the term "fag hag" – a woman who hangs around gaggles of gay men – is a huge accolade. As women tend to do, within minutes we've laid our lives out on the pavement and I know what she has been up to in the past 10 years. My history takes longer to recount because, dammit, I'm older.
We whiz from one shop to another. I'm wearing four-inch heel Pradas and a massive patent bag. Little Fag Hag is wearing big black boots of unknown brand, jeans and a jumper that tells me to rush off and get myself an upper body lift, or at least a few hundred chest presses, as soon as I can. According to this paper that's what foreign women of my persuasion are being enticed into doing in our busty little country.
Sliema's shops have slightly improved over the years. We have a lot of chains now, boring but meaning that we don't have to fly out of the country every time we want something we've seen in Vogue or Grazia. Yet when it comes to eating, Sliema has hit culinary never-never land. It's hunger's no-go zone.
Mimi's is up Tower Road, slightly off the usual beaten track, and looks quite lovely. We liked its lighting, the wenge tables and the dark woods everywhere. Design-wise, we all agreed, it hit the right spots. Art Director thought that this was kudos to the designer. We awarded the first star. Because I was in the company of the ladies, the star is made of Swarovski crystals. Swarovski is massive in Gaylandia.
Mimi's has not found its feet yet; at all. The lady handling the front of house is polite and I liked her. The other ladies didn't. Bully to them – you can never tell with these gays. LFH didn't comment but raised a well-plucked eyebrow when the wine list turned up. It was printed on A4 sheets and stapled together.
The service is disorganised, as if more than a month after opening, they're still finding their feet. It took us a good 10 minutes to choose the wine, and in the meantime, nobody turned up with the menu. When this finally arrived, it was another bunch of six stapled sheets. "Don't they even have a proper folder or whatever?" AD asked me as if I was the Oracle.
The menu is a linguistic conundrum, a reflection of decades of language indecision. The titles are in Italian, but the explanations underneath are in English. They had fish carpaccio, bought in, not made in-house. If I want to eat that, I can buy it from Azzopardi and pay a lot less for it. Here it costs LM3.75 a portion.
So do most other starters. The prices are, in fact, shocking. Since we're all wannabes, we pretended not to care, but of course, we're all broke (after so much shopping) and so ordering two dishes 'to share' of cozze al'umido [sic] and fritto misto was always going to be financially dicey.
The whitebait in the misto was dry, papery and tasteless. It was supposed to be fresh, but I'm sure my socks were fresher although I did not try to eat them. The calamari were chewy and instantly forgettable. The shrimps came out of a freezer. The mussels were cooked just to the right degree, which left them tender, but the tomato sauce they came was sour at times.
LFH and LM had the toriglioni al'pesto [sic]. The sauce was meant to be "homemade" but these days we've taken this term and stretched it to infinity. "There's something funny in this, but I can't put my finger or my tongue on it," LFH said. "Is it from a jar?" I queried, trying one of AD's specimens. The basil had been frozen. This lends it a strange, slightly bitter taste. Basil, like parsley, is one of those herbs which do not enjoy being plunged into -18 degrees C or dried. It doesn't even take well to knife blades. As far as it goes, basil is a very sensitive, very gay herb.
All my companions placed instant orders for Mona's Meals: The Foodbook. It has just hit the bookstores, but they could get it direct and even get a free limited-edition bag thrown in for free. Until it arrived, they would go barmy on the carbohydrates. AD even admitted to having "huge carb cravings". If you want to get rid of the same kind of affliction, I suggest you place your order for the book too. Di-ve.com are even flying it abroad as we speak.
LM is a model – gorgeous, tall, and according to Facebook "in a relationship". So he really couldn't care less about losing weight and ordered pasta too. His tortiglioni al'Cartoccio came "served in a parcel" of foil, as promised, with aubergines, courgettes, bell peppers, black olives, tomato sauce and mozzarella. He ate most of it but later told me that his "nanna made much better and it was almost tasteless".
I am sticking rigidly, except for my forays into a wondrous glass of Amarone here and there, to a low-carb regime. So I had a "flame grilled Argentinean rib-eye with honey glazed carrots and parsnips served with sauté potatoes". I will bet my last pair of Louboutins that the potatoes came out of a bag, but since I only tasted one flabby slice, I didn't care much. I did care a hell of a lot about the meat though. Having flown all the way from across the world, it certainly didn't live up to its air-mileage. It was mealy and heavy. I asked for it medium rare, but it was a straight up medium to well. There was no hint of the marbling that rib-eye comes blessed with.
The man who seemed to be the owner or manager asked LFH if there was something wrong with the pasta, and immediately turned to AD to direct the same question at him. They both lied and said they were full, because they were returning half-full plates. He asked me why I didn't eat my steak. "I didn't like it" I replied. "Why?" he retorted, expecting, I suppose, a full-on Larousse explanation. "I just didn't like it". I hate repeating myself. Owner/manager shrugged and cleared away as if the problem was with me, not with the steak.
"He recognised you for sure," LFH told me. "Oh no," I said. "I just left the biggest bit." "Oh yes he did," she insisted. "Didn't you notice? He only asked us ghall-kirjanza but he was insisting that you reply." She was probably right. Fag hags are a sharp lot.
At the end of it all, who you fancy does not have any bearing on what you feel is good value for money, and this clearly wasn't. Although one must mention the ladies' predilection for Chanel bags, with the latest Diamond Forever exemplar in cream crocodile skin and 3.5 carats of diamonds costing a mere Lm92,000.
The bill did not come close to a tenth of a million. But it did come to a lot. The culprits were the cozze and the fritto at Lm23.10, which I now realise we were charged for six portions. Strange, as we were five. My rib-eye was Lm7.95, and too high a price for this cut of beef. Incidentally, the fillet is Lm9.95.
Throughout lunch, before we left most of our mains on the plate, we had been contemplating a three star rating, mostly owed to the interior decorator. Post-eating and following the reaction of the man who'd asked "why", the rating went down to two. Actually, one and a half, but there are no half measures these days.
The Writer is back. Maybe he can fix me some decent food.
Mona's Meals: The Foodbook, published by Merlin, is available from all booksellers and lifestyle stores
mona@mediatoday.com.mt
---
Crumbs
The Boy Lawyer is out and about in the middle of the night
It is very sad that at three in the morning there are no places where to eat heartily. Late-night hunger is severely un-catered for. So is the need for oily alcohol absorbents. One of the few oases in this dearth is to be found in iconic Bir id-Deheb, midway between the Freeport and the dockyard. The area is very American-wayside-motel-where-very-strange-things-happen-like, and gives you that feeling of constant transport. This very small but extremely well stocked place is the textbook example of the "kif suppost". No fluffy rubbish or fancy menus with 16 spelling mistakes per sentence. You get what you see, pastizzi, tea "kartuna jew bott" and a surprising array of unexpected foods such as wraps or chicken in batter. Malta in a small jar. Note the kick-boxing event posters and the consummate friendliness of the persons behind the bar. Also featuring two apertures, the door for eating in and the window overlooking Tal-Barrani for the customer who prefers to spread the pastizzi crumbs on the car seat. Never lock your gaze onto your food on the way out, you may get decidedly run over by a trailer. This place is called Well of Gold.
---
DEAR MONA
It's been many years since I last wrote a letter to Santa, so when I read that Mona was due to publish a cookery book that would be released in time for Christmas, I made a mental note to treat myself to it. And to make sure I kept my word, I pre-ordered it. I did so for a number reasons, (1) because I enjoy Mona's column and thought that a book by her was therefore a safe bet, (2) because I think it great that she followed her dream and went and got herself published (as in book published as opposed to newspaper/magazine published) and felt that this alone deserved support, and (3) because heart surgeon Alex Manche' was also involved, which intrigued me.
Well, I collected my signed copy of the foodbook pretty early in the morning on the day it was released, 1 Dec – and suspect I was one of the first to do so, at least from the Merlin outlet.
It's a solid, chunky, attractive volume which will look good on any kitchen bookshelf. They say you shouldn't judge a book by its cover, but if packaging weren't important then it wouldn't have evolved into the major industry it is today. So the book's good looks score points with me – after all, it will make me look good on those rare occasions when I entertain (I am no Nigella!)
But let's get to the beef: I am thrilled and over the moon and excited and WOW! that my food eating habits are quite in line with Alex Manche's (although I believe I give myself more leeway than he does – probably too much! – but I use the same strict 'induction' phase when I have something important coming up!). And I am equally delighted that this cookbook is tailored towards this eating lifestyle.
I really needed this, because it can at times prove hard to be creative with a protein/good fat/veg-style meal. Getting the book was truly a case of serendipity for me! There are several exciting, tasty, spicy, flavoursome recipes for main courses and contorni; and also a very practical food-on-the-run section too. And the fact that these ingredients are locally available makes the foodbook even more of a find!
I love Mona's introductions and her quirky little comments that dot the book. The photos are great, depicting luscious meals that make you want to get straight to those lovely Rosle utensils that hang around your kitchen and are so poorly used! A minor gripe – as time is always so tight, I would have preferred to have the prep and cooking time highlighted somewhere at the start of each recipe for easy reference.
For those not yet initiated into this protein, low carb, good fat style of eating, Mona provides an honest day-by-day diary of her two weeks' induction into this new regime as well as a helpful overview of what foods to avoid if you want to keep/get trim while giving proper care to your heart health.
Other than that, the proof of the pudding is in the eating. I have not yet tried these recipes – but I have been challenged to try one a week by my husband, who knows full well that my love of books and my love of food do not necessarily translate into a banquet of fine meals on our dining room table… But I sure am going to try!
From the group 'The Funs of Mona's Meals' on Facebook
---
---
Any comments?
If you wish your comments to be published in our Letters pages please click here