TOP NEWS | Wednesday, 02 January 2008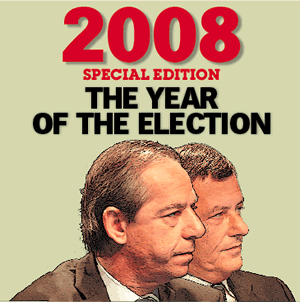 The year of the election
Lawrence Gonzi is facing his first election test as party leader. Alfred Sant wants to be prime minister after a decade in opposition. By Karl Schembri.
No ideology please, we're politicians
Raphael Vassallo argues that the 'death of ideology' in Maltese politics has produced a collusion of indistinguishable political parties.
Election 2008: the unmentionable issues
The coming election may well illustrate the growing distance between the two main political parties and the concerns of the people they are meant to represent.
Raphael Vassallo looks at some of the tougher nuts for the parties to crack.
Alfred Sant – ill health, and beyond
Saviour Balzan analyses the implications of opposition leader Alfred Sant's sudden ill health and the future.
Uncertainty weighs heavily on growth prospects in 2008
Can economic growth be sustained in 2008 at the same levels of the year that has just come to a close, Kurt Sansone asks.
MaltaToday - a year of the interviews
Charlot Zahra compiled some of the best quotes from the interviews conducted by MaltaToday journalists during the last year.