MONA'S MEALS | Sunday, 25 November 2007

Tal-Familja
Triq tal-Gardjiel, Marsascala

Rogantino's at Palazz l-Ahmar
Landrijiet, l/o Rabat

Giuseppi's
Main Street, Mellieha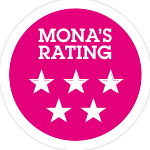 Everybody has bugbears, and mine are both linguistic. I detest the word "kids", which the world absorbed willy nilly from the US. To me, kids are baby goats, and edible, not small humans, who are not. So forgive me if I continue to call them "children". Then, apt for this time of year, there's Xmas. I'm not particularly religious, and that's an understatement if there ever was one, but why on earth do we need to put "X" in words except for winning at Scrabulous? I mean, Xtina for the Aguilera one? Come on. For X's sake.
Compared to many others, though, for whom the entire season is a bugbear, I can still be saved. I go quite gaga when the twinkly little lights come on. I love the whole feeling which, regardless of its fakery, works in much the same way as smiling at yourself in the mirror puts a spring in your step. I actually enjoy buying presents, although that has a lot to do with my compunction for consumption rather than utter generosity. These days, I even love having the family over.
Still, the one thing that I find difficult to stomach, literally, is eating out during this season. Restaurants wait for months to offload meat which has been lurking around in freezers, and less than seasonal vegetables, on silly punters who are already goggle-eyed on the mulled wine before they sit down. It's a perfect opportunity for everybody to be "happy". Having worked in too many catering places, I dread the combination of disgruntled staff who would much prefer to be with their families – these days, most of them live in Eastern Europe – rather than watching the Maltese "have fun" (for which read "throw up on the pavement"); the gallons of cheap alcohol; and less than palatable food. What's more, I get to pay for it too. Scrumptious.
So, over the years, I have developed foolproof methods of saving my bacon which do not, at any point, include the slaughter of pigs. Oh well, maybe sometimes they do. I go only to restaurants which are true and trusted, no matter the amount of inebriated office workers unleashed upon them. Sadly, this has not saved me from witnessing behaviour the perpetrators of which have lived to regret. This included the one time an 18-year-old clerk, strung out on sparkling "wine", ended up smooching the 45-year old (married) cleaner in what he thought was an inconspicuous corner of the "disco". Today, the pics are uploaded on Facebook, the clerk found another job and cleaner is minus a husband.
So, as soon as everybody starts going a little bananas about where to book, probably on the same day that every single restaurant in Malta starts trying to sell you its "Xmas Special" menu, Mona's Meals comes to the rescue, dressed in Wonder Woman costume and bearing a twig of holly. That's for the kisses I'm bound to get when you want to thank me for saving your bee hind.
For the stylish and slightly sophisticated crew
The best combination of posh and real is Giuseppi's in Mellieha. You do have to drive all the way across the island to get there, and once you do, you will probably have to park a long way off too, but consider that a blessing and a way to get some life back into your alcohol-sodden cheeks before you throw yourself behind the steering wheel.
No matter what you throw at him, and preferably that does not include the panini, Michael Diacono comes up trumps. He can cater for a couple and for a group of 30 (albeit packed like sardines upstairs where they can make all the noise they like) in one go and not bat an eyelid. If you're a group, I seriously suggest the roast piglet, which Diacono manages to turn out crunchy, crispy and sodden with juices in turn. His roast potatoes (Michael's, not the pig's) are a shining example of local cuisine, the vegetables on the side worth pulling crackers for and the desserts sublime.
Sometimes, Giuseppi's suffers on the service side and I have had both uncomfortable evenings out where we were ignored or hurried, and wonderful hours of delectation where the night never seemed to end and nobody wanted to get rid of us. It is a little hit and miss, which of course, it shouldn't be, but the food is always reliable. In fact, as we speak, Giuseppi's is very probably already fully booked.

For the true foodies
How many do you know of these? Really knowledgeable eat-outers who will want summien, goose and quail's eggs and whose idea of a perfect holiday abroad includes a visit to San Sebastian and the sampling of 15 different types of jamon? None? Oh well, I know a few myself, but they don't know each other, so I can hardly drum up a group.
The reason why all the dinners I have organised (and there have been quite a few) at Rogantino's in Landrijiet have been an absolute stonking success have gone beyond the call of food duty and drew in the fans completely due to all other factors. First, there are Tony and Annette Grech who would have been my favourite uncle and aunt had I got to choose. They are enthusiastic and glamorous in a way that all the posh restaurateurs in St Julian's could never be.
Second, there is the property which Rogantino is housed in, which is stunning: an old palace (in fact, it's called Palazz l-Ahmar) in the middle of the countryside with individual rooms and small halls for different groups of people. This means that a couple celebrating an anniversary evening out will not be disturbed by the boss' speech in your area; although of course, you will be. Outside areas abound, which means the smokers get to savour Tony's single malt collection with their cohiba.
Not to say that this is good for a rowdy night. In fact, if things do get out of hand, Tony will very probably kick you out, and good on him too.
If you want to throw stuff at Janey from accounts across the table, be presented with massive inedible portions and exercise your larynx to your heart's content, then go to Ta' Soldi (its one-star review kicked off 2007 on planetmona.com).
What you will get though, is a sumptuous array of milky gbejniet in baby fist-sized wicker baskets, olives oozing oil, fragrant bigilla, the aforementioned quail's eggs sprinkled with paprika, and enough treats to last you a good 45 minutes. That's just for starters. Even their Palazz l-Ahmar wine is worthy of choice. Tony does a great selection of mains, including suckling pig, and if you ask nicely, he'll ensure that game and provenance from the surrounding fields is available on the night. Dessert selections are limited but grown men have been known to swoon at his crème caramel.

For the group you can't put a finger on
Think 'The Office' and then stop thinking. Most workplaces are made up of people from very disparate backgrounds and walks of life. The guy who goes nowhere if his wife doesn't accompany, the girl you suspect has just thrown up all her food in the loo and always does, the boss who keeps cracking bad jokes and the sidekick who can't stop laughing at them even though nobody else is. The reason why The Office is so popular, and why the US version is in its fourth edition, is not because it's a sitcom, but because it's too true for comfort.
Which is where Tal-Familja comes to mind. The menu is gigantic and you'll be hard-pressed to find anybody complaining that there's nothing they like on it; from the 70's oh-I'm-so-sophisticated shrimp cocktail orderer to those who won't have anything but the freshest fish, Charlie and his entire family (and boy is that huge) will supply.
As expected, the place gets rowdy. This is no time to complain that the group next to you is making too much noise, probably because you'll be shouting too loudly to hear. The wines are decently-priced and the food is copious yet hardly misses a beat despite the size. In the one instance where the 1970s should be applauded, the dessert trolley with its ten-items-at-least-and-mostly-made-in-house selection throws everybody into paroxysms of delight.
In all cases, I suggest you set a price before you go. The last thing you need is an office brawl over who drank how much and who ordered the lobster while you're slurring you had 'just a salad'. After all, the next time you see these people, they'll probably be sober and so will you.
---
DROPLETS
Don't bother with the wrapping
I have a tendency to give the presents I would love to receive. Thus books on Roman statuary and Italian Mannerist art are weighing down the shelves of friends, all in pristine condition.
This year I will try to break the mould and give something that is more likely to be enjoyed. I shall be guided by William Morris who stated we should "have nothing that is neither useful nor beautiful". In a word, alcohol.
Starting from the spirit end, whiskey, a ubiquitous form of Maltese currency, and Grappa, its Italian counterpart, never fail to please. The former preferably in large bottles, and the latter in those delicately crafted ones.
Moving onto the fortified wines, a firm cherished of mine is Fino. I recently enjoyed a bottle of this with a juicy steak in Arcos de la Frontera and I can tell you that the combination is delicious. What is more: I suffered no hangover. For those of you with a sweet tooth the Vin Santo (with Cantucci) is a Tuscan marvel.
Next, onto the serious subject of wine. My personal favourite has to be an Amarone. Receiving one from me should convey a special message. Second preferences are infinite, so I will summarily dispense with them and touch lightly on our excellent local produce. Maltese wines have gone from strength to strength over the past 15 years, no doubt the result of healthy competition. Without wishing to offend by omission, certain labels alluding to ancient deities, knights and saints come to mind, and in particular an excellent white made from Siggiewi grapes. So there you have it.
Lets all "Salute" one another in this festive season and, if you are still in a quandary, simply reach for that book on Roman statuary.
The Doc
---
DEAR MONA
I am the owner of Joia Restaurant in St Julian's. First of all I believe that its my duty to thank the Funs of Mona's Meals group on Facebook for their comments, both the happy ones and also those less happy, that have had their letters published in MaltaToday on Sunday 18 November 2007. I strongly believe that both negative and positive comments may always help in improving. 
Obviously I feel sorry to hear that someone came to my restaurant and was not completely satisfied, even if it's a customer out of a hundred, but I would like to make some clarifications on what has been said.
First of all, I do not think it's a problem to unite a pizzeria with a restaurant. A restaurant is a venue where one dines without a definition of class. For me, only the prices and service may differ and define class. My idea is to offer the best Italian pizza and dishes in a lovely setting.
The steak had been sold the evening before and also on the same day, and since I care a lot about the freshness of my products, it might happen that something is not available. But I am seeking what is best preferred by our customers, especially the Maltese clients.
The so-called 'veal in batter', is a typical and original Cotoletta alla Milanese. Maybe it is simple but it is a traditional Italian dish that, as I can see from the positive comments, is going down very well with my clientele.
As regards the 'Bolognese, pesto, etc', this concerns the home-made 'Tagliatelle al Ragu' and the typical Genovese pasta 'Trofie al Pesto' served with potatoes and green beans. In 10 years that I have been living in Malta, I have never managed to find them in any restaurant. However, it is true that my menu is quite simple but the quality and Italianità for sure are not missing. Apart from the 20 pizzas on my menu, we have another 34 dishes divided in a selection of starters, salads, pastas and main courses.
I will continue to research and study more to get nearer to the requests and choices of my clients. I hope that my customers will help me in this, and I appreciate any comments made after one finishes his dinner at my restaurant. I look forward to you visiting our restaurant to taste our dishes.
Gianfranco
St Julian's
---
---
Any comments?
If you wish your comments to be published in our Letters pages please click here