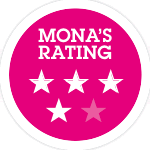 It's time to celebrate. As you read this, the most fabulous cook book of the year will be hitting the bookshops. Hard. It's an amazing journey through the culinary delights of low-carb eating, with Alex Manché and Joe Vella riding on the foodie bandwagon. Alexandra Pace's photography is stunning; installation artist Pierre Portelli's design is inspiring, and the writing is amazing. So what if I'm the one behind the words - I do have to pat myself on the back every now and again.
Seriously, though, the 200-page or so hard-bound tome is the Christmas present this year, and let me tell you who you're going to buy it for. Your parents, who have, um, put on a bit of weight over the years and have spent the past ten of them sacrificing their culinary delights for everything low-fat; for which read 'high sugar' but the poor sods weren't to know.
Then, there are your friends who have developed, to put it mildly, a paunch and a penchant for 'loose' clothing and sportswear because it stretches so nicely. For all those who have developed type II diabetes, high blood sugar, heart problems and heaven knows what else, Alex Manche's words and his ten-year experience in following this kind of lifestyle are a relief and a balm which offsets the guilt that surrounds seriously good food these days.
And there's you. You find it difficult to admit to whatever you're assailed with, be it mood swings, or large thighs which not even a miracle will get to fit in your Superfine jeans. This book is the one way to put paid to all that.
The people you will have to thank for all this are My Book Publisher and the Book Marketeer at Merlin, who managed to swing the entire project from delivery of manuscript to bookshelves in the record space of two months like the wizards they are. During this time, we witnessed diva tantrums which did not emanate from me (yes, I'm a cool chick at the end of the day), manic deadlines, food which tasted wonderful but photographed badly, food which you could never eat but which looked fabulous from behind the lens, "you've-got-mail" pings in the middle of the night, and phone panics; the whole shebang.
Yet now it's out, none of this matters. What does is that low-carb works, and with wonderful food to boot, so do the recipes. Buy it from Merlin, any Agenda, Living Interiors, Master Cellars, or online from www.planetmona.com
To celebrate, MBP and BM took us to one of the few "occasion" restaurants left on the island: The Arches. For the MBP and I, the Arches goes back a real long way. It was my first experience of "posh" at the ripe old age of 16 ½; I was treated like royalty, and so was my boyfriend, whose birthday we were celebrating. Walking up that spiral staircase into that miasma of pink tablecloths and hovering waiters was our first foray into adulthood. I paid the princely sum of LM30 and the cheque bounced. The bank manager went ballistic and waved the returned cheque in my face; the Arches manager was subtle, serene and eventually got his money.
MBP's experience is – how shall I put this succinctly – ever so slightly different. He got the pink and the shebang too, but he got it through his dad, the Publishing King, who feels that The Arches is the only restaurant on the island. He has the same thing every time, and through its myriad owner-changes, every new manager now knows that no matter what they do, they cannot change PK's favourites, lest they lose their most loyal customer. They really should get him a reserved car space outside their door.
But how is it doing now, you might rightly ask? Let's start from the décor, why don't we? The oyster is gone, and so is the cream and brown of a few years ago, post re-furb. I absolutely adore the new colours: rich dark reds on the wall, dotted mushroom in the alcoves, and contemporary mahogany adorning any bit that can take wood. I love the 'having a drink and flipping the menu' area which has low silky armchairs, and the adjacent wall unit emblazoned with single malts. The large round tables, the linen starched more than The Writer's Jermyn Street shirts, and the comfort make this probably the most beautiful, most comfortable dining room on the island.
I didn't like the Negroni which came with too much soda and served in a massive glass. I didn't like it when the waitress crossed us in order to put down cutlery or serve dishes: The Arches prides itself on silver service, and left and right handling is one of the basic tenets of this old-fashioned game. I was also not too happy with the response from the sommelier who, although affable, couldn't handle some basic wine questions and never bothered to check what food we had chosen when we asked his opinion. The bread at the table was not baked in-house or bought from an excellent baker; instead, it was a run of the mill baguette. A good one, but still.
Which explains why The Arches gets four and not five stars. Apologies to the venerable institution out of the way, the rest of the constellation is well deserved. The menu is structured, stands on a pair of firm legs in its references to classicism and familiarity, yet pairs ingredients which are usually stacked on different shelves. In other words, it doesn't offend the die-hard but still manages to excite the newbies.
The wine-list is a bible. It can easily be used as weights at the gym, and lists Chateau Petrus from 1991 at LM1,000 amongst many other flecks of gold. TW and I felt that MBP should extend the marketing budget to at least one bottle of this, but sadly, he didn't feel the same way. The Penfolds shiraz-cabernet was quite a nice substitute though. When the book hits the million selling mark, then we'll go for the Petrus.
The food at Arches excites even the most jaded palate (mine). I had been looking forward to this dinner all week. It's not the kind of posh, Robuchon style, one would expect. My fish and tomato minestrone was a broth, rich, but slightly lacking in structure. TW's tortelloni filled with chicken and foie gras, served on spring onion and pumpkin veloute, drizzled with truffle oil, read well, but didn't surprise and the sauce could have been glossier to say the least. From pumpkin to oil, we couldn't see a thing. BM's asparagus with fried egg and parmesan gallette was spot-on low-carb choice, but to me, the asparagus looked slightly overcooked. MBP's pappardelle with grilled prawns, air dried ham, lobster and dill cream sauce vanished in 10 minutes: having been drenched in no-pasta talk for the past eight weeks, placing this well-heaped plate in front of his face was like unleashing the devil from heaven.
Of course, you're thinking: she's griping too much here, and she still gave them four stars? First of all, as I've always said, star-ratings are my prerogative. Second, and more important, the feeling in this place is overwhelming. You know that dissecting the details is unfair because you (for you, read 'I') are so enjoying yourself.
The service – especially from the two ladies who have been at this restaurant since blueprint – was wonderful, correct and knowledgeable. Our mains went down a treat and didn't miss a beat, except in my onion marmalade, which was cold, and not an onion marmalade at all but onion with marmalade. It adorned some slightly-seared venison fillet placed adjacent to some roughly chopped nuts (the nuts were meant to be a crust, but weren't).. Also perfectly low-carb, except for the balsamic vinegar, the ageing process of which makes it sugary.
TW's sole came en filo croute, or wearing a pastry strait-jacket to the uninitiated, and fell to bits upon unleashing into its crab, prawn and langoustines. BM's roasted spiced monkfish had oodles of vegetables as a bed and glistened with just-killed health.
Yes, The Arches are still serving 70's throwback barrel potatoes, zucchini and mange tout. And yes, joy of joys, the mains still come with heaps of battered fried onions. I will not go into the permutations of each and every dish, but suffice to say we did not leave a single morsel on the plates.
Desserts come in 3-bobs a plate. Very nineties, but who cares. For TW, a nougat and pineapple parfait, slightly over-frozen, and a shot glass of honey and black pepper. For myself, a berry jelly, mascarpone cream and raspberry sorbet – totally low-carb if it weren't for all the sugar they must have added to them. BM's pear and pistachio torte, green apple sorbet and cinnamon cookies? Or MBP's apple tart with whisky and vanilla ice-cream and sauce anglaise? Who knows? As if they would have let us even get a whiff.
The Arches went from Malta's chicest restaurant, to a culinary tale of woe when the bill would come printed with supermarket adverts on the back, to today. I love it. Like The Foodbook, you have to keep going back to it. I know I certainly will.
---
Crumbs
Take this free advice: never, and I mean never, go out to dinner with a restaurant critic. For your own sanity. Or, if you really must, then learn from my mistakes and do not – I repeat, under any circumstances do not – choose a restaurant you like, or more simply a restaurant you intend ever going to again.
Because of course she will drag you into a prolonged examination of the wine list, and the sweatier your brow becomes the more intense the grilling of the sommelier on the particular tannins of the soon-to-be-selected wine.
Then comes the food. Expect guerrilla incursions into your plate by a roving fork, ready to prise a sample of your food for the sake of the rigours of reporting. And of course, all the while you are desperately trying not to pick the wrong knife, or tilt the wine glass the wrong way, or – horror of horrors – slurp, lest your social ineptitudes be broadcast to the nation (never mind the coveted nicks, everyone will figure you out anyway) come Sunday breakfast.
But such is the price of dining with celebrities. Even if they're under cover.
My Book Publisher
---
DEAR MONA
Rogantino is fine, but shouldn't you have a word in Tony's ear about the service? Nice kids, very friendly, but they didn't graduate cum laude from ITS. In itself this is not such a bad thing, but they tend to be a bit vague when you ask for something.
All in all, one of the best places I know, though (lousy parking notwithstanding - not his fault, after all).
A. Borg Cardona
on the Funs of Mona's Meals (Facebook)
---
---
Any comments?
If you wish your comments to be published in our Letters pages please click here