A week after being appointed consultant to the Prime Minister, former Cabinet Minister John Dalli is in defiant mode.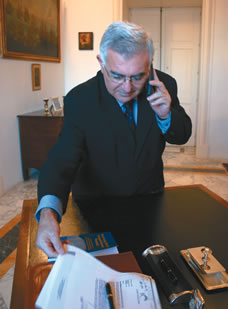 "I was wrongly accused and defamed, therefore it is I who should forgive," he claims. "What happened (last Thursday week) was not a question of rehabilitation but an understanding reached between the Prime Minister and myself after the Prime Minister felt comfortable that all his questions had been answered."
Three years ago Dalli's parting shot in his resignation letter alluded to a backstabbing from within the party itself.
But Dalli avoids making any judgements on events leading to his resignation in 2004.
"I regret that what happened three years ago took place in the first place. I have dedicated the best years of my life to the Maltese people with all the sacrifices that that meant."
Does he feel comfortable working so close to the man who never gave him a clear explanation why he couldn't have him in his Cabinet?
"I feel comfortable working with a leader who was democratically elected to lead by the people I am committed to serve," Dalli replies, alluding to his defeat in a bitter leadership with Lawrence Gonzi in 2004.
During last week's press conference, Gonzi argued that Dalli had been left "hanging" by the unfinished Auditor General's audit into the procurement of airline tickets.
The allegations revolved around a Lm40,000 purchase of airline tickets for Dalli's foreign ministry from Tourist Resources Ltd.
Yet it later turned out that the Auditor General's investigation was not into Dalli's ticket purchasing, but rather a probe into the ticket purchasing practices of every Ministry.
"I understand the suffering John Dalli and his family went through because of the lies and false insinuations," the Prime Minister declared during the press conference, "I believe that after years waiting for the report from the Auditor General, I must not let this situation drag on."
Dalli himself declared that the airline tickets report was merely an "excuse" to prolong his political exile and that the real reason which led to his "forced resignation" was the fabricated Joe Zahra report on alleged kickbacks received for a medical equipment tender at Mater Dei Hospital.
John Dalli is still convinced that the Joe Zahra report was the real reason why he was asked to resign.
"I have said and repeated what I thought, and I stand by what I said. So much so that I started proceedings in court against the perpetrators of the infamy of that false report."
But isn't his appointment as consultant on the eve of the general election merely a symbolic one? How can Dalli to make an impact on economic policy when all major decisions have been taken in the budget?
"You are going on the mistaken assumption that decisions are to be taken to accommodate the politician between elections. I never acted by this belief. Decisions should be taken for their long term, rather than their short term effect," he replies.
He also points out that he was not appointed to assist in the resolution of any crisis, because there is no crisis.
"The economy is doing well as the country has assimilated EU membership. I will add value by adding my own vision and ideas on how the country can react to exploit the opportunities that are presenting themselves."
But his appointment falls short of a ministerial comeback. Is it not a case of "too little, too late"?
"The appointment came at a time when the Prime Minister decided to clear the slate in my regard. It is not too little, because it is as much as I could offer in the circumstances."
Referring to Dalli's recent appointment, Opposition leader Alfred Sant said that it reminded him "of the rehabilitation of prisoners sent to a Gulag." But Dalli would not accept any words of sympathy from the Opposition leader.
"If it were up to Alfred Sant, I would not have been sent to the Gulag, but I would have been sent to the gallows a dozen times."
Over the past three years after his resignation, Dalli has been very critical of the party's administration. He criticised the party's withdrawal from the Zejtun and Marsa election in 2005. He also criticised the treatment meted to the party's grassroots activists. Was this appointment a way to silence him before the election?
"What I was critical of before, I will still be critical about today. I did not criticise from a sense of convenience or because of some vindictive motivation; I criticised because I wanted the Nationalist Party to the better and I had no other means to air my views. In my present position I hope to be in a position to effect decisions that are taken by the party and the government."
On Monday, Lino Spiteri compared John Dalli to a live albatross around Dr Gonzi's neck.
"In clearing him, the Prime Minister did the fair and correct thing. But he also removed the albatross and the harm it could do not only up to the general election but also afterwards, particularly should the Nationalist Party be defeated," wrote the former labour finance minister.
While agreeing with Spiteri that the Prime Minister did the right thing, Dalli rejects Spiteri's symbolism.
"I disagree that I was any albatross around anybody's neck. It was the events that took place three years ago that were an albatross around the Prime Minister's and my neck. The Prime Minister's declaration killed this albatross and removed the acrimony. Now I again feel that I belong to the Party in which I have militated for over 35 years."
As the new economic consultant of the Prime Minister, what is Dalli's opinion on the price stability agreements and does he see a risk of the cost of living spiralling out of control in March?
Dalli defends the agreements as these will remove the danger of opportunistic price hikes at a the psychologically sensitive time at the date of conversion. "After March prices would have settled down and competition forces would be more effective."
On One TV the PM was recently confronted by a clip by Michael Woods – the brother of a Nationalist activist who was allegedly involved in a racket on invalidity pensions – who stated that anyone who backed John Dalli in the leadership contest was excluded. Does Dalli agree with Woods?
"I have stated publicly when speaking in the Party General Council, in front of everyone, that I felt that many diehard Nationalists were feeling discarded. These people did not necessarily support me."
Dalli promises that he will continue to work to ensure that all those who can contribute will be given the opportunity to do so.
"Ours is a great party because over the years it was capable of accepting diversity within its fold. This cross fertilisation of ideas resulted in better policies and more effective strategies. I am committed to ensuring that this continues to be the way the Nationalist Party operates."
2008 will see the end of subsidies for the shipyards. Dalli foresees a future for the shipyards noting that the shipping industry today has experienced an enormous boom. According to him, as demand by the new economies increases, demand for shipping will also increase and so will the freight rates.
"There is a big increase in shipbuilding orders and in the prices of ship repairing. The market is there. But our costs are still very high and there must be courageous changes to address these issues, especially in the areas of work practices, productivity, flexibility, labour costs, and overhead spending."
This time round Dalli will also be contesting the 10th district: a completely different reality from his sixth district Qormi constituency. But for Dalli, this is not the first time that is contesting new territory.
"I always chose districts where I thought that I could help the party most. That is what had motivated my decision to contest the second district back in 1996, when Dr Ugo Mifsud Bonnici was made President."
On that occasion Dalli failed to get elected from the Cottonera district, but still managed to garner 1,539 votes.
How can the PN still be relevant after 18 years in power?
For Dalli it is ridiculous to measure relevance by the number of years a party has been in government, and points out that the PN has not been uninterruptedly in power for 18 years but has served two terms of nine years separated by a a short legislature stint by Labour.
"The PN is relevant today because it has the best policies. It has a proven track record of taking the right decisions for the country."
But he also singles out Labour leader Alfred Sant as a reason why Labour should not be elected.
"Are you suggesting that we consider relevant someone who was not capable of completing his term in office or who has been consistently wrong in his policies? Will he get his policies right if he is in power? Or will it mean the destruction of this country?" Dalli asks.
But considering the widespread perception that the same ministers have been governing the country for too many years, was it wise for Prime Minister Gonzi not to do a reshuffle before going to the next election?
"That is the Prime Minister's prerogative. Assigning and changing ministerial posts is a complicated matter. I do not think that it should be treated in the superficial, sensational, rhetoric used by the media."
Dalli has recently praised French President Nicholas Sarkozy for his courage to push reforms in the face of trade union opposition. But Dalli also expresses mixed feelings on Sarkozy.
"I admire his courage to push much-needed reforms in France, but I abhor his melodramatic appearances in 'rescue' missions, especially when it means stealing the credit from those who had been working for years on negotiating solutions – as happened in the Bulgarian Nurses Deal in Libya."
Ironically in Malta the MLP is proposing one of the measures advocated by Sarkozy – removing taxes in overtime – what does Dalli make of this?
"Removing tax from overtime is a ridiculous proposal, whoever proposes it," the former Finance Minister replies.
Surely Dalli would spare no favour for the Labour opposition as he seeks re-election to parliament: an improbable feat, at least until that Thursday morning when his integrity was certified by the same Prime Minister who had left him in the political wilderness for three whole years.