Yes, my friends, the winner takes it all. But before I continue, I should say that it is completely unacceptable that the final result is not announced by the electoral commission but by Joe Saliba. Why does a political party have this privilege?
---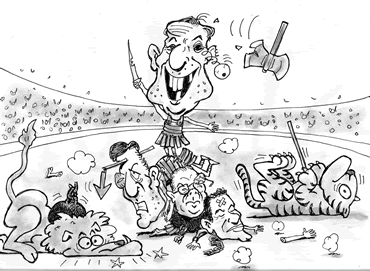 Election 2008
PN WIN ELECTION 2008
GENERAL ELECTIONS 2008 – minute for minute


MT survey vindicated
The MT surveys have confirmed the electoral trends of this election. In the last poll organised by MT, the Nationalist party was given a lead over the Labour party. The MT survey remains Malta's leading pollster.
---
MALTATODAY SURVEY | Thursday, 06 March 2008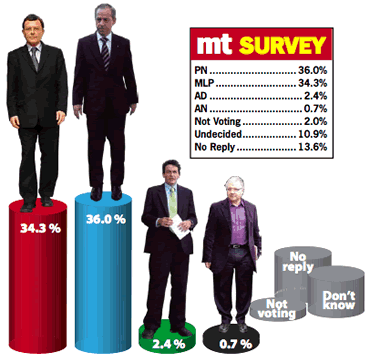 The last MaltaToday electoral survey before next Saturday's general elections shows the PN at 36% - barely 2% ahead of the MLP. The PN's advantage falls within the survey's +/-2.8% margin of error. 
Download Maltatoday Election Special issues
---
TOP NEWS | Sunday, 09 March 2008

Traditionally PN districts hardest hit by low turnout...

An exit poll conducted by MaltaToday reveals a surprise lead by Nationalist backbencher Robert Arrigo over other PN candidates on the 10th district...
---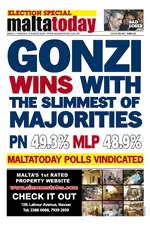 Monday, 10 March 2008
After this photofinish: Rise to the occasion
The Nationalist Party, after over 20 years in government (since 1987), has pulled off a narrow yet remarkable electoral victory winning by a relative majority of just 1,200 votes.
READ MORE >
---
Sunday, 09 March 2008
EDITORIAL



---
INTERVIEW



---
OPINIONS


Sunday, 09 March 2008



Saviour Balzan:

Reflections
---

Raphael Vassallo:

Can I have my peace of mind back, please?
---



Anna Mallia:

Lo and behold
---

Pamela Hansen:
A "Day" is all you get
---
---

---

---
---

Watch Reporter online
---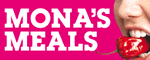 ---
---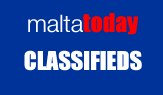 ---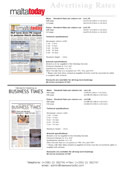 Download the MaltaToday newspaper advertising rates in PDF format
---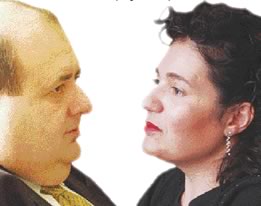 ---