---
Election 2008
Election too close to call
PN secretary general Joe Saliba said that it would take 3 more hours before an election result is known. He called for caution.
Jason Micallef and Michael Falzon told MaltaToday that they would not concede defeat because this was not the case.
More in Election update >
---
MALTATODAY SURVEY | Thursday, 06 March 2008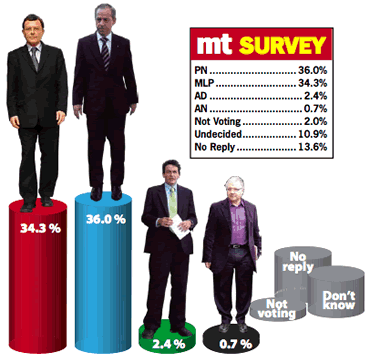 The last MaltaToday electoral survey before next Saturday's general elections shows the PN at 36% - barely 2% ahead of the MLP. The PN's advantage falls within the survey's +/-2.8% margin of error. 
Download Maltatoday Election Special issues
---
TOP NEWS | Wednesday, 05 March 2008

Sant goes to report the Mistra case to the same Police Commissioner he called a 'smokescreen', only to be told that Gonzi had already filed the report himself...

The Bureau of the European Parliament (EP), the senior MEPs who run the house, have decided not to divulge the accounts and allowances received by MEPs despite a recommendation by the European Ombudsman...
---