Retired MP Antoine Mifsud Bonnici talks about the highlights of his long political career. He maintains that honesty should be the best policy for the next generation of Mifsud Bonnici politicians. By David Darmanin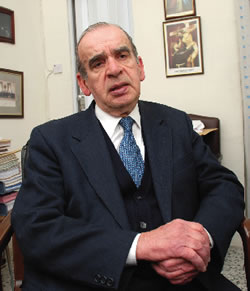 A medical doctor and pharmacist by profession, Antoine Mifsud Bonnici started his political career in his university days, when he served as President of the Ħamrun Sectional Committee of the Nationalist Party. Now 73 and, up until a few weeks ago, the oldest Member of Parliament, Mifsud Bonnici's decision to refrain from submitting his candidature for these elections marks the end of a political career that lasted over half a century.
Aiming at continuing his legacy is his second-born daughter Paula, who with his support, has contested these general elections in the first district under the Nationalist ticket.
Asked if he encouraged her to contest, Mifsud Bonnici said: "Paula contested of her own free will. Needless to say, I am now helping her with all my means and as much as I can. The best advice I could ever give her is that honesty is the best policy.  Always be honest and sincere and always try to listen and help anybody at all times."
Moving on to his political career, Mifsud Bonnici enlisted his political achievements as of pre-independence to the last general elections. 
"In 1962 and 1966 I contested the general elections in the name of the Democratic Nationalist Party," he said, referring to the breakaway party formed by Herbert Ganado in 1962. "In 1976, I contested my first general election as a PN candidate and was elected. Since then I contested and was elected every time for the subsequent general elections, namely in 1981, 1987, 1992, 1996, 1998 and 2003."
Mifsud Bonnici's first official appointment was as parliamentary secretary for the elderly in 1992, which, to his disappointment, was not renewed after the Nationalist victory in 2003.
"After our victory in the 2003 election, I was called at Castille by then Prime Minister Fenech Adami to inform me that he was not going to re-appoint me as Parliamentary Secretary.  He told me that the only reason for my non-reappointment was my age - at that time I was 68 years old. I remember answering him back sarcastically: 'Yes I know how old I am – I am nine months younger than you.'"
Active involvement in the past 10 electoral campaigns does not only provide first-hand knowledge of how electioneering changed over the years, but also how politicians have reacted to the diverse propaganda tools and communication channels that developed through the years.
"There is a lot of difference," he said, referring to how electoral campaigns are held now to those held in previous years. "Decades ago, election campaigning was mainly dependent on mass meetings and on multiple corner meetings especially. The latter was the main vehicle for election propaganda. Election propaganda by post was also predominant.  Media facilities as they are today were non-existent those days. Present day election campaigning revolves mainly on the media and house visits by candidates.  Corner meetings are now obsolete.  Postal propaganda is still very popular, however.
"To a certain extent, I am nostalgic of how campaigns were conducted in the past. I was very fond of corner meetings, mainly because they were the best means to convey your message in a quiet way to a restricted number of people. We were used to holding three, four or even more corner meetings in one day. I certainly miss them.  Today there is no more room for these meetings."
Mudslinging and negative campaigning are not new to Maltese political culture. Explaining how campaigning has always resorted to such measures, Mifsud Bonnici said: "I think it was not so predominant in past campaigns as it is today.  I never approved and always detested such campaigns, no matter from which side it originates. In my opinion, unfortunately it was always the Labour Party that fomented such campaigns, and still is."
The retired MP went on to describe the dynamics between former political opponents Fenech Adami and Mintoff and a comparison between their rapport to that of Lawrence Gonzi and Alfred Sant.
"In my opinion," he said, "there are more differences than similarities between the Gonzi-Sant rapport and the Fenech Adami-Mintoff rapport. Mintoff, who was a charismatic figure in his prime years, and who enjoyed an uncontested popularity those times, in time realised that Fenech Adami was a political leader and opponent who was proving his worth as an alternative leader, especially within those social strata where he had so much influence. Mintoff, without any doubt, appreciated the capabilities of Fenech Adami and in turn Fenech Adami, without conceding anything, always showed respect to Mintoff as a long-standing politician. 
"The Gonzi-Sant rapport is on a very different wavelength. Although the rapport between them appears to be what one may call more civil in appearance, it is not so sincere after all. The cynical attitude of Dr Sant does not contribute in any way to a sincere rapport between them."
Asked to compare the three party leaders he worked with over the years, Mifsud Bonnici stated: "In my opinion, Borg Olivier was a cunning diplomat and a gentleman.  Fenech Adami was a charismatic and inspiring leader. Gonzi is a humane, altruistic politician with a vision for the future."
Besides the quasi-comic, cheeky reply he had given to Fenech Adami upon the announcement of his non-reappointment in 2003, Mifsud Bonnici enlisted another two less comical anecdotes that marked his long political career.
"During the 1976 election campaign, Labour Party thugs ransacked my car in front of my house while my wife, my five children and I looked at them helplessly," he said.
Violence was a common occurrence in the dark ages of Maltese politics. Referring to another case of the time, Mifsud Bonnici said: "In Parliament, after a televised debate of Fenech Adami's speech, Labour Party thugs and policemen manhandled and savagely beat one of my canvassers who expressed his approval in the Stranger's gallery. I had to intervene personally to shield him from being lynched in Parliament."
In the days when family fall-outs caused by partisan divergences were the order of the day, Antoine Mifsud Bonnici contested in the same district as his brother Karmenu under different party tickets. For a number of years, the brothers also sat on different sides of the parliament hall, including the 1984-1987 term when Karmenu served as Prime Minister. The Mifsud Bonnicis however, date much further back in politics.
"In the 1920s and 1930s, my uncle Carmelo Mifsud Bonnici, known as Il-Gross, was Minister and a stalwart of the Nationalist Party of those years," he said. "Carmelo, my father's brother, had two children - Ugo and Giuseppe Mifsud Bonnici.  My cousin Ugo was a Minister and is President Emeritus.  Karmenu Mifsud Bonnici, my brother, is the former leader of the MLP and was also Prime Minister and Minister.  Carmelo Mifsud Bonnici, my second cousin, is currently Parliamentary Secretary in the Ministry for Internal Affairs and Justice."