Labour secretary-general JASON MICALLEF says it as it is: today he believes how more difficult than ever it is to get Nationalist voters to cross over to Labour. By Karl Schembri
The air inside the Labour headquarters is eerily bleak. Like a bunker in the wake of a defeat, the silence and the couple of souls to be seen here mark a stark contrast with the air of hype and expectation reigning at Mile End just a few days ago.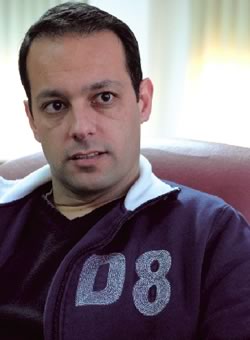 On the third floor, the leader's office is bolted shut. The "irrevocable resignation" of Alfred Sant after 16 years at the helm of this party leaves the inevitable emptiness within the party offices.
It was in his office, all alone, that Sant followed the minute by minute developments last Sunday 9 March, as victory seemed so close and yet so far. Now, the semi-lit corridor is just a shadow of the hustle and bustle happening here less than a week ago.
Secretary-general Jason Micallef is dressed down, perhaps far too casually, for someone in his office. But the tiredness on his face and the disappointment in his voice explains the sudden abandonment of suits and glamour preceding the election result.
"I'm disappointed with the result," he tells me. "I'm mostly disappointed not for me personally, but because I really believe there is a lot of talent in this country, lots of it marginalised, talented people for whom I wished that justice would be done. They have been left out because of their ideas, because of the support they give to the Labour party, and I genuinely believed it was high time for change. And I don't think it's a good thing for our democracy to have a ruling party for a full 25 years. That's my greatest disappointment."
Micallef speaks serenely about his work since he became secretary-general. Despite the defeat, he says, he is at peace with his conscience for having given his best to somehow change the party he took over after the 2003 defeat.
"Victory was within reach because we worked for it for four and a half years. I worked a lot for it, I gave my all. I knew what our problems were in 2003, I tried tackling them. I think in 2003 the way our message was relayed was a bit outdated. The image was not of a party that inspires you to vote for it – forget substance for a while. I felt things had to change quickly, and I do think there was a quick change back then.
"I say the turning point for Labour, which started convincing people, was the MEPs election in 2004. It was a clear decision by the people to go for a different alternative to its previous decision a few months earlier. Since then we never looked back. We kept strengthening our structures, we became more inclusive, we did not have all the useless feuds we used to have in the not so distant past, we had no arguments with constituted bodies even if some of them keep supporting the PN, as is their right mind you. I think dialogue within the party and outside the headquarters has happened, and I genuinely thought we were about to make it.
"Of course now the result is what it is. The result shows we almost made it, but of course that is not good enough. Today I believe more than ever how difficult it is to get a Nationalist to cross over to Labour. I'm not talking about pale blue voters. I'm talking about disgruntled Nationalists who would not get down to vote for us. From the first analysis it results that a lot of Nationalists remained at home because of the corruption, maladministration and incompetence."
Micallef's analysis of what went wrong is still a very crude one. He admits it is very early in the day to reach any objective conclusions although he speaks of a clear failure to attract "those 17,000 new voters" towards his party.
"I think the power of incumbency worked a lot towards that end. The way the PN in the last three months used the powers of government through its authorities, scholarships, scaremongering, blogs – systematic blogs you can hardly keep up with – blogs coming from government circles contributing to the fear campaign. And it now turns out the PN strategy was effective. The PN can't really gloat on this result. This is an extremely difficult test for Lawrence Gonzi. We know what a one-seat majority means, from our 1996-1998 experience. Whatever Gonzi says it's clear the people are fed up of old politics."
Despite repeated surveys showing Sant's credibility trailing behind Gonzi's even when Labour was prevailing in popularity, Micallef barely touches on the issue.
"This is the election in which he got the most votes," he says about Sant. "I think Alfred Sant in this campaign led by example. When you consider that a month and a half earlier he underwent a major surgery to remove a tumour, and during the campaign he was still receiving chemotherapy … I think his appearances, his speeches, his television appearances were faultless. I definitely do not attribute this defeat to Alfred Sant. It's not all doom and gloom. It's bad. But it's not all doom and gloom. But in the coming days we will be analysing the result and reaching our conclusions. This interview is just a reflection of my personal outlook based on the data I have so far."
Back to the power of incumbency argument, Micallef adds the "3,400 or so individuals" who came from abroad to vote and who, he says, were essential for the PN victory. Yet, I tell him, their vote was also legitimate and legal.
"That's also part of the power of incumbency," he insists. "We got loads of complaints from people who were not accepted or were told Air Malta flights were fully booked and what have you. When you look at the margin of victory you can't say this is immaterial. Gonzi himself went out of his way to thank the 3,400 or so who came from abroad to vote. Do they have a right to come to vote? Yes they do. Do they have a right to come here and dictate which government should be ruling us? I don't know how to answer that. There's nothing we can do about it. Court writs are useless. Despite the law, there is no way you can prove someone lived here for six months in the year preceding the election."
External factors working against the MLP also include the independent press, according to Micallef, although for once he does not slam MaltaToday
"The Malta Independent was like In-Nazzjon in English. Their editor was asking more partisan questions than the Net journalists. PBS was blatantly biased against us. In parallel with the BA programmes you had these 'current affairs' programmes run by 'ultra independent' presenters whose only agenda was to pick on every phrase uttered by Sant, chasing him madly, and making a whole scene about it while giving a helping hand to the PN."
The question out there however is whether Micallef will now shoulder his responsibility for the result – irrespective of all the external factors claimed to have contributed to this defeat.
"Of course I shoulder responsibility. I shoulder it in a general way. That's in line with how I worked since I became secretary-general. We worked as a team in this campaign and in the preceding years. Throughout, responsibility has been shouldered collectively. And now too, responsibility is collective."
Does that mean you'll resign all together?
"No. Our statute says that after a general election, the leadership (leader and two deputy leaders) has to be renewed or changed. That's the statute."
But irrespective of the statute, I tell him he is synonymous with Alfred Sant, to which he nods. So doesn't that mean the party would be better off with a total change?
"Look Karl, at the moment, I feel personally very disappointed, because the country deserved a new beginning. But despite my disappointment I still feel I have a lot to give to the party. I'm still young. And from the immediate support I got from the delegates out there, I feel I would be failing them if I had to leave just now. I say this with a great sense of responsibility. Even if I decide to leave, I would be the most irresponsible secretary-general to leave just now. Given that the leader's resignation is irrevocable, I'm the chief executive here. What happens if I leave? You might tell me that when a Pope dies, another one goes in. But in view of the schedule ahead, we have the most important election ahead of us to elect our leader. There would be nobody to organise it if I disappear. I will decide what to do after the leadership changeover. I would also have to see if the new leader would want me as secretary general."
I ask him whether he kept the administration informed of the party polls along the campaign.
"It has always been our practice not to treat surveys as the gospel truth. They are a tool which gives you an idea, perhaps a snapshot, of what the people are feeling. The practice in our party has always been, most especially in an electoral campaign, that you can't divulge your surveys to everyone. It's obvious you can't. These are very delicate matters. This doesn't mean however that what the surveys were showing was not discussed."
As things developed in the last week, it seems the contract signed by Jeffrey Pullicino Orlando for the shocking Mistra Bay development earlier this year was published too late in the day.
Alfred Sant held the contract in his hand only on the last day of the campaign, meaning that it got no exposure on the media on the following day of reflection. Micallef explains, however, it was not a choice.
"We didn't have it earlier," he says.
When did you get it?
"Late."
And is it true you did not have the full contract in hand?
"I won't confirm that."
Did you get a copy of the full contract?
"I don't want to confirm that."
So it was not a strategic decision on your side to come out with the contract on the last day.
"Definitely not. We would have come out with it much earlier. Still, it was clear from day one that Pullicino Orlando was lying, and the PN was protecting him."
A big question mark remains about the decision to extend voting time to 11pm on election day. With the turnout apparently working to the PN's disadvantage, the first reaction of outsiders was this was Joe Saliba's doing. But Micallef confirms it was Labour's idea, specifically Michael Falzon's brainchild.
Are you aware that might have worked against the MLP?
"I don't know."
Doesn't it result to you from your analysis?
"So far I don't know."
Couldn't it be that more Nationalists actually went out to vote in the last hour?
"I can't confirm that as yet. I haven't gone that far into the analysis. I know that a lot of people got worried when they heard about this. However, if you have experts on the electoral process, you have to take their word. The party took their word."
As to his declarations late on Sunday night about the party not conceding defeat even after Joe Saliba effectively announced a PN victory, Micallef justifies his appearance on television even though it only served to prolong the agony of the party faithful.
"We wanted to wait for the electoral commission's final, official result. That's the responsible way. We're not Fenech Adami. He was the irresponsible person when he went to Ta' Qali (in 1996) saying it was a photo finish when there was a discrepancy of some 7,000 to 8,000 votes."
Yet, I tell him, Labourites were already celebrating victory even before the ballot boxes were opened.
"That's only normal. People assume things. When you have the overall feeling that Labour is about to win, that government's time is over, and on top of that you have that low turnout especially on Nationalist districts, it was an indication of a positive outcome, that victory was near. There was continuous communication between Michael Falzon and Alfred Sant, and at one moment Dr Sant asked me to come over to his office. He was here on his own. He asked me to come over with all the data we were discussing over the phone. So we agreed Michael Falzon and Louis Gatt would remain at the counting hall and I would come with Charles Mangion. Don't forget that as secretary-general I was also responsible for the Labour centre. There were very few people here. I took Alfred Sant home in a rented car at around 1.30am, escorted by police."
Today, despite everything, Micallef says he sees "a very strong party, although not strong enough to be in government."
"I will be working fully to convince the rest of the people to vote for us. We have a number of challenges ahead of us, especially that of electing a new leader, and we have certain areas that still need restructuring."
I ask him about the marginalisation of valid people from the party that has led the MLP to be even more closed to varied ideas, people like Lino Spiteri and George Abela.
"You may rest assured their departure had nothing to do with this result. I'm sure of that," he says. "We have to appeal more for those voters who will be voting for the first time, and the younger generation. We failed on that front."
As to the party media and Labour's public image in general – something he has worked on almost exclusively – Micallef says there is room for improvement, and sophistication.
"I believe we need to be more sophisticated, in our media, in our public speeches particularly. I was disappointed by a number of speakers."
By who?
"I won't go into the details but we need more sophistication."