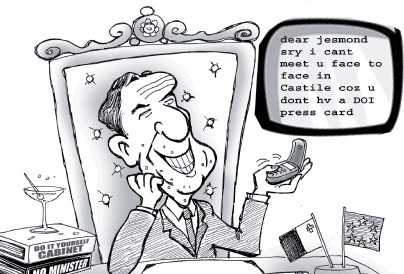 Up to a point, last weekend's election can be described as a resounding personal victory for Lawrence Gonzi, who put his own job on the line when he agreed to fight under the banner of "GonziPN". But resounding or otherwise, victory nonetheless came at a price for the Nationalist Party.
At face value, the strategy worked against all the odds – 20 years in government, old-boy network accusations, allegations of misconduct, etc. – stacked heavily against the PN. Gonzi himself comes out of this election invigorated, enjoying the power to appoint and dismiss any of his ministers at will: a power he has indeed already used when forming the Cabinet on Wednesday.
The "GonziPN" strategy did indeed blow into a political whirlwind, and the party has reaped what it sowed. By calling on the electorate to choose young candidates at the expense of older politicians, the PN successfully reinvented itself at the 11th hour, leaving heavy casualties in its wake. As a consequence, the Prime Minister lost some valuable MPs – not least, former Education Minister Louis Galea – and now heads a weaker, less experienced Cabinet. But the new Cabinet is also leaner and more streamlined than before: a positive move which should help contain the cost of politics and allow for more efficiency.
Electoral slogans are part and parcel of any election campaign. In the aftermath of this election, which has exposed the deep-seated divisions of the Maltese people, and denied any party an absolute majority for the first in 40 years, now would be an appropriate time to convert Sarkozy's winning slogan "together everything is possible" into a serious programme of action.
During the victory celebration last Tuesday, the Prime Minister gave a speech in which he reached out to one and all, including that part of the electorate which did not support him. He vowed to run the country placing the national interest at the heart of government. He promised to implement his programme with immediate effect and called for electoral reform and greater transparency in the workings of government.
The overall theme of Gonzi's speech was unity, and the need to pool together all country's resources for the common good, with the specific intention of moving forward together. All this is very positive, but it would be wise to bear in mind that Gonzi was also responding to the clear messages and signals sent out by the electorate: five incumbent ministers rejected; the lowest voter turnout since 1971; and a difference between the two parties of just 1,500 votes. Appealing for unity at this stage is therefore not just the noble gesture of a magnanimous victor; it is also a token of acknowledgement that Gonzi's government needs the support of the Opposition if it is to make any headway on its own ambitious programme.
For this reason, the Prime Minister's speech showed a hitherto non-existent sensitivity to the need to fine-tune further the electoral process. Electoral reform is now a necessity, after yet another perverse result which produced a clear discrepancy between the votes registered, and the corresponding seats allotted in parliament. This newspaper has long been calling for such improvements, and we hope that by "reform", the reference is to the need to insert a national threshold, thereby overcoming the problems of votes being wasted.
Elsewhere, the commitment to undertake a root and branch reform of the Malta Environment and Planning Authority, and the immediate step taken on his first day in office to freeze future applications, bodes well. The understanding that there will be increased transparency and accountability in this second administration is a direct response to misdeeds of a few of his former ministers. It is hoped that clearer guidelines will be established to regulate issues of conflict of interest.
But is Gonzi himself ready to put his own appeal for unity into practice? The big test will come when appointments are made to Constitutional authorities and government boards. It is hoped that the Prime Minister will heed his own advice and make use of all human resources available, independently of political allegiances. Such an approach will symbolise Gonzi's commitment to run the country and politics in a European manner, where the values of transparency, accountability, tolerance and diversity reign supreme.
This newspaper has campaigned heavily for these values to be part and parcel of our political system. Following this electoral victory, we look forward to slogans being converted into political action.