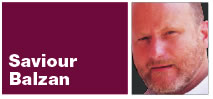 When years back I ran a small political radio station, I recall the moments when the same DJ would invariably call in sick, and I would have to do the music mix. I dreaded every moment.
And then out of the blue there would be that dirty smudged disc that would get stuck and repeat the same song and I would only notice the glitch when someone phoned in to complain.
Whenever Labour deputy leader Michael Falzon talks to the press or in a party club, he takes me back to this particular moment. He says, repeatedly in that sotto voce voice, that a Labour government will 'a better government': "we will be a better government" – "inkunu gvern ahjar!"
Falzon as many people in the glasshouse at Mile End know all too well, is not sotto voce when he loses his temper. Every time he talks to a crowd, Falzon repeats ad nauseam the statement "Inkunu gvern ahjar", but he finds little time to explain how he will act at the head of a better government, and with what stretch of his imagination this better government could come to the fore. Most of the time when he talks to the crowd, he starts off with a long list of thanks to all the party activists. It sounds like the thank-you list at a memorial function.
When he talks of change, Falzon probably means changing the blue-eyed boys with the red virgins, something which he could perhaps simply describe as a mere reversal of roles. One could of course argue that anything could be better than the present Nationalist administration. That is something that only those born after 1987 will say. Anyone who lived before that, or better still between 1996 and 1998, will confirm that things were far from bright, better, healthier or looking up.
But I have yet to meet a horticulturalist who believes that the removal of an old sickly lemon tree and its replacement with a similar, old sickly lemon tree that offers precisely the same quantity of minute, shrivelled lemons is a bloody good idea. Only a mad horticulturalist would go through the trouble of spending a whole day digging around the lemon tree, uprooting it, and replace it with a an indentical sickly perennial.
Everyone looks at Michael Falzon as 'the moderate' in the Labour party. But he is not really moderate other than someone who is deeply conservative, lacking in vision, and as close to a visionary socialist as I am to being a vegetarian Buddhist. On all the mostly progressive issues, Michael Falzon has unsurprisingly Nationalist views.
Apart from the fact that his father was a Labourite and that he works for the MLP, there is little to differentiate Michael Falzon from the Nationalist neighbour who lives next door. Just read on.
On hunting, he says we should tolerate traditional hunting.
On fireworks, he is an enthusiast himself.
On divorce, he could sit in the same boat as Cardinal Ruini.
Undeniably, he is family first, second, third and last. Cohabitation? Good question.
Taxation? Well, less taxation on all fronts which is diametrically opposed to what all social-democrats believe should be the case. And on overtime, it is a copy of Nicolas Sarkozy, the most hated figure for the French socialists.
In reality I am not quite sure what Falzon stands for. When this very year our sister newspaper Illum revealed the story behind an innocent email sent to Falzon, he went literally berserk. So berserk that it uncovered another side to Michael Falzon.
For the record, it was the story about an innocuous email sent to Falzon by celebrity chef Anton Dougall. Dougall did not sign the email for reasons known to himself, so Falzon was unwilling to take more crap from anonymous emails and asked the police commissioner to investigate. What followed was one of those things you read about in a human rights despatch on Zimbabwe.
Dougall was asked to report to the police ever so often on dubious bail conditions, and had his laptop confiscated. Falzon had obviously thought the email sender was linked to other vicious 'messages' sent to him that were not very nice to say the least. On that count, Mr Dougall was of course not the culprit. He was actually a well-wisher with some constructive criticism that went unappreciated by Falzon.
When I heard about this story and phoned Michael Falzon personally, the deputy leader gave me the impression that my source was a top Labour party official. He did not say it, but it was clear that he thought it was party secretary-general Jason Micallef. And I told him in very clear terms that my source had nothing to do with Mr Micallef.
But I do not believe that Mr Falzon believed me then and now. That there are differences between the people at the top echelons of the Labour party, with a faction supporting Falzon and another supporting Sant, is a well-known fact. As is well known that Falzon's aide-de-camp Nathalie Attard is simply not trusted by many of Sant's acolytes. Even suggesting this fact is considered taboo in Labour circles.
And of course, Falzon does not like me saying this.
So what happened next was simply unbelievable. Falzon read the article in Illum and exploded on that same Sunday in front of a motley crowd of flabbergasted Labourites. You can hear his outburst at the Rabat party club on www.maltatoday.com.mt/2007/05/06/michael_falzon.mp3.
And after that, both Michael Falzon, and the Commissioner of Police John Rizzo sued MaltaToday for libel. Falzon said in Rabat that whoever was behind this story should be ashamed of themselves, adding that he had "authorised" the Commissioner to proceed against whoever was behind this email and "called on the Commissioner to call in Saviour Balzan…" – "Ikun min ikun qed nawtorrizzak biex tipprocedi… minn hawn qed nghid il-Kummissarju biex jibghat ghall-Saviour Balzan…"
That comment led to a series of commentaries from my good self and the typical reaction from Michael Falzon who instituted a plethora of libel suits against this newspaper together, with John Rizzo.
Michael Falzon is a deputy leader of the Labour party, with a good chance of getting himself appointed as a senior government minister. I shudder to think what he would do when he is appointed a minister.
I have nothing else to add.
There has been a ruckus over the crisis at PBS. PBS is of course not heaven on earth. But to listen to Labour's rising star, the one and only Silvio Debono, castigate PBS and the way things have developed there made me cry. In his 'Cry for me Argentina' kind of voice he berated the way things happened at PBS.
Debono was a newscaster when PBS was Xandir Malta, and if by Sant's standards PBS today is a 'mandra', then before 1987 it must have been an abattoir. This newspaper has not failed to focus on the deficiencies at PBS, but nothing is comparable to the excesses of yesteryear when newscasters such as Silvio Debono would have read out news that had no relevance whatsoever other than being unadulterated Mintoffian propaganda.
If PBS needs a spanking, please leave it to someone else please.
I cannot understand how the Prime Minister can keep a brave face whenever he says that he is supported by capable ministers. If that was the case, the scandalous parking fees at Mater Dei would have been tackled by the management at Mater Dei, or by the Health Minister – in that order of preference – and not by the PM himself.
But there is little doubt in mind that the PM knows that his health minister might as well take a long holiday in Madagascar. As we all know, when it came to implementing the completion programme for Mater Dei he personally asked his underling and faithful servant Tonio Fenech to carry out the job, not Louis.
So when after a scathing article on Mater Dei in this newspaper about parking fees at the hospital, The Times carries a story about the PM's direct intervention in the matter, I could only feel sorry for the man: why does the PM have to get himself involved at this level?
The answer is very simple. Some of his ministers are simply incapable if not downright unable to address a simple problem.
Needless to say, there is one thing that has to be mentioned. Mater Dei may be a bee in everyone's bonnet but sooner or later things will settle down and the hospital will definitely serve its purpose. If there is anyone who should be thanked it surely is not Louis Deguara but the PM, who set his eyes on the completion of Mater Dei after he replaced Fenech Adami and achieved something many said he would not.
In last Wednesday's MaltaToday Midweek, the president emeritus of the Chamber of Commerce, Reginald Fava, raised the issue that the agreement for a price stability pact on imported objects (not medicines) with government and the Chamber of Commerce, was taken without consultation with the committee members on the Chamber of Commerce. Do you think anyone cared to react?
sbalzan@mediatoday.com.mt