After decades of coffee mornings and terrorist pamphleteering, the Maltese politician is latching on to the wonders of the internet. Facebook, where an estimated 11,000 Maltese nationals waste their time checking out what their friends, ex-boyfriends and ex-girlfriends are up to, is the latest dimension where the politicians' dress-down campaign has taken hold.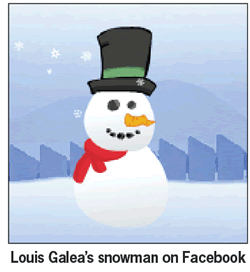 Facebook is basically a 'social networking tool'. What demarcates it from other networking utilities are its aesthetics and mechanics. Unlike the gaudy and chaotic Hi5 or MySpace, you can't bling up your background with flashy colours, which instead sticks to a conservative white and pale blue. You build a profile listing your name, hometown, education and workplace, or your entire CV, and if you wish your favourite music, maybe say something stupid about yourself, etc. You add 'friends', paste your photos and messages on their virtual walls, and update your ubiquitous 'status' where your name appears with whatever cursed state of mind you're in on a particular day. So my particular one right now is 'Matthew is worried about the rise of the idiots' being as I am a conscientious person. If tomorrow I'll be feeling suicidal, I will change my status to 'Matthew is suicidal' in the hope that, as the updated status starts flashing all over the public newsfeed for everyone to see, I get to create a short-lived Facebook emergency. Fat chance. But simple, harmless fun.
There's loads more to say about it. Certainly Facebook is more refined, more adult-ish, it has more socially aspiring goons, and of course, more political and human rights groups eager to seek out more supporters. Its creators were after all a smarmy Harvard clique who are now dot.com millionaires. My personal reading is that the Nationalists and Alternattiva Demokratika have been quicker to latch on to it. Hi5 tends to be a place where you're likely to meet a girl who is seriously considering a career in porn. Enough said.
I've seen a lot of fresh faced vote-hungry 20-somethings on Facebook. Harry Vassallo and Arnold Cassola have got their own profile. A score of MEPs and European politicians are on it. The Americans pay big bucks to keep their profiles busy and send out constant messages to keep voters updated on the campaign trail.
In the last month I stumbled upon three Cabinet ministers. Environment minister George Pullicino is on Facebook, but his profile is not public – which means you can only see it if you send him a friend request, to which he can either 'confirm', 'ignore', or 'send a message'. Obviously, he can't afford to reject a friend request, so I can't see the point why he is so iffy about privacy. He only owes his livelihood to us after all. He has 115 friends so far, and he is targeting youths through some Hard Rock Café concerts which he is publicising on Facebook. Coooool.
Edwin Vassallo, the parliamentary secretary, has 50 'friends'. His profile picture is a cartoon from the MaltaToday archive of interviewees. His wall is plagued by virtual 'gifts' from well-wishers. One of them is a teddy bear.
And then there is Louis Galea, the minister for education, pictured tinkling at the piano. He is actually listed as 'Galea Louis' like he's been roll-called from the school register. He has found time to add an application (another Facebook time-waster) called 'Snowman', which allows you to… build your own virtual snowman. Busy times at the ministry, I see.
Facebook has its drawbacks of course. Many seem ready to sacrifice their privacy to a potentially vast universe of people. Employers for example, can check on their prospective job applicants on Facebook to see whether they like their face, or political allegiances. Facebook basically represents the pitfalls of voluntary self-advertisement, when saying or showing too much can be turned against you.
For a politician, self-exposure on Facebook is just a piece of cake, another opportunity to rub their virtual shoulders with us, advertise their light-hearted selves, share some snippets of political bunkum, and bathe themselves in the brown-nosed codswallop posted by their adoring Facebook friends on their profile walls.
But being on Facebook submits you to being under surveillance by anybody who you, intentionally or not, allow to. You can check on your friends' and enemies' comings and goings to see what they're up to. Allow yourself the temptation and pronto, you're addicted to up-to-the-minute Facebook peepholeism.
So if Louis Galea has found time out in his busy portfolio of education and employment to muck around with the PC to build his own little cute snowman on Facebook… well, he's probably looking at your photos too, getting an eyeful of your kinky nights out, checking out more of his constituents' political allegiances and godless beliefs, and penchant for recreational drugs. He is out there. In your virtual landscape. Prowling through the loopholes of your privacy settings. Tell me if that isn't scary.