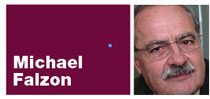 The picture of the gaping hole in the roof of an old Sliema house left as a result of the collapse of a number of stone slabs (xriek), published in newspapers last Monday, should have been dramatic enough.
The fact that an 87 year-old man died when the roof caved in on him he was asleep should have moved the nation. This was no guy willingly putting his life in peril by dabbling in fireworks production. He was just having his night's sleep in the abode where he lived. The fact that the next day the same thing happened in another house in another street in Sliema seems to have been registered as "one of those things" in the nation's psyche – more so because in the second case there was no fatality: the single male resident (again!) this time having a premonition that induced him to move out of his bedroom with a suspect roof and sleep on the sofa in another room.
I will not bore you with the technical details of why such things happen – and in any case I do not think I should substitute the Court experts investigating the case, more so as my opinion as to the direct cause of the two accidents is just a first impression opinion after having glanced at the picture of the collapsed roof published in The Times on Monday.
The point I want to make is that there is a substantial amount of our housing stock that is in dire need of maintenance and – in many cases – outright redevelopment. This fact seems to have escaped the attention of those who keep clamouring that, officially, in Malta we have over 50,000 vacant residential units as if these were all pristine dwellings waiting to be occupied by would-be middle class home owners.
The truth is, of course, very different. I do not know how the compilers of the 2005 Census arrived at the figure that they have touted as the number of vacant premises; whether this includes "second homes" that are used by Maltese citizens in the summer months, units that are used by foreigners on short lets, holiday houses own by foreigners who do not normally reside in Malta, dilapidated houses that the owners want to hold on to or are asking too high a price for them, or those with myriad owners resulting from inheritances, more often than not, being the subject of legal quagmires.
Whatever it is, crying out loud that with over 50,000 vacant dwellings, we have the equivalent of a ghost town occupying one fourth of the built-up area of Malta and an idle capital of over Lm2 billion – as Harry Vassallo wrote last Sunday in The Sunday Times – is an over-simplistic way of looking at a very complex situation.
Repairing those houses that are in a bad state and rebuilding the worse ones is what planning policies have forced developers to do. And this is a good thing, even though it brings the inconvenience of building works to the very doorstep of many people who are justifiably annoyed with what is happening around them. Government has done well to issue strict building regulations, even though these will have the obvious effect of increasing development costs – and hence house prices. But this is just a corollary, so to speak, of a very real situation.
Imagine if one were to asked whether one prefers to have building development taking up more open virgin land in areas where these works will not be annoying him or her, instead of similar works being undertaken for the redevelopment of the house next door! Having to bear the inconvenience caused by the redevelopment of the house next door, should, perhaps be viewed as one's contribution to the saving of Malta's open spaces!
As to vacant houses, prima facie there seems to be a case for a hoarding tax – a tax that would be imposed on housing units that are not put to good use. This is a proposal that you will not find in any political party's electoral programme, except, perhaps, in that of Alternattiva Demokratika. Some mainstream politicians would privately agree to such a proposal, but saying as much on the eve of an election could only lead to a loss of votes.
My guess is that such a tax on vacant properties would, in the end, be a folly similar to the rent control laws and housing requisition orders. These were introduced with all good intentions but have served to pave the way to a hell where the rental market consists solely of tenant abuse.
Imposing this tax to deter developers from building more new housing units is one thing. Using this tax to help keep property prices down is a very different proposition. There is no tax that can reduce the price of the taxed object. If there were such a tax, we would be falling over ourselves to ask for the imposition of this wonderful tax on all goods and services. Any tax on property will raise and not decrease the price of property. It might even be a double whammy: owners will simply pass on the tax to the next buyer while property supply will decrease. Both of these effects will increase property prices.
A tax on vacant properties would also be an administrative nightmare. Which properties will be taxed? How much per square metre? (You cannot possibly expect to pay the same tax for a vacant palazzo as for a vacant studio flat). Does the yard count? The garden? The airspace? The garage? What if the property is in a dangerous state/has collapsed roofs? What if the property is the subject of an inheritance lawsuit? What if the owner works abroad? What if the owner can't pay? What if the owner registers his cousin's nephew's girlfriend's brother's friend as the fictitious occupier of the property?
I can only conclude that the idea of taxing vacant properties is only a mirage of a supposedly easy solution to our housing stock surplus and to increasing property prices.
If a tax on property, vacant or not, is ever imposed in property-loving Malta, I bet my bottom dollar that in a few years' time, the opprobrium it incurs would be even bigger than that of the rent laws and requisition orders that have been so counterproductive and reviled, however well-intentioned when they were first made.
micfal@maltanet.net