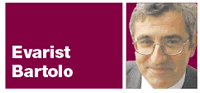 Dr Lawrence Gonzi's "new way of doing politics" seems to include distorting facts and contradicting himself as long as this serves to discredit the Labour Party's proposals to put money back into the pockets of families to improve the quality of their life.
One of these proposals is to exempt overtime from income tax. In a speech in Birkirkara last Sunday Dr Gonzi said that this measure would mean a loss of Lm30 million of tax revenue for the government.
A month earlier, presenting his budget for 2008 in Parliament, Dr Gonzi said that the declared income from overtime amounts to Lm12 million. On pages 84 and 85, the Prime Minister announced that his government would follow up the measure announced last year by extending the tax band of 15 per cent to income derived from overtime.
He said: "We had done this to ensure that overtime would no longer be taxed by more than 15 per cent. It seems that we managed to do this although not in all cases. It seems that from a declared income of Lm12 million from overtime there is still an Lm1.5 million that is still being taxed at 25 per cent. So this evening I am proposing to extend the tax band so that as much as possible overtime would be taxed at 15 per cent."
Just a month after he said that the declared income from overtime amounts to Lm12 million, the Prime Minister in Birkirkara said that the Labour measure to exempt overtime from income tax would mean a Lm30 million loss of tax revenue for government. How can exempting an income of Lm12 million from tax result into a revenue loss of Lm30 million? According to the official declaration of the Prime Minister, the tax exemption on overtime would amount to less than Lm2 million. How come in a month it ballooned up to Lm30 million? This distortion of facts and self contradiction trying to discredit your opponents at all costs is certainly not a new way of doing politics!
Cover up at Mater Dei?
During the first half of 2007, Dr Frank Portelli, former PN General Council President, stood up and spoke about the stench of corruption coming out of the Mater Dei Hospital. Months have passed since Dr Portelli spoke up and since the Prime Minister instructed the Commissioner of Police to investigate Dr Portelli's claims. Since then nothing more has been heard on these serious accusations.
Have police investigations commenced? Have the police sent for persons involved in the Mater Dei project and who are in a position to throw more light on what Dr Portelli said? Are strings being pulled to silence people and not let the truth come out?
As taxpayers we deserve answers to the above questions. The new hospital has cost Lm300 million. Way back in the 90s the PN government used to say that the completion cost of the hospital would cost Lm60 million and that it would be ready for use by the year 2000.
What a rogue am I!
Last Sunday Karl Schembri and Mario Azzopardi got together (Malta Today: Interview), among other things to cast me in the role of a villain who cannot tolerate those who disagree with him, and is ready to assassinate their character. They accuse me of fronting "a bitter public mud-slinging attack on Azzopardi" because in the 1990s he switched sides and started writing in the Nationalist Press. I have always maintained that Azzopardi had every right to change his party allegiance. I criticized him for denying that he used to ridicule and caricature the same PN leadership he then embraced. His denial was hardly the stuff of heroic dissidents, persecuted rebels and fearless intellectuals.
They also accused me of mounting a "vilification" campaign against Professor Kenneth Wain for being in favour of Malta's membership of the European Union. This is an outright lie. I respected Professor Wain's right to his stand and role in the Moviment Iva, but said his position as chairman of The Foundation for Educational Services was untenable as he did nothing to stop the PN government from taking such a highly partisan and divisive issue into the schools and by trying to indoctrinate primary school students in favour of EU membership.
I certainly have my share of shortcomings as a human being but my imperfections do not include intolerance, fanaticism and being mean to those who disagree with me.
Evarist Bartolo is shadow minister for tourism