Successive Nationalist governments took exactly 20 years to change Malta from an impoverished terrorised police state into a prosperous, beautiful and democratic island.
I can assure you that a future Labour government would not take more than 20 days to send us back to the horrible 16 years of Socialist despotic governing. The accompanying circular explains what I mean. (see inset)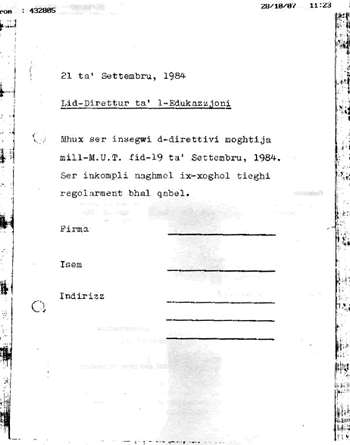 I was pleased to note that Eddie Privitera did not challenge, and has never challenged one single word of what I write. I do not blame him because I relate facts and not opinions. Yes, I did read Mr Spiteri's book which impressed me very little. I read what he had to say about Dr Sant's election as a MLP leader. Did Mr Privitera read that? I do not think that it is yours truly who is flogging a dead horse because no one can guarantee that a future Labour government will not try to restrict our freedom as it often did in the past. It is Mr Privitera himself who is flogging a deed horse by carrying on with his expert lectures on the evils of the EU, when he knows perfectly well that even the MLP has accepted the situation as it is. Even members of his CNI are interested in working for the EU in Brussels.
Giov. DeMartino
Mosta