TOP NEWS | Wednesday, 31 October 2007




A study by St Luke's Hospital's infection control unit has found that hand hygiene among doctors is low and could be a factor in the high incidence of Methicillin-resistant Staphylococcus aureus (MRSA) at the hospital...
---
Foundation for disabled children faces imminent closure
A non-profit, parent-run support organisation for children with disabilities and learning difficulties, and whose requests for financial assistance have repeatedly been turned down by government for over six years, now faces imminent closure due to lack of funds...
---
Gonzi's budget 'lie' turns out to be Sunday Times misquote
It was one of those little words that make all the difference; in this case it made the prime minister look like a barefaced liar. According to The Sunday Times' interview with Lawrence Gonzi, he received emails from the Opposition lauding his budget...
---
NEWS | Wednesday, 31 October 2007
'Our lives are intolerable here' – Lockerbie witness's brother
Who cares about Halloween? But Swieqi puts police on alarm
Maltese shun books for cinema, EU stats show
Labour MP objecting to Caritas shelter
Spring hunting – time is up but government says nothing
Ministers 'on notice' applaud PM
Over 70,000 Britons fleeing NHS and superbugs but Malta slow on capturing 'medical tourists'
'Heritage Malta has to evaluate its contacts,' says culture minister
MEPA chairman's term renewed for another year

Deciphering Gonzi
INTERVIEW
Only nudes and horses?
---
OPINIONS

Pamela Hansen:
News, or not?
---

Reno Borg:
My mortal sin
---

Michael Falzon:
A new packaging for Alfred Sant
---

Roderick Galdes:
Soap bubbles
---

The Julian Manduca Award
---

11 October 2007
Guest Lawrence Zammit
Watch previous programmes
---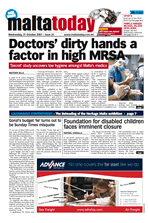 Download front page in pdf file format
---
---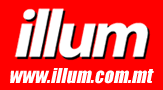 ---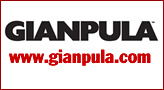 ---

---

---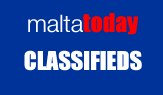 ---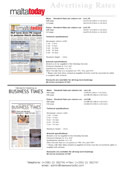 Download the MaltaToday newspaper advertising rates in PDF format
---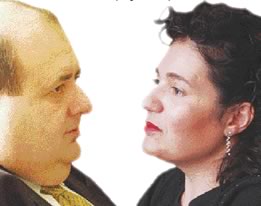 ---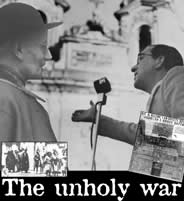 ---

---

---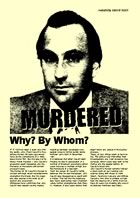 More MaltaToday special reports

---