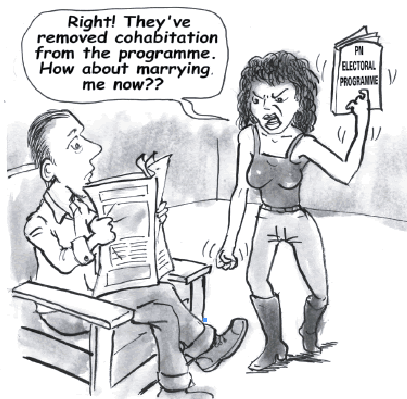 1998 is a long time ago now: long enough for most people to forget what electoral promises were made back then, and certainly long enough for the 17,500 first-time voters to have no real recollection of what the electoral issues even were.
But 1998 was also a watershed election, without which Malta would not today be a European Union member state. By September of that year, Alfred Sant had been in power for 22 months, after defeating the PN in what may be described as a landslide election in 1996. The Nationalists were in a sense still regrouping after the shock of that defeat… not to mention the surprise of a sudden, unexpected opportunity of a return to power after less than two years in Opposition.
This election was in fact crucial for the political survival of then Opposition leader Eddie Fenech Adami himself, as well as the European dream which had characterised his 11-year stint as Nationalist Party leader.
Therefore, when it came to the hurried 1998 election campaign, Fenech Adami had to appraise the various factions within his own party's support base, and take care not to concede any advantage to Labour. Hence the now notorious contract signed with the hunters a week before the election, promising them that the hunting laws would not change as a result of EU membership; and hence also that most unusual electoral pledge of a law regulating cohabitation.
Looking back at the preceding 22 months, Fenech Adami will no doubt have digested the fact that Prime Minister Alfred Sant's "family commission", set up in 1997 with an undeclared brief to consider the possibility of introducing divorce, was popular among a certain segment of society. This posed a dilemma for the man who had imbued the Nationalist Party with its confessional brand of Roman Catholicism; but Fenech Adami was first and foremost a politician, and must have been aware that an increasing portion of the Maltese population was experiencing the negative consecutives of marital breakdown, either directly or indirectly.
Above all, however, he must also have grudgingly conceded that pro-divorce liberals accounted for a small but significant portion of his own party's adherents, having been chased into the PN's arms by the violent excesses of the 1971-1987 Mintoff/Mifsud Bonnici regime. So, to neutralise the danger of liberal Nationalists drifting off to the Labour fold in the hope of securing divorce legislation, the Nationalist Party included in its 1998 manifesto a promise which, although stopping short of introducing divorce, would nonetheless give legal recognition to unorthodox couples, and children born out of wedlock.
It was a successful ploy, and the Nationalists were duly returned to power in 1998. But 10 years later, it has to be pointed out that that this electoral promise was never kept. For a while, the issue would occasionally surface at press conferences, only to be brushed aside by Prime Minister Fenech Adami, until it was largely forgotten in the ensuing EU referendum/election debacle.
Now, in 2008, the same cohabitation law has been pronounced formally dead. Its exclusion from the PN's electoral manifesto in 2008 means that Fenech Adami's flirtation with the liberals 10 years ago has now officially come to an end.
At a glance, it seems that ever since Lawrence Gonzi took over the helm from Fenech Adami, the Nationalist Party has grown more conservative, not less, with resounding implications for the coming election. For while the PN leadership has since changed, the underpinning dynamic which characterised the 1998 elections is still there: even if its leader seems to have forgotten this, the PN continues to rely on an increasingly impatient liberal minority within its own ranks.
On another level altogether, the scenario does not bode well for the 353 promises contained within the Nationalist Party's manifesto for Elections 2008. If past electoral promises are anything to go by, prospective voters are likely to ask themselves: how can we trust a party that makes promises which it has no intention of keeping, and which – 10 years later – turn out to have been red herrings, designed to attract individual voter segments without actually offering anything in return?
But if the issues have changed, there is one aspect at least in which the two elections – 1998 and 2008 – may be compared. Both were make-or-break elections for the PN leaders, albeit for different reasons. In Lawrence Gonzi's case, his entire future political career has now been anchored to the outcome of this election. By choosing an electoral campaign strategy built entirely in his own image and likeness – "GonziPN" – the Prime Minister has managed to turn Elections 2008 into a referendum on himself.
For this reason, Dr Gonzi would be wise to bear in mind the existence of a small but possibly crucial electoral segment within his party's fold… especially if he intends to make any last-minute promises before the election.