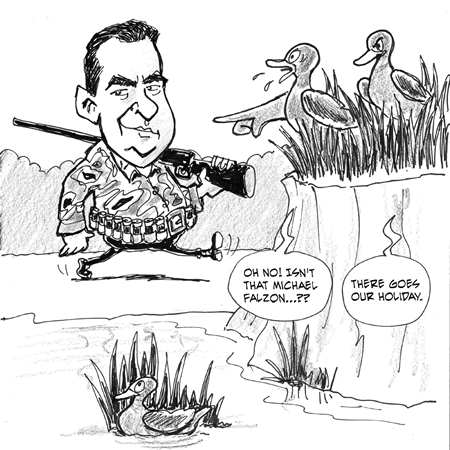 Recent developments in Malta's political scene have served to illustrate a deep-seated local misconception regarding public figures and their right to privacy.
First, there was the furore surrounding Alfred Sant's medical condition, after the Labour leader underwent surgery to remove a malignant tumour from his large intestine in December. The precise nature of the condition was not made known immediately, and many in the country – including Labour spokespersons, but unaccountably also journalists and newspaper editors – argued that it should never have been revealed at all, as medical matters do not fall within the public domain.
This may well be the case with private citizens, but not with political party leaders who also happen to be potential Prime Ministers. Thankfully, Sant himself was among those who disagreed with the widespread misconception; in his first public appearance since his operation, he explained how such information had in fact become "expected" in modern democracies.
But while Alfred Sant appears to be conversant with this basic tenet of modern democracy, the same cannot be said for other senior members of his own party. One of these is MLP general secretary Jason Micallef, who last week accused Independent columnist Daphne Caruana Galizia of having had cosmetic surgery to virtually every part of her anatomy you care to name.
Micallef justified this extraordinary initiative by pointing out that, like Sant, Daphne is also a public figure in her own right. Significantly, though, he failed to discern a glaring difference between the two. Unlike Sant, Caruana Galizia does not occupy a position of public trust. She is not an elected representative, nor an active spokesperson for a party in Parliament, and as such she is not accountable to the general public in the same way as either Alfred Sant or Lawrence Gonzi.
Ultimately this is the basic demarcation line, but time and again it transpires that local politicians are incapable of recognising that the same principle also applies to them. Among the latest offenders is MLP deputy leader Michael Falzon, who seems to see nothing of direct public interest in his choice of companions on a recent hunting holiday to Romania.
Last Sunday, MaltaToday revealed how Falzon was one of a group of people – including Richard Cilia, a committee member of the hunters' lobby FKNK – who holidayed together for a hunting trip in Romania last December. Falzon curtly told the newspaper that it was "nobody's business where he goes on holiday"… but given his role within the party, and given also the identity and affiliations of the companions concerned, this is quite frankly absurd.
Falzon seems to have overlooked the fact that the FKNK – of which Cilia is a well-known militant activist – is currently embroiled in a sensitive controversy surrounding spring hunting: an issue of direct consequence to the general public, who might even have to pay fines to the European Court of Justice if the illegal practice is not discontinued this year.
This is not the first time that Falzon, himself a hunting enthusiast, has ingratiated himself with the hunting lobby in a bid to secure their votes: in October, the Labour deputy leader met the hunters in secret at Ray's Auto Dealer in Zebbug, promising them that under Labour, enforcement will not be as indiscriminately strict as it is today.
Michael Falzon can argue all he likes that as a private individual, he is perfectly free to choose his own holiday companions; but he cannot realistically argue that his hobnobbing with senior members of a very powerful lobby just weeks before a crucial election, is a purely private matter which has no place in the public domain.
Besides, Falzon appears also to have forgotten his own party's crusade against Joe Saliba: the PN's general secretary, who last August chose to accompany building contractor Zaren Vassallo on a Mediterranean cruise.
The Labour media had a field day with the story at the time: understandably enough, as Saliba had only very recently admitted in public that his party accepted undeclared donations from big businesses… in particular, the construction industry.
Ironically, Saliba's response when confronted by One TV's Charlon Gouder was utterly indistinguishable from Falzon's response to this newspaper's questions about his hunting holiday last December: he argued that Vassallo was a private individual who had a right to privacy, like everybody else.
We await an explanation from Michael Falzon as to why Joe Saliba's choice of holiday companion was deemed a matter for public interest, while his own, analogous and arguably more contentious choice was not.
But then, perhaps this is what his own party's secretary had in mind, when he complained of "two weights, two measures" on Bondiplus last week.