More teenage mums are attending the government's schoolgirl mothers' unit, the educational support service for unmarried pregnant minors, testifying to the increase in teenage pregnancies over the last two decades.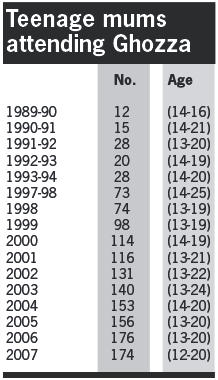 The unit, called Ghozza, has helped 174 girls in the last year. At least one of them was aged as young as 12.
Since 1989, the pattern of teenage mums attending Ghozza has been growing constantly, increasing from 12 girls to 174.
The increase in teenage pregnancies in Malta registered a notable increase in 2005, as births by 16-year-olds who became mothers increased by 55 per cent over the average in the past five years.
Back then, 40 births were registered from mothers aged 16. Another 14 were from mums aged below 16. It was the highest number of teenage births yet within the last five years.
It is said that teenage mums are often at risk of poverty because their pregnancy forces them to leave education early, and have no form of training skills to support themselves.
Apart from unit Ghozza, the Foundation for Welfare Services runs 'Benniena', a programme for vulnerable mothers and their partners, as well as 'Programm Ulied Darna' and the newly launched Home-Start.
Ghozza provides guidance and counselling to pregnant girls under eighteen, their boyfriends and their parents, as well as moral and educational support, before and after the birth of the child.