The notorious Dubai business trip "scandal" of June 2006, when the Nationalist media cried foul over an MLP delegation to the United Arab Emirates in the company of leading building contractors, raised the issue of Labour's alleged connections with big business.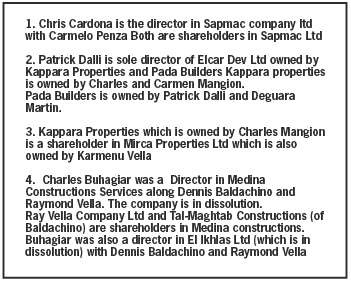 MaltaToday can now reveal in detail the precise nature of these links, which show that MLP candidates Chris Cardona, Charles Mangion and Charles Buhagiar either were or still are involved in construction firms owned by construction magnates known for their Labour sympathies: including Carmelo Penza, Patrick Dalli and Dennis Baldacchino, who had accompanied a Labour delegation to Dubai.
Labour MP Charles Mangion also co-owns a building company with former MLP tourism minister Karmenu Vella.
The four Labour candidates with close commercial ties to the construction industry all said that if appointed with a ministerial portfolio, they would rid themselves of all commercial ties, including those with the four construction entrepreneurs who had accompanied them to a Dubai meeting with Tecom Investments in .
Tecom is the conglomerate responsible for the Maltacom takeover and the SmartCity project, among others.
The Dubai meeting
The Dubai meeting, attended by Labour MPs Charles Mangion and Charles Buhagiar, came in for harsh criticism, especially in view of the fact that some Labour MPs, including Mangion and Buhagiar, are involved in a series of partnerships with Carmelo Penza, Denis Baldacchino, Ray Vella and Patrick Dalli – the same four businessmen who were present with the MPs in Dubai.
Patrick Dalli, the husband of Labour MP Helena Dalli, is the sole director of Elcar Dev Ltd, owned by Kappara properties and Pada Builders. Kappara Properties is owned by Labour Deputy Leader Charles Mangion, together with his wife Carmen. Kappara Properties also owns shares in Mirca Properties Ltd, co-owned by Labour MP Karmenu Vella.
Former MLP works minister Charles Buhagiar on the other hand, represents Medina Construction Services Ltd together with Dennis Baldacchino and Raymond Vella. Medina Construction Services, which is currently undergoing a process of dissolution, is owned by Ray Vella Company Ltd along with Maghtab Constructions, belonging to Baldacchino.
And Labour MP Chris Cardona, although being part of the Dubai delegation, represents Sapmac Company Ltd as a director and owns shares together with Carmelo Penza.
Charles Buhagiar
Contacted by MaltaToday, Charles Buhagiar asserted that he would dispose of all commercial interests he is involved in if appointed Minister. "In fact, Medina Constructions is already in liquidation," he said.
Asked about Med Design Ltd, an architectural firm listed as a limited liability company on the records of the Malta Financial Services Authority, Buhagiar said : "Med Design is not a company, but a trade name. In that case, I shall be applying for a change of architect and appoint someone in my stead. Of course, I would relinquish ownership in doing so."
Buhagiar was then asked whether he ever received funds from the construction industry, and he quickly answered: "Of course. Med Design is an architectural firm and we mainly invoice construction companies." Asked whether he meant political donations by "funds", he replied : "No, Med Design never received any political donations."
Re-formulating the question, Buhagiar was straightforwardly asked if he ever received political donations from the construction industry. "I wouldn't know what donations the Labour Party receives," he said.
Asked to clarify whether he ever, personally, received any political donations from the construction industry, Buhagiar said : "I don't know. I don't think so. I don't remember. I've been working in politics for the past 29 years."
Quizzing him on whether he feels that his presence with the four construction entrepreneurs in Dubai may have constituted a conflict of interest, Buhagiar said: "No and let me explain why. A conflict of interest is constituted when one is in a position of power." Challenged on whether it could open doors for such conflicts, since there are realistic and immediate chances of him ending up in a position of power, Buhagiar said: "No, why?"
Charles Mangion
On his part, Charles Mangion said: "I will definitely rid myself of all commercial activity, in fact I've already started the process. Mirca Ltd, as you may know, is in dissolution. As regards the other companies, I have already contacted my auditors to start off the process of dissolution." He later called to say that even with regard to his practice as a notary: "I'm passing it on to my son, who has qualified in the legal profession and is in the process of taking over."
Asked whether he had ever received donations from the construction industry, Mangion said: "No, not personally. I never received any donations, in fact. Every donation passed on to me at our fund-raising events was passed on to the Labour Party."
Asked whether he feels that his Dubai trip may have constituted a conflict of interest, Mangion warned: "There is an ongoing libel case against who made allegations in that regard. I never had any conflicts of interest and I will never have any."
Chris Cardona
On his commercial interests with Carmelo Penza, Chris Cardona told MaltaToday that "everyone in the Labour Party would have to dispose of commercial ties, this is a commitment we all made. I will follow suit by transferring my shares and resign from director."
Asked whether he feels in conflict over the fact that his business partner formed part of the Labour Party delegation in Dubai, Cardona said: "I did not go to Dubai. In any case, all Sapmac was involved in was one project between four people, not a government tender or anything of the sort. Even so, so far I have absolutely no conflict of interest as it would not apply to whoever is in opposition."
When confronted with the question on whether he received any political donations from the construction industry, with preparedness, Cardona said: "Not from the construction industry, no."
Karmenu Vella
When Karmenu Vella was confronted with the same question, in his trademark gentle tones, he said: "Wouldn't it be better to see if I get appointed minister first, and then we can talk? What commercial interests are you referring to anyway?"
When Vella was reminded of his partnership with a company owned by Charles Mangion in Mirca Properties Ltd, Vella explained that this was a venture founded in the early 1990s, when he found that the property adjacent to a house he owned, was inherited by Charles Mangion's family. "Charles and I decided to form a company and develop those two neighbouring houses," he said, "otherwise there were no other dealings and no one else was involved."
"The company is in dissolution," he continued, "whether or not I become minister, I will be disposing of my interests in it."
Declaration of assets
When all four candidates were asked whether they declare their commercial interests, they replied that they declare any debts and assets every year to the House of Representatives, and that such declarations are available to public scrutiny.