TOP NEWS | Sunday, 10 February 2008
Di-ve election reporting stopped after government complaints
Go chairman Sonny Portelli yesterday denied discussing his company's news portal di-ve.com with the Office of the Prime Minister, prior to a company decision not to report the general elections...
---
Mintoff writes to Mugabe, claims Bush has CIA watching him
The former Maltese prime minister Dom Mintoff publishes his letters to world leaders on a personal blog. In an exclusive insight into his letters to Zimbabwean president Robert Mugabe, Lawrence Gonzi, and the European Commission president José Barroso, we reveal the enigmatic 92-year-old maverick's world view of local and world politics...
---
PN edges closer to Labour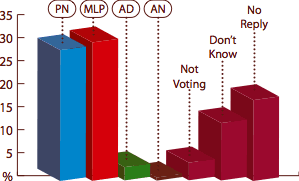 The official start of the electoral campaign has resulted in a 7% drop in uncommitted voters with the Nationalist Party gaining 5% over last week's survey.
Yet the MLP which started the campaign with a 6% lead, still enjoys a 2% lead after increasing its support by 1% during the past week.
This emerges from MaltaToday's first survey after the dissolution of parliament and the start of the electoral campaign.
Alternattiva Demokratika which has seen its national profile rise with newcomer Carmel Cacopardo – a former PN candidate enjoying the media spotlight – has climbed to 3%.
With the billboards of the two big parties mirroring each other's claim that the opposing party is full of yesterday's men, the third party vote has reached the 3.7% mark...
---
Any comments?
If you wish your comments to be published in our Letters pages please click button below