2007 was the year of reckoning for Prime Minister Lawrence Gonzi. Achieving an economic turnaround for the country marked his mission as a new leader and the ticket to a possible election victory – but will his administration's blunders prove ruinous to his election chances? MATTHEW VELLA looks back on a crucial year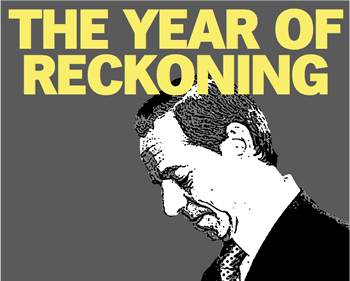 Lawrence Gonzi can only look ahead. He can look into a not-so distant future after 12 months in which his administration's vicissitudes marked the final heave into an election race waiting just around the corner.
It has been one of the prime minister's toughest years, and surely the year in which he has had to face up to the reality of his aged and unchanged Cabinet; the decisions he should have taken earlier rather than having dubiously postponed them; the unending (and unresolved) John Dalli saga which rose to the surface once again this year; his triumphs at securing Mater Dei's official opening, the adoption of the single European currency, and his reining in of the deficit.
It is the last full year before Lawrence Gonzi puts himself to the great electoral test, his first real one beyond the local councils and European elections, which will determine his place in Malta's history: can he secure a historic third term in power for the Nationalists, underpinned by the economic turnaround he manoeuvred? Or will he be punished for his accident-prone legislation, the responsibility he bears for his ministers' incompetence, unfulfilled election promises, and bad environmental decisions?
Gonzi's year of reckoning places him at history's crossroads, where he is set to either become a political leader who will lead his party into victory despite being bogged down by his administration's shortcomings. Or he could become the prime minister who never won a single election.
Economic turnaround
That would seemingly put him at par with the Labour PM Karmenu Mifsud Bonnici: the man anointed by the party's grand architect Dom Mintoff, who saw his hapless government reel out of control in corruption and violence back in the 1980s. But the comparison would be hugely unfair. Gonzi, who won a party election to be crowned leader and prime minister, is a leader whose achievements set him apart from other prime ministers. Gonzi is ultimately responsible for seeing Malta into its advanced European membership phase, at a faster pace than others expected. Taking Malta into the eurozone, with the aid of his junior minister Tonio Fenech, demanded an economic strategy that would bring Malta in line with the strict Maastricht criteria, ultimately leading to a lower structural deficit.
For that reason alone, Gonzi surely steams into 2008 with some renewed confidence. Although his party is now weighing the impending political change that Alfred Sant's sudden retreat into medical convalescence will bring, Lawrence Gonzi's last budget was designed to leave a lasting stamp on his administration's legacy well into the new year.
His 2008 budget was meant to dish out the goodies to a wide cross-section of the population and niche groups at a time when Labour's political campaign was truly gaining ground. Throughout the entire year, the Opposition had been buoyed by positive polls showing people's dissatisfaction and lack of trust in the Nationalist administration. The other side of the coin, however, was that Gonzi constantly enjoyed a popularity greater than his own party – his level of trust was always higher than that of Sant, despite Labour's gearing up in the ratings.
Still, he faced a fresh attack of ideas from Labour, all bound in the voluminous Pjan Ghal-Bidu Gdid. It was the result of endless consultations with various business and social interest groups, a blueprint for a future Labour government. In August alone, Alfred Sant was setting the political agenda, first with the surprising news that a future Labour government would consider elevating the president of the Malta Council for Economic and Social Development (MCESD) to the rank of Cabinet minister. The idea generated great interest among the business community and the social partners, and reminded everyone else of Gonzi's earlier failure, that of hammering out a social pact.
The other proposal was to provide financial assistance to first-time home buyers on homes costing up to Lm50,000, catching the Nationalists napping because this was, despite the economic argument against it, a politically popular proposal. By subsidising this segment of buyers it was more than likely that property prices would continue rising. But by shooting it down, the Nationalists could only project the image that it was not for helping young couples in the hardest financial stage of their lives.
Gonzi managed to steal that glint of euphoria when he finally tabled a budget which put more cash into the hands of a middle class, a segment long complaining of lower purchasing power, as well as more benefits for families. There was little to criticise in his budget. And with his stewardship of the economy, with a deficit heading to below the 3% Maastricht threshold, Gonzi had once again brought discipline to the country's public finances.
Corruption
But the blemishes within Gonzi's government remain. His administration is constantly attacked for its arrogance. The public's perception is that of a staid Cabinet of ministers who have grown too fond of their seat of power, and of a bureaucracy which – as 2007 revealed – has rotten elements and was easily wielded to abet the political powers that be.
Last July, hundreds of mariners were suspected of having bribed officials to get their seafarers' licences from the Malta Maritime Authority (MMA) in the biggest corruption case ever to be exposed, with three police officers interrogated among the hundreds of suspects involved in the bribery scandal.
That same month, the health minister's aide Thomas Woods was arraigned in court on charges of corruption in the award of invalidity pensions. Woods had been directly appointed by Louis Deguara to his secretariat since 1995. Now he had admitted to having received "gifts" from people applying for their invalidity pension through militant Nationalist activist Saverin Sinagra of Zejtun, aged 71, who acted as go-between.
The Opposition upped the ante with a parliamentary debate on a no-confidence motion tabled by the Alfred Sant against Urban Development and Roads Minister Jesmond Mugliett – again in July – which crowned the accusations against Mugliett after the latter offered his resignation, which Gonzi refused. Once again, the ADT bribery scandal was being recounted from its genesis two years ago. Sant accused Mugliett of being "an accomplice of corruption" for intervening to get ADT driving examiner Roderick Galea off the hook since Galea was his canvasser. At this point, Gonzi was being severely tested over his commitment of ensuring zero-tolerance on corruption in his government. While Sant blasted the prime minister over a string of corruption cases, Gonzi's weak defence was that of accusing the Opposition leader of "undermining the fight against corruption" for presenting a motion of confidence in a minister that "has done his best to stop corruption".
Instead Gonzi claimed the Opposition was attacking the government for its success in introducing the euro, the opening of Mater Dei and the building of the new hangar of Lufthansa Technik. And it's often Gonzi's lame comebacks to serious accusations, that lends weakness to his style of government.
Like his self-congratulatory bombast over compliments received from the European Central Bank governor Jean-Claude Trichet, which when used on national television in an attempt at belittling his rival, only exposed him to Sant's retort that he "is an echo for bankers" and insensitive to the hardships faced by families. Moments like these expose Gonzi as a leader who was at times blowing the wrong trumpet, especially during times when his government was in serious trouble – once again, the symptoms of being an accident-prone legislation.
John Dalli and Jesmond Mugliett
The accusations rang louder after Gonzi's handling of the Mugliett resignation, who was accused by the Opposition of misleading parliament on the reinstatement of two ADT officials which were publicly indicted by a court. Mugliett's resignation offer came two years after the bribery scandal of driving examiners at the ADT was revealed by MaltaToday, and led to an inquiry that uncovered a web of complicity, corruption, cover-ups and incompetence, after it emerged that chief executive Gianfranco Selvaggi and successive chairmen had only inquired internally about allegations that kept resurfacing at least since May 2006, without ever reporting them to the police. Despite the ongoing serious allegations, driving examiners and their managers were still allowed to continue in their positions of responsibility and trust.
But that wasn't all. Gonzi's refusal to accept Mugliett's resignation also brought to the fore John Dalli's resignation three years earlier, and the reasons behind the Prime Minister's decision to accept it. If Gonzi had found nothing to substantiate allegations made against John Dalli, why had he accepted his resignation back in 2004? The answer seems no clearer today than it was three years ago, despite having "reinstated" John Dalli into the flow of government activity with a post of personal consultant on economic affairs. It was also in 2007 that it was revealed that Dalli had never been the subject of any investigation by the Auditor General, while Jesmond Mugliett's actions had also convinced the PM there were no grounds of corruption on which to accept the roads minister's resignation.
Here were two ministers never found to have acted incorrectly in their government roles, but the outcome was different for the PM's former leadership rival. The Office of the Prime Minister had said Gonzi did not see any grounds for accepting Mugliett's offer of resignation, "as Minister Mugliett had never defended corruption and never tried to intervene to reverse the ADT board's decision to terminate the employment of the employees concerned."
Gonzi claimed the decision to keep Mugliett on may be considered "debatable" and that it was based on whether he considered the minister's behaviour in this issue "as one that compromises his position as a minister."
But unlike the John Dalli affair, a minister who had submitted his resignation, but in whom Gonzi found nothing that compromises his position, was spared demotion from the Cabinet.
So without an "investigation" that placed Dalli under the lens of the prosecutor, why did Gonzi choose not to keep this minister in his Cabinet?
Everything seemed to have turned full circle at the momentous announcement by Gonzi earlier in December, that he was taking on his former minister John Dalli by his side as his personal consultant. Laying himself bare, Gonzi took a decision many believed he should have taken at least a year ago, when it was clear that all hints of accusation levelled against Dalli had been unproven. Now, with an election nearby, Gonzi appeared to be healing rifts and plastering over the cracks in his party.
But once again, Gonzi's coup in securing a public exoneration for Dalli seemed to raise more questions than it answered. For one, there were the reasons why Gonzi had accepted Dalli's resignation back in 2004. Why had Gonzi allowed Dalli to get lost in the maelstrom of allegations that came from all sides? And why was he taking him out of the political wilderness so late in the day?
Here was a prime minister declaring a symbolic end to the Dalli saga. Gonzi argued that Dalli had been left "hanging" by the unfinished Auditor General's audit into the procurement of airline tickets. With that audit still not signed into finalisation, Gonzi decided to announce he was unilaterally absolving Dalli of any false insinuations levelled against him.
While Dalli clearly pointed towards a conspiracy orchestrated by none other than Gonzi's former secretary Alan Camilleri, the prime minister seemed to have found himself having to patch up this open wound. After all the spin had come atonement – it was certainly not one of Gonzi's proudest moments.
Mater Dei and the euro
After all, Dalli had made it a point to make his dissent public in the past three years, even pouring cold water over one of Gonzi's most notable of achievements: getting Skanska to finally play fair and stick to a deadline for the opening of the Mater Dei hospital, and witnessing the official inauguration of Malta's most expensive investment in healthcare.
Just days after the opening, Dalli ruefully pointed out that it had been the new finance ministry, under Gonzi's stewardship, that had allowed Swedish construction giant Skanska to overrun the previous Lm93 million price tag on the hospital. "The Finance Ministry could have sought my advice during these negotiations as the one with a deep knowledge about this situation, but as at that time I was out, they did not. It is their (and the country's) loss because if they had sought advice, we would surely have saved the country many millions."
But Gonzi had delivered. And he delivered even more when he secured a revival in tourism figures after finally giving the go ahead to low cost airline Ryanair to commence operations back in November 2006. That decision bore fruit with tourism operators and businesses welcoming the new flow of tourists whose €1 tickets had brought them to Malta.
And his steady roadmap for euro convergence, forged years before when he made financial and economic affairs his personal mission – even one which he believes will secure him election victory – finally paid off. Malta managed to achieve economic convergence with the euro area, with inflation rates well below the 3% reference value at 2.2%; and a deficit that was expected to be as low as 2.1% by the end of the year from the 10% at the start of the decade: a remarkable achievement.
Into 2008
Now Gonzi faces 2008 but it's this last, taxing year that has proved to be his year of reckoning. With both parties deeply engrossed in their own electoral fortunes, even Gonzi could run the risk of losing sight of the concerns of the electorate; concerns which do not include back-slapping from the European Central Bank, economic convergence figures, or grandiose plans for a revived Grand Harbour.
One of them is hunting, which this year was marked by some forceful statements from the European Commission on the illegality of Malta's Spring shooting season, and the show of muscle in the March protest which degenerated into a melee of unrest where a number of journalists were mobbed and injured. Gonzi's government persisted in opening the Spring hunting season in 2007 in defiance of the European Commission, and has even pledged to fight on the hunters' behalf in the European Courts of Justice in 2008. Can the non-hunting majority continue to be sidelined for this ludicrous quest for votes that only renders the government's environmental record even worse than it was before, when it faced the onslaught of civil society over the extension of the development zones?
Will Gonzi also address the issue of irregular immigration in a more forceful manner, and with it the growing manifestations of xenophobia and social injustice? Where both parties insist on remaining silent on this issue, except for flexing their muscles in Brussels, Gonzi will need to be more inspirational to address the changing landscape of Malta and allay the fears of ghettoisation and the threat of possible serious social repercussions in future. Surely, he will need to stand above the noises made by backbench MPs and new political parties whose infantile proposals to stop immigration only serve to kill the debate on this crucial issue.