It was not to be expected, but then again nothing is expected in politics. There is no grand design.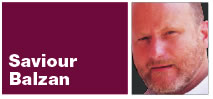 Sooner rather than later, the newsroom started to piece together the implications of his operation last Thursday.
Reporting such situations is not without risk. Health is a very delicate matter intertwined with taboos and no go areas.
And this is Malta, where everyone is related to everyone and someone knows that someone you are writing about.
But would-be prime ministers are not personae who can be ignored.
Journalists are not expected to be conformist and conformist is one thing this media house is not. We are here to inform, not to be liked, is what I tell my colleagues. When we start getting liked, it means something is wrong.
Sant's ailment, like Evarist Saliba's fantastical statements in his autobiography and Guido De Marco's skirting of history in his biography, should be scrutinised not swept under a carpet.
No sooner had one of the journalists phoned to put forward this million-dollar question – which is: what is exactly Sant suffering from? – than an SMS appeared on the mobile calling on me to ensure that my journalists act ethically. It was from a friend. I should emphasize "was". The message was silly and unnecessary.
The SMS suggested: Would you like your next of kin's health to be bandied around the whole bleeding globe?
There was no point explaining the difference between a public person and a singularly eccentric editor who shuns public events and meeting people and is married to an equally unconventional blonde.
As in all things in Malta, there is no such thing as a well-kept secret.
Nonetheless, it was clear that the sudden ill-health and subsequent operation sent shivers through the Labour camp… but only for a brief period. As the dust started to settle, it became evident that the whole saga could well turn into an electioneering advantage for the Labour Party.
Suddenly the lieutenants at Mile End realised they were onto something which had far-reaching consequences on their frantic run to take over Castille and change the country with their fresh, un-innovative policies.
Alfred Sant will read through this. He knows that this episode has left his political opponents naked without an idea what to do next. It has also led to the definite postponement of the election date and completely wiped away Gonzi's surprise advantage.
It has to put it mildly demolished the possibility of further callous attacks on Sant and what is more important it has brought to the fore the sympathy card factor.
There is a personal price to pay for Sant. But if politicians take advantage of fate and destiny, no one can accuse them of cheating.
Sant has long been touted as the Nationalist investment for a possible fifth term. Yet, post-operative Sant may well turn out to be the PN's unwanted adversary.
The odds point to a Sant who will return to the political scene at least for the foreseeable future, but if this turns out not to be the case it could very well give birth to a new leader.
There are many potential candidates, and though not all of them instil the same measure of confidence they are there for all to see.
Joseph Muscat, Gavin Gulia, Evarist Bartolo or perhaps a complete outsider.
The present deputy leaders would surely be contested and Labour delegates know all too well that Michael Falzon and Charles Mangion cannot lead the party.
The former is considered to be too neither here nor there and is simply not leadership material; whereas in the case of Mangion, though he is popular and seen as a capable politician, his position could compromise the Labour party with his involvement as a notary in controversial business deals. Notarial involvement that have exposed Mangion to the accusation of suffering from various conflicts of interests. Something he vehemently denies.
Nonetheless talk of changing the leader at this early stage is not on the cards.
There is never a dull moment in politics and never a grey sky in journalism.
Our job is about analysing and reporting and revealing. We should be talking about the lack of vision in most of our political parties and their lack of resolve when it comes to tackling issues.
Like Gonzi, we too have been overtaken by events.
That is what life is all about and the success stories are always those that read into the future.
High horses and shopping
It is about time politicians get off their high horses and do the things everyone else is obliged to do.
Queue in supermarkets, shop around and visit pharmacies.
I am told shopping is supposed to be fun.
But it sure is not when you hardly ever greeted in shops; rather completely ignored and more importantly forced to pay exorbitant prices.
They talk about service with a smile. Both are vagrant habits in our retail outlets.
They say the French are nasty people, but there is no other place in the world where you feel more at home than shopping in France. Everyone says "Bonjour" and smiles as if they really like you and want you for a pet.
Here you have to wave or literally jump up and down frenetically to attract the attention of a pretty headless salesgirl, who for some unknown reason is glued to her mobile instead of to her customer.
When you have ask a question, you are more often than not faced with a bland look, a silly stare and a look that talks about an unbelievable emptiness between her ears.
Ask her if the fabric is cotton and they shout across the shop: "Sheila dan tal-koton?"
Ask them if the fish is fresh, and they say yes. "Yes, it was frozen?"
There could be no better reason to despise shopping. Anyone who loves shopping in Malta must be nuts.
But it is not shopping mania that should worry most people. Really and truly it has to be the prices.
The other day I walked into Naxxar's brand new supermarket to buy some 0.96 kg of tomatoes at Lm 1.88, 0.59 kilo peaches at Lm2.77 and 12 single Kiwi fruits costing Lm0.48c and one fancy bread roll costing 35c. The total bill was Lm5.48.
To put it mildly I was scolded by my aunt for being stupid enough to buy my fruit and bread from a supermarket. And I am told the prices in this supermarket are far cheaper than some shops in Sliema and St Julian's.
If customers are willing to pay these exorbitant prices when it is possible to shop around and find much cheaper, then really no one should chastise the fruit and food importers and supermarkets for making a racket.
But if this is not good enough, really one should take a look at the price of medicines. Those individuals who cannot avoid medical attention are literally forking out huge sums and no one is saying a word. Apart, of course, from the excuse that we are part of the big world and what do you expect, the state to intervene?
Crocodile tears
So when I listen to the GRTU lamenting about the unacceptable credit charges banks have unfairly imposed on customers I can only ask myself: is the GRTU as vigilant and concerned when some of its members also make atrocious profits out of innocent customers?
That the banks do not have a soul is not something for the GRTU to say.
Banks are profit making machines, and part of the free market mechanism.
But surely, the culture of profiteering by registering unwarranted profits is so widespread that the GRTU's accusation against the banks is very much the case of the pot calling the kettle black.
When it comes to business I have this uncanny feeling that we are all living in Sodom and Gomorrah.
If anyone should be doing anything about credit card charges it should be the MFSA.
Perhaps MFSA's chief Prof. Bannister could start by reading this newspaper instead of only looking at teletext and perhaps missing out on one of his luscious lunches with some well known bigwigs from the banks, and reposition MFSA into being more of an authority.
Thanking
On a more positive note, I would like thank the readers for choosing MaltaToday as their first read and in some cases as their only read.  The increasing numbers of readers is truly encouraging. And finally a big thank you to all the staff at MediaToday for contributing in making MaltaToday a veritable watchdog and popular read!
SBALZAN@MEDIATODAY.COM.MT