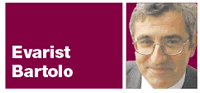 Alfred Sant lies in a hospital bed recovering well and steadily from a major operation. Messages of solidarity and sympathy pour in from foe and friend alike. Is it too much to hope and expect that the general election campaign will be more civilised and instead of demonising the Labour leader at every opportunity, the PN will compete with the Labour Party on the basis of ideas and proposals? All indications so far are that Alfred will be back in the political arena in a few weeks' time to lead the Labour Party in an intense campaign of an election that will be held soon.
It is still too early to say whether the planned personal assaults on him will go ahead or whether there will be a rethink that will turn the election campaign into a robust debate about the best way forward for Malta. In a competitive parliamentary democracy where the parties fight for every vote, an electoral campaign inevitably becomes fierce, but does it have to degenerate into an all-out war?
While being a controversial politician himself and adopting positions and policies that have generated fierce criticism and opposition, even his adversaries will admit that Alfred has given a positive contribution to a new way of doing politics in Malta and Gozo. He has rejected violence, populism and tribalism and shown that today's complex challenges require a new strategy and a closer working relationship between the country's political, productive and social forces. Tension, the articulation of conflicting interests and disagreement are the oxygen of an open competitive democracy but if well managed and valued, they can be turned into positive energies to propel the country forward.
Alfred Sant has been the leading inspiration in the Labour Party's project of the last four years, listening and learning from the people of Malta and Gozo, reaching out beyond red and blue, beyond narrow party interests and tapping all the talents in the country of people in business, unions and civil society to prepare plans to give a new beginning to our country.
Once in government, Labour is committed to continuing this approach by placing business, unions and civil society at the heart of the country's administration and give the country's business, social and cultural forces an effective voice in government. When he launched Labour's plan for a new beginning, Alfred Sant said: "Malta and Gozo have lots of good-willing individuals – talented youths, workers, employees, experienced and competent entrepreneurs, who can work together and make our country viable, competitive, and fair and open to diversity and change."
As we come to the end of another year it is a good time to think of the future and plan for the challenges ahead. However much we find it disturbing we must get out of our comfort zones and become aware that more of the same cannot really help us to face many new challenges in a world that continues changing.
Discerning citizens want politicians able to articulate their vision and persuade them not just of their intended destination, but also of how they plan to get there. Those with a compelling vision and a convincing plan are best positioned to satisfy the search for certainty in an increasingly uncertain world. Glib sales pitches will not work with the citizens occupying the middle ground and who ultimately determine election outcomes.
Our benchmarks cannot be local and national any longer. We are competing in the world. It is not enough that the primary school pupils of our village are doing better than those of another village. How are our pupils faring when compared to those in Poland, Singapore, India and China? A richer, fairer Malta and Gozo demands a new quality and equality principle: as education and training are essential to develop the qualities of individuals, top quality education and training must be accessible to all. We are competing against the best the world has to offer. If we want to succeed well in this fiercely competitive world we have to become much better at whatever we do. We must not tolerate mediocrity anymore, neither in public services nor in private businesses. Public and private sectors must raise standards and become more accountable.
If we offer mediocre public and private products and services, not only will we lose customers, tourists and investors to our competitors, but the environment that produces mediocrity will push most of our talented people to other countries where they can thrive better. The delivery of top quality products and services must become a national passion if we are to thrive in the years ahead.
Alfred Sant has a major and leading role to play in our country's future and his full and speedy recovery is in our national interest.