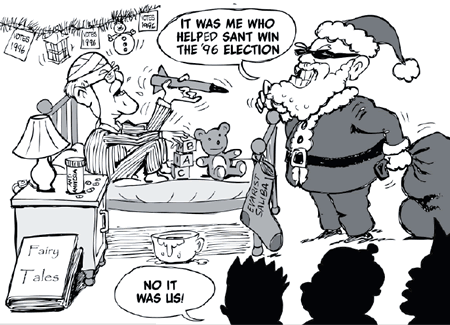 They say that Christmas is a time for giving. All too often, however, it is also a time for platitudes and empty clichés.
Nowhere is this more evident than in the traditional festive greetings thrust into our letter boxes each year: those frilly little brochures with their glittering decorations, exhorting us to look beyond the consumerist impulses that account for so much of the festive atmosphere, and to rediscover the "true spirit" of Christmas.
Needless to add, in many cases the message would be entirely justified. For let's face it: the news in recent weeks and months has not always lived up to the visions of plenty emanating from government propaganda sources.
Earlier this year, Malta was shocked by the story of a family in Bormla who had a lucky escape when the part of the ceiling of their kitchen caved in. The subsequent images, relayed with some relish on the Labour party owned media, revealed a darker side to life in 21st century Malta: a situation whereby certain people live in appalling conditions that can only be described as abject poverty.
Cases such as this – and there are many others – are evidence of a soft, white social underbelly which belies many of our impressions of life in Malta being tranquil, cosy and carefree. Ultimately, at this time of year it would be unfair to overlook the existence of those less fortunate than ourselves, or to acknowledge that for all the empty rhetoric associated with the festive season, Christmas is not necessarily a time of happiness for many people in the real world.
But then again, just as one would do well to acknowledge the existence of human misery, let us not make the mistake of allowing our sense of solidarity to also get in the way of our national capacity to celebrate life.
For Christmas is also a time for celebration; and despite the nay-sayers and prophets of doom, there is still much to celebrate and to enjoy. Admittedly, this year's festivities may well be overshadowed by the proximity of an election which is very likely to take place in the first few months of 2008, and which has already cast a long shadow of political tension over the island. Unfortunately, the atmosphere of brooding resentment, so typical of the political stalemate that characterises this country, has once again reached Cold War proportions after a period of relative calm. And we can only expect the situation to exacerbate even election fever sets in.
Perhaps for this very reason, one would be well advised to take full advantage of the week ahead to lay aside our differences, to put stress and politics on the backburner for a change, and to take time out for a little enjoyment.
Even at a national level, there is scope for at least a little temporary rapprochement before the outbreak of hostilities. It is said that even in the First World War, British and German troops emerged from the trenches to play football on Christmas Day, even if they knew that once the festivities were over, they would be back to the deadly business of all-out annihilation. Would it be such a bad thing for our political leaders to similarly emerge from their respective trenches, to meet in an informal setting and wish each other all the best for the coming year – obviously, with some notable exceptions? Would it be amiss for the politically-owned television stations to take a break from their daily indulgence in mudslinging, and simply regale their viewers with a little light entertainment for a change?
Politics aside, there is room for relaxation in other spheres, too. In the coming days, we will no doubt be assailed from all quarters by exhortations to desist from excessive alcohol consumption, to be mindful of our social responsibilities, and other such sober warnings. This is certainly sound advice, and life is always at its best when enjoyed in moderation. But again, let us not forget that life is also a fleeting affair really, and that sometimes – even if only once a year, and so long as no others are harmed in the process – there is nothing wrong with letting one's hair down for a change, and actually having a good time.
From this perspective, we would like to wish all our readers a very, very Happy Christmas, and all the best for the coming year.