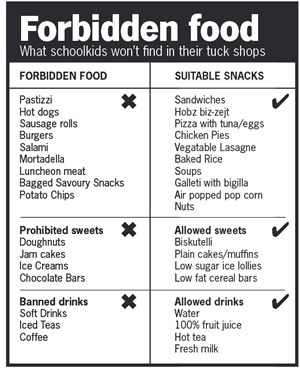 A ban on unhealthy food at school tuck shops will enter into force as of next January as soft drinks, chocolate bars, burgers and crisps will vanish from tuck shops shelves to make way for more wholesome alternatives.
But despite the new restrictions on junk food, students will still be allowed tasty alternatives in the form of the traditional "hobz biz-zejt", pies, pizzas and even baked rice and vegetable lasagne.
The new set of guidelines issued by the Education Department will be effective from 1 January, and also lists healthy toppings and fillings for sandwiches, pizzas and pies.
These include vegetables, tuna, sardines, mackerel, salmon, chicken, ricotta, skimmed mozzarella, low fat cheese, hard boiled eggs, traditional Maltese bigilla, beans and lentils, kunserva and low-salt dressings.
As from 2008, instead of ice cream and chocolate bars, students will find ice lollies, fresh and dried fruits, muffins, Chelsea buns and cakes for sale at their tuck shops.
Even snacks promoted as health foods like yoghurts, cereal bars and fruit juices will only be permitted if their fat and sugar contents conform to set levels.
The forthcoming food revolution in schools was announced by Education Minister Louis Galea in a reply to a parliamentary question by opposition MP Carmelo Abela. Galea said schools will be expected to follow the guidelines set by the Healthy Eating Lifestyle Plan as from next January.
Contacted by MaltaToday a spokesperson for the Ministry made it clear that "all prohibited items should not be allowed in schools and, therefore Tuck shops will not be allowed to sell such food."
He also made it clear document was circulated to all schools and all schools must now take it on board and create their own Healthy Eating Lifestyle Plans involving all stakeholders.
According to the Ministry's spokesperson all tuck-shop operators have been informed about the report and have also been given a document with details on what is not permissible and what healthy alternatives should be provided.
The Education Division has also organised an In-Service Course to help schools implement the recommendations of the Healthy Eating Lifestyle Plan.
"Vetting of food items is being carried out and Certificates of Approval are being issued for those food and beverage items that abide by the nutritional parameters set by the HELP Document."
The new rules will be enforced by a Healthy School Nutrition Audit Board, which will inspect every tuck shop at least once a year.
Schools will also have to allot money for the daily provision of 200ml of milk for every student. Access to water is considered a fundamental human right and all students will have access to drinking water at all times at a number of points around the school away from toilet areas.
The report encourages schools to provide breakfasts in schools. Some schools are already providing breakfast because many students do not eat breakfast before leaving for school and find difficulty in settling down in the morning.
Although promotional activities, including sponsorships and advertising by food producers will continue to be allowed, marketing activities will no longer be allowed to interfere with the whole school approach to healthy eating.
No food samples of prohibited foods will be offered to students.
jdebono@mediatoday.com.mt