| | |
| --- | --- |
| Monique Chambers | Sunday, 21 March 2010 | |
My verdict? GO | Rating 8/10 | Style 7/10 Restaurant plain and simple but the food is worthy decor | Service 9/10 Sweet, knowledgeable and helpful | Selection 8/10 Good German classics and interesting specials | Steal-ability The fruit tempura
I lived in Germany for almost a third of my life and loved every minute of it. The stereotypical cleanliness, the expanse of countryside, the cheesy music discos, quality clothing, wacky art and, of course, the food. Until last week, I would suffer a near-death experience in my precious German car, to skid into a parking space if I spotted the bratwurst lady with her German wares in the 'car park' by the ferries. Thankfully, I was pointed in the direction of Nuvo Art and Dine in Marsascala, a restaurant run by young German chef Stefan Schulte who has a menu of traditional dishes and a few influenced by travels to, most recently, Thailand.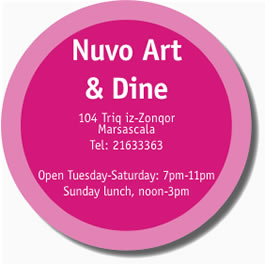 We followed the diversions and headed towards the seaside town and its water polo pitch, where we were told, was opposite the restaurant. Bang on. The entrance is small yet inviting, a cute terrace is made available for smoking types or those who want to be close to the sea.
A table of two tourists and a family of locals were downstairs; we were shown to a quiet table upstairs, with an uninterrupted view of the sea. Art by Anton Vella currently adorns the whitewashed walls and quirky antique furniture is placed around – but not merely as objects of beauty, but as functional pieces.
A sweet waiter brought up menus and home-made seeded bread rolls with a chickpea dip, a Mediterranean salsa and butter. John devoured one end of the dish, and I the other. The bread rolls didn't stand a chance; warm, crusty and within reach. Chef patron Stefan came up to talk us through the menu and invite us to be guinea pigs and test out some meals from his new menu.
I had arrived with Jaeger Schnitzel in mind; breaded pork covered in a creamy mushroom sauce and there it was, calling me from the menu, until I heard a dish on the new menu which made my eyes pop and my tongue tingle in anticipation. I wanted to order there and then but knew I had to convince John to take the Schnitzel and this may take some doing.
For starters, I ordered the Münchner Weisswurst sausages which are made from minced veal and pork, herbs and parsley. Apparently, every butcher in Bavaria has his own secret recipe. These were served in a bay leaf fond, with pretzel bread and sweet mustard (€6.25). The sausages were almost bursting from their skins with flavour; subtle but unmistakable. The pretzel bread was impossibly soft on the inside and crusty on the outside. I spooned mustard on and made mini bratwurst, without damaging my tyres or giving the ADT or whoever another wodge of money for parking badly.
Naked Sailors (prawns with blood orange and rucola and chicory leaf salad) were John's order; many of the dishes had funny names; Fawlty Towers (potato and porcini cakes), Tipsy Chicken (chicken with peppers surrounded with Vodka foam), Yellow Submarine (lemon sorbet with fresh mint)… who says the Germans don't have a sense of humour! Anyway, I didn't even get offered a taste I'm afraid, and though he found the chicory bitter, he said he would order this starter again. I took that as 'we'd be back'.
The wine we had was an oak barrelled 'Domina Concept' from Franconia (€21.50). The Domina grape has a long tradition but a low yield and therefore not a commonly found wine and is apparently, similar to Merlot. Nuvo offers a good selection of German white and red wines in a price range €12.50 to €28 which are all imported directly by the owners.
For mains, I ordered chicken, which I don't often do, but it was flavoured with lemon grass and served with tempura fruit, kiwi, pineapple, strawberry and deep fried noodles that resemble petrified candyfloss or a coral on some National Geographic underwater documentary. The chicken was skewered on a lemongrass stalk and the fruit had a hint of tempura coating and were warm, soft and sensuous, and not boiling, blistery-mouth hot, which I was afraid of. The combination of the chicken, which had a deep flavour with a mouth-humming after-effect, went brilliantly with the fruit, which gave it a sweet and interesting texture. For once I didn't head for the potatoes, and merely tasted the rosti which was fine and cumin-y. The overflowing vegetable bowl did get my attention, and quite a bit of it. It was so nice to see fresh, not overcooked, healthy looking veg that went together, and wasn't a random choice served as an afterthought. My section of the table looked like a kaleidoscope, really pretty and Spring-like.
I didn't even need to twist John's arm too hard for him to order the pork with creamy mushroom sauce (the deal is if you are my review date, we have to have different meals and I am completely allowed to taste yours...). The schnitzel took me back to my teenage years in just one bite. Back to when the clothes in the shops now were in for the first time: I replicated skirts from pillow cases and successfully hid my obsession for Shakin' Stevens, until he did a revival tour and I wholeheartedly flung myself on the stage, sobbing, aged thirty-something.
The pork was good, tender enough to cut through easily and the sauce very tasty. Kind of put to shame my efforts with packets from the supermarket I buy on my infrequent visits to Germany. I spotted a flier saying that Wednesdays are Schnitzel night and for €14.90 you can have soup of the day, a choice of schnitzels with Wiener, Jaeger, Zigeuner or Zwiebel sauce (you have to go to find out the difference!) and a slab of German fruit cake.
We'll have to go back to try out the desserts as we didn't quite make it to that stage. Maybe I'll see you there?
---
Any comments?
If you wish your comments to be published in our Letters pages please click button below.
Please write a contact number and a postal address where you may be contacted.
---
EDITORIAL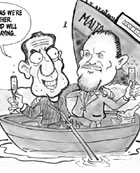 A waste of taxpayer's time and money
---


Anna Mallia
No policy on work permits