| | |
| --- | --- |
| Interview | Sunday, 21 March 2010 | |
Joseph Muscat promised an earthquake of change, and has since transformed several of the Labour Party's former distinctive traits – including its militancy. Has Labour gone soft under its new leader?
Since taking over the helm of the Malta Labour Party (now 'Partit Laburista'), Muscat has talked a lot about forging a new 'progressive' movement.
But other than the addition of new faces here and there, it is debatable whether the party itself has become more 'progressive' in any notable way.
Consider MP Justyne Caruana's recent proposals to the Social Affairs Committee, along the lines that pregnant women could be prevented from travelling if they are suspected of planning an abortion overseas. Or how several Opposition MPs have openly declared their intention to vote against their own party leader on the issue of divorce. Viewed from this angle, doesn't Muscat's claim to 'progressiveness' begin to sound a little hollow?
"First of all, when we talk of a 'progressive movement', we are not trying to invent a whole new definition to fit the party. This is not a case of putting a new label on an old bottle..."
It quickly becomes evident that Muscat is talking less to his own party's grassroots, than to disgruntled or disaffected Nationalists across the divide. "Ours is not just a 'progressive' movement. We are also 'moderate'. We understand that people want change, but they do not want extremism. They want a new direction, but they also crave the certainty of continuity. These people believe that the country under its present leadership is not moving in the right direction – but they don't want to start all over again from scratch. This is why our intention is not to break down everything that has been done in the past..."
But how does the progressive identity work in practice? What's so progressive about (for instance) Justyne Caruana's proposal?
Here follows a small argument over whether Caruana actually said what she was reported to have. I stick to my guns – after all, she was talking directly to our newspaper – but in any case, Muscat does clarify his own position on the proposal.
"We are against abortion – I think we've made this point clear enough – but I don't think it's practical that a woman should be made to pass through a scanner just to be allowed to go abroad. My position against abortion is very clear, as is that of my party. But we have to be realistic about certain issues."
What about divorce? This appears to be a major plank in Muscat's progressive revolution... yet he clearly does not enjoy the backing of his parliamentary group.
"Personally, I am happy with the quality of discussion currently going on at the moment about divorce in my party. It's a positive, not a negative discussion. I was clear about my platform, and I will stick to it. If the people express confidence in me at the next election, I will give a free vote on the issue. I hope that whoever leads the PN at the time will do the same..."
At the same time, there appears to be a concerted effort by conservative elements in society – not least, the Church – to demonise the entire issue: linking it with euthanasia, abortion, and so on. Is Muscat worried that this will degenerate into just another political football?
"That would be a great pity. We would be destroying a historic opportunity to have a serious, genuine bipartisan debate on an important issue: a debate that I hope will lead to serious legislation. I hope this doesn't become a Labour versus PN issue... divorce is a minority issue that needs to be solved at bipartisan level."
Muscat also appears keen to minimise the note of alarmism currently surrounding the issue. "The type of law we have in mind is not of the 'Las Vegas' variety, but rather a serious bill that looks first at the possibility of saving a marriage, and also at giving a second opportunity to those whose marriages have failed. In all cases, the important thing is that the protection of the children remains on top of the agenda..."
That Muscat is actively trying to rid his party of its past reputation for belligerence is now fairly clear. But he may yet be hampered by elements within and without his own party. One particularly thorny issue concerns the Malta Shipyards – traditionally a bulwark of Old Labour, which now has the potential to over-boil into nationwide unrest of the kind last seen in the 1980s. I draw his attention to last Wednesday's edition of MaltaToday which announced the date earmarked for the closure of the Yards – March 30.
"Government was more generous with your newspaper than it was with parliament," he interrupts with a wry smile, "because so far it has told parliament nothing..."
Either way, elements within the workforce are clearly trying to sabotage the privatisation process: which may in turn pose a threat to Muscat's projected image as a moderate. Would I be wrong in detecting a sense of disillusionment in his lack of militancy to date?
"I don't want a Labour Party that barks a lot, but doesn't bite. There is no sense in making a lot of noise, without achieving any results."
What sort of results does he have in mind for the Dockyard? He replies instantly: better management.
"Truth is, the privatisation process has been mismanaged from start to finish, at the expense of the taxpayer. We now know that the sum received was miserable... and symptomatic of the entire approach was the fact that government itself got the figure wrong, by millions of euros, in a public statement. Imagine if the PL were to make a mistake like that..."
Muscat also questions the legality of the entire process to begin with.
"Government seems to be forgetting we are in the European Union now. It is turning a blind eye to the Transfer of Undertaking Directive, which is there to safeguard workers' rights. I am an EU citizen, in good times and in bad, and I therefore expect my government to stick up for workers' rights where possible within the context of membership. After all, these are the same rights the PN promised to defend before the referendum. Why are we in the EU at all, if we are more interested in circumventing EU regulations, than abiding by them?"
Coming back to the potential for unrest... does Muscat feel he is being pushed into an unwanted confrontation? He nods vigorously.
"Government is clearly pursuing a strategy of provocation, no doubt about that. It knows that the only way to frighten people away from Labour is to provoke – so as to get a knee-jerk reaction. It is a pernicious tactic, that of one who has lost all hope of persuading by argumentation..."
One other strategy, it seems, is to portray Labour as a party which tries to please everybody without proposing anything of its own. Muscat however rejects this criticism out of hand.
"It's simply not true to state that we never propose anything. If one looks back over the last 18 month, we submitted many proposals – too many, according to some in my own party – including a sensible plan to fight inflation; clear proposals on immigration; a whole series of proposals to lower the utility bills, including a technical change which would reduce bills by €15 million. We collaborated with government on rent reform – even though the government is not sticking to the agreement in all details. It is always easier to say 'no' than 'yes' – in this case we decided to say 'yes' to the reform, and our proposals in this regard were concrete."
Muscat follows this up with a litany of other proposals, mostly put forward by his party's think tank, Fondazzjoni Ideat.
"As regards MEPA reform, we envisage a three-pronged approach: to abandon the Structure Plan and go for Spatial Planning instead; that there must be a division between functions of environmental protection and planning; and also a parliamentary committee, along the lines of the Public Accounts Committee, to scrutinise nominees for the MEPA boards. No minister should have the right to interfere in MEPA's operations – rather, it would be parliament to scrutinise the authority and the work of its boards. These are clear and innovative proposals, and it is not fair that people accuse us of never proposing anything."
What about the spring hunting issue? Here is a simple 'yes/no' argument, and yet Labour has not yet taken a clear stand. Would Muscat open the spring hunting season this year, if the decision rested with him?
"The problem in this case is that what emerged from last year's European Court ruling was, and still is, entirely open to interpretation. And we still need to understand government's exact position. Labour does have specific ideas on the issue, yes – just like we have on the ongoing Libya visa issue – but at the same time we don't want to be accused of undermining Malta's rights. We don't want to tie the government's hands one way or another..."
Meanwhile, some of Muscat's proposals have raised questions of their own. He has proposed measures to reduce the burden of utility bills – but at the same time he is also committed to reducing taxes. So how does he intend to sustain the welfare state, while at the same time slashing government revenue on two fronts?
"There are two ways to raise government revenue: one is to milk the economy as much as possible; the other is to make the economy grow as much as possible. Today, the government is just flogging a horse that is increasingly tired. Its only idea is to increase old taxes, and invent new ones. Our idea is to collect more, not by increasing taxes, but by expanding the economy..."
Here, Muscat points out a stark paradox in current Nationalist thinking.
"If, back in the early 1990s, Eddie Fenech Adami had reasoned the same way as Gonzi in 2010, he would not have carried out one of the most important and successful reforms of his career: the drastic reduction in the ceiling of income tax. If Tonio Fenech was his finance minister, he would have asked him the same question you just asked me: 'where are you going to get the money from'? But we all know that by lowering income tax to a realistic rate, government revenue increased as the economy grew. Our vision is not to slash the tax rate clumsily, but rather to create incentives for people to work more, while at the same time reducing the incentives to evade or avoid paying tax..."
At a glance, this approach seems very different from that of other Socialist Parties in Europe. Is the PL distancing itself from socialism? Or is socialism itself changing?
Muscat responds by creating a new label for his party, alongside 'progressive' and 'moderate'.
"We are being realistic," he replies. "To guarantee a functional social framework – offering healthcare, education, etc., for free – it is not enough for welfare to exist only on paper. The services have to really be there. This is not happening at the moment. It all sounds fine, until you look into things and discover that you do not actually qualify for anything (or at least, not for everything) because you are earning a minimum wage. As if anyone can get by just on minimum wage these days..."
But the question remains: how does Muscat propose to finance the welfare state? Let's talk about a specific sector: healthcare. Former health ministers (even former PM Fenech Adami) have admitted that the system is unsustainable. But Labour insists that services will remain free for all, as far as possible…
"Not 'as far as possible'," Muscat interjects. "What we say is that they must remain free for all, full-stop."
OK, but how? It is an open secret that recurrent expenditure on health has exploded over the last 10 years – what with the €1 billion spent on Mater Dei, the sky-rocketing international price of medicines, etc.
"I think free healthcare for all is sustainable, but we need to change the existing system. To offer a 21st century service, you can't use 20th century methods."
Muscat argues that bureaucracy and poor planning are as much to blame for rising costs as the international factors over which we have little control.
"Look at the management of government stock of medicines. Today, we are in the ridiculous situation where the private sector, which government buys its medicines from, has filed projections of the government's needs until 2012. But believe it or not, the government itself doesn't know how much it is going to buy! The people they are procuring from know the precise procurement level; government, on the other hand, isn't sure."
Muscat also questions the business models currently in use. "Can you explain why, in Bulebel, there are companies operating on the global market using just-in-time methods – their raw materials arriving on time, all managed by Maltese workers –when a few kilometres away, at Mater Dei hospital, there is total havoc: with everything 'out of stock'? Have you ever witnessed the farce that takes place each morning at the Paola government pharmacy? People queuing up with their papers in hand, only to be suddenly told: sorry, that's it. No more, we've run out. Is this serious?"
My last question involves the national station, PBS – which had earned notoriety as 'Xandir Malta' under Labour in the 1980s, but which is now often criticised for bias by Labour itself. Isn't there an irony in this somewhere?
"In the 1980s, things happened in national broadcasting that I can never agree with. I have no problem saying that these things were unacceptable. But the sort of obscenities taking place today are equally condemnable... if maybe a little more subtle. Today, there is a network of systematic gate-keeping on PBS, all co-ordinated by the usual (how can I describe them?) 'coterie'. This is a fact, clear, transparent and visible to all. Perhaps now, as a reaction to this article, they will spend two days criticising the government here and there, just to give the impression of impartiality. But when it comes to the crunch, they are foursquare behind this government, this establishment."
Muscat closes with a parting shot that leaves little to the imagination: if Labour was guilty of brutish tactics in the past, today the shoe is very clearly on the other foot.
"The methods have changed, but today there are those who are inciting hatred," he says pointedly. "But if the idea is to draw some kind of reaction I can assure you it will not work. I myself will never play that game. Never."
---
Any comments?
If you wish your comments to be published in our Letters pages please click button below.
Please write a contact number and a postal address where you may be contacted.
---
EDITORIAL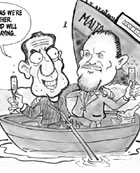 A waste of taxpayer's time and money
---


Anna Mallia
No policy on work permits