| | |
| --- | --- |
| News | Sunday, 07 February 2010 | |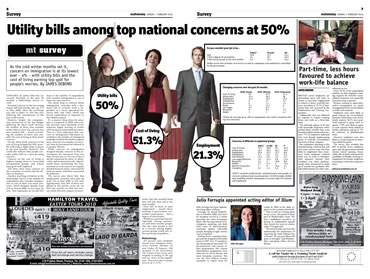 Click to download survey in PDF format
MT Survey
Concern on immigration drops from 27% to 3.7%
Utility bills top concern of self-employed
Employment worries double since 2008
14% in private employment fear losing job
Environment tops concerns for 12.3% professionals
Only 4% of blue-collar workers have green concerns
Health matters weigh heavily on pensioners
At the start of 2010, the cost of living, the utility bills, and apprehension about job security top the concerns of over 50% of respondents
As the cold winter months set it, concern on immigration is at its lowest ever – 4% – with utility bills and the cost of living earning top spot for people's worries. By JAMES DEBONO
Concern on utility bills has increased threefold in the past 20 months, a MaltaToday survey reveals.
National concern on the increasing energy bill had already shot up 17% in June 2008, when the surcharge was still in place, to 33% last year following the introduction of the new tariff system.
However, despite the compensation announced in the last budget following the latest tariff increase, the number of those who consider utility bills as their top concern has now reached 50% – nearly overtaking the number of those who consider the cost of living as their major concern.
On the other hand, concern on the cost of living dropped by 16%, possibly reflecting a slight drop in prices in the past months. However, this could also indicate that people consider utility bills as a more pressing concern.
Concern on the cost of living is highest among those in lower-paid occupational groups and lowest among the self-employed.
The latter show more concern on the economic recession and the decline in business.
Another startling revelation in the MaltaToday survey is the number of respondents who consider immigration as one of their two main concerns, which dropped sharply from 27% in March 2009, to less than 4% now. This represents an overall 85% drop in the number of respondents who consider immigration as one of their two top concerns.
The sharp drop in concern about immigration coincides with a dramatic lull in arrivals, itself a by-product of a secret agreement between Italy and Libya which saw forced repatriation of migrants in the Mediterranean.
It's a massive drop when the situation is compared to 2009, when unlike previous years boatloads of immigrants began arriving in winter after being rescued in Maltese waters.
This is a clear indication that concern on immigration fluctuates according to the number of immigrant landings and that the Maltese appear more worried over numbers of arrivals, than by preconceived cultural or economic threats.
While concern on immigration dropped sharply, concern on the environment has increased from less than 2% last year to 7% even if this is mostly expressed by those in white-collar and professional jobs. Significantly those mentioning the environment as a top concern are equally divided between those concerned by land use issues, and those concerned by pollution.
The survey also shows that that employment anxieties have shot up from 11% in June 2008 to 21% now. Significantly, only 36% of those employed in the private sector do not have any anxiety on their job security while 50% feel a degree of uncertainty. But 14% actually think they will lose their job in the next months.
Even 34% of those in state employment – mostly those working in government controlled corporations – feel a degree of uncertainty.
Health is a growing concern, especially among pensioners and lower-income groups. The fact that health is less of a concern among higher-income groups could also reflect growing inequalities.
Methodology
452 persons were randomly chosen from telephone directories between Monday 25 and Friday 29 January. 300 accepted to be interviewed. The results of the survey were weighed according to the age and sex ratios of the population. The survey has a margin of error of +/-5.7%.
---
Any comments?
If you wish your comments to be published in our Letters pages please click button below.
Please write a contact number and a postal address where you may be contacted.