| | |
| --- | --- |
| MT Survey | Sunday, 19 July 2009 | |
James Debono
A survey on Maltese consumption patterns carried out by MaltaToday has found middle-class and younger respondents are more likely to buy their clothes from Sliema – as opposed to working-class and older respondents who tend to buy their clothes from shops in Valletta.
The survey shows that while 35.5% of the higher-income brackets (AB and C1) buy clothes from Sliema, only 17% of working-class respondents (C2 and DE) do the same.
And while 37.9% of respondents aged 16-35 buy their clothes from Valletta, only 12% of over 55-year-olds do the same.
While 57% of respondents do not have a favourite brand, younger and middle-class respondents tend to prefer branded products. In fact the percentage of respondents without a favourite brand falls to 36% among respondents aged under 35, and to just 27.3% among ABs.
No particular brand dominates the market.
The only brand to surpass the survey's +/-5.7% margin of error is Marks and Spencer, which is the preferred choice of 7.7% of respondents.
Working-class respondents are also more likely to buy their clothes from Paola, Hamrun and Birkirkara. Paola, which has seen the opening of more shopping arcades during the past years, has become more popular than Hamrun.
4.2% of respondents – mostly pensioners or working-class respondents – buy clothes from the various flea markets around the island; while another 2% buy their clothes from the United Kingdom.
Methodology
The survey was conducted between Tuesday 30 June and Friday 3 July. 487 persons were randomly chosen from the telephone directory. 300 accepted to be interviewed. The results were weighed to reflect the sex and age balance of the population. The survey has a margin of error of +/-5.7%.
---
Any comments?
If you wish your comments to be published in our Letters pages please click button below.
Please write a contact number and a postal address where you may be contacted.
---


All the interviews from Reporter on MaltaToday's YouTube channel.
---
EDITORIAL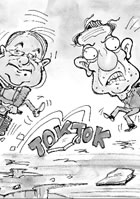 A self-inflicted problem
---