| | |
| --- | --- |
| Editorial | Sunday, 19 July 2009 | |
Small wonder government is so keen on pushing the Renzo Piano project for a new Parliament, as much through its own media outlets as through agents planted in the independent press.
It is after all a project unveiled at a carefully chosen juncture in time, with a very specific purpose in mind – to deflect public attention from what would otherwise no doubt be the talk of the country at the moment: i.e., the extent to which the present government appears to have lost control over various aspects of its own administration.
From this perspective, the Piano smokescreen comes across as an extraordinary success, which has served to blind many media commentators to a number of issues – among them, the alleged irregularities in the procurement procedures leading to the €200m Delimara Power Station contract – which by rights should currently be dominating the national agenda.
But at the same time, there can no disguising the cracks that have begun to appear across the facade of the GonziPN motif. This week, former roads minister Jesmond Mugliett became the latest in a whole series of Nationalist MPs to come out against their own government's proposals.
Mugliett lashed out at infrastructure minister Austin Gatt over his announcement that government will be assuming direct responsibility for the Dock No.1 project in Cospicua. A superficial assessment of the exchange would conclude that the former minister has taken personal offence at the scrapping of yet another of the projects he himself had previously spearheaded. But simmering beneath the surface of this apparently innocuous development is an entire litany of errors of judgement, whereby the current administration has mishandled a situation which it could very easily have turned to its own advantage.
Fact of the matter is that Lawrence Gonzi is facing an open revolt – a rare occurrence in the Nationalist Party, though arguably less so with Labour – and has either failed to take on board the implications, or is in denial.
It is by no means a coincidence that Mugliett is now going public with his grievances. After all – as he himself has elsewhere complained – Austin Gatt appears to have made a stolid commitment to publicly rubbish practically all the projects the former roads minister began: performing a local equivalent of "De-Stalinisation" with regard to those of the former establishment who no longer meet the present leadership's approval.
Nor is it the first time a PN exponent has delighted in criticising his own colleagues in public. During the MEP election campaign, a number of PN candidates – including Simon Busuttil, now tipped as future party leader – seemed to have built their own campaigns on publicly denouncing Jeffrey Pullicino Orlando, whose land in Mistra was once again a source of political controversy before the election.
From a purely "realpolitic" perspective it is difficult to understand what could possibly be gained by publicly ridiculing one's own parliamentary team-mates in this way.
This assumes even greater significance in the light of Gonzi's previous attitude towards these same MPs. When, before the March 2008 election, Jesmond Mugliett, Ninu Zammit, Jeffrey Pullicino Orlando and others were under fire from the Opposition on a wide variety of issues – anything from the Spin Valley incident to the overshot budget of Manwel Dimech bridge – Gonzi had emulated his predecessor, Eddie Fenech Adami, in standing by his beleaguered colleagues through thick and thin.
It was only after the election that the score sheet changed. Having single-handedly defeated Alfred Sant on the GonziPN ticket, the Prime Minister seemed to no longer need any public displays of solidarity towards his backbenchers.
Furthermore there was also a widely felt popular demand for "new blood" in the Cabinet, as well as open animosity to members of the "old guard", leaving Gonzi with little option but to axe his several unpopular ministers and anoint new ones in their place.
But while the actual decision was in a sense forced upon the Prime Minister by circumstances outside his control, Gonzi remains responsible for the rather crude way in which it was executed.
It was Gonzi himself who informed his Cabinet colleagues of their deposition by means of an SMS. And it was Gonzi, now clinging precariously to government by a single seat in Parliament, who has unaccountably ostracised, alienated and antagonised the same backbenchers he relies on to form a parliamentary majority.
At the end of the day, Gonzi appears to be facing his come-uppance a little sooner than originally envisaged. It remains to be seen whether Piano's roofless theatre with suffice to cover up these and other infelicities in his administration.
---
Any comments?
If you wish your comments to be published in our Letters pages please click button below.
Please write a contact number and a postal address where you may be contacted.
---


All the interviews from Reporter on MaltaToday's YouTube channel.
---
EDITORIAL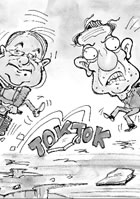 A self-inflicted problem
---