| | |
| --- | --- |
| News | Sunday, 07 June 2009 | |
Traditional PN districts hardest hit by low turnout
Matthew Vella
Voter turnout yesterday dropped down to a record 79%, 4% less than five years ago, according to the approximate figures released late last night by the Electoral Commission.
When the first European Parliament elections were held in Malta in 2004, turnout was 82.4%.
A total of 254,084 cast their vote – 3,393 more than the 2004 elections. But 68,327 voters did not cast their vote yesterday – some 14,735 voters more when compared to the 2004 election, registering the lowest turnout yet.
The lowest turnouts were in traditional Nationalist-held electoral districts, namely the twelfth district (Mellieha, Naxxar and St Paul's Bay) – considered to be traditionally hunters' districts, with 72%; and in the tenth district (Sliema, St Julian's, Gzira and Pembroke) with 75%. Elsewhere in the northern districts, turnout was less than the official average – 76% in the ninth district, 78% in the eleventh district, and 77% in the thirteenth (Gozo) district.
The highest turnout was in the fourth district (83%) and in other traditional Labour strongholds: 81% in the second district, 82% in the third district, 83% in the fourth district, 80% in the first, fifth, sixth and eighth districts, and 82% in the seventh districts.
The approximate turnouts for the local elections was at 77% nationally: Mdina, 85%; Bormla, 78%; Zabbar, 84%; Victoria 83%; Birkirkara, 79%; Fgura, 85%; Gudja, 93%; Gharb 83%; Ghaxaq, 88%; Kalkara, 86%; Lija, 88%; Marsaskala, 86%; Mgarr, 90%; Msida, 79%; Naxxar, 76%; Pietà, 80%; Rabat, 83%; San Gwann, 81%; Sannat, 84%; Sliema, 73%; Tarxien, 82%; Xghajra; 98%; Mtarfa, 91%.
The low voter turnout in Sliema reflected much of the discontentment inside traditional Nationalist strongholds.
Polling stations across Malta and Gozo closed at 10pm with voting also taking place in 23 localities to elect local councils. A generally calm voting day was recorded, with just one incident taking place in Zejtun, where a PN electoral agent was injured.
A total of 306,549 were eligible to vote, since 15,862 voting documents remained uncollected.
At a glance it appears that Labour districts have managed to mobilise considerably more voters than their Nationalist counterparts.
A total of 24,692 votes were uncollected, of which 15,862 were for the European Parliament elections. The tenth and twelfth districts had the most uncollected votes. A total of 306,549 voters were eligible to vote yesterday.
The twelfth district saw 2,884 documents uncollected and the tenth district had 2,124 votes uncollected.
---
Any comments?
If you wish your comments to be published in our Letters pages please click button below.
Please write a contact number and a postal address where you may be contacted.
---


All the interviews from Reporter on MaltaToday's YouTube channel.
---
EDITORIAL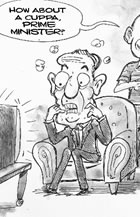 Tremors of unease
---
---