| | |
| --- | --- |
| Editorial | Sunday, 07 June 2009 | |
It might not be an "earthquake of change", but this weekend's election has definitely brought tremors of unease for Prime Minister Lawrence Gonzi.
As the campaign began to unfold, it became increasingly clear that Opposition leader Joseph Muscat intended to turn this election into some kind of popular verdict on the entire "GonziPN" theme. From the initial billboards, all the way down to the final campaign events last Thursday, the message emanating from the Labour Party spin machine was always the same: Gonzi has "lost control".
Likewise, the themes continually raised in connection with this campaign were often alien to the European Parliament itself: water and electricity prices, unemployment, broken electoral promises, hunting, public transport reform, and so on.
Even areas of direct relevance to the EP – such as irregular immigration, which requires an international approach based on pan-European co-operation – were somehow turned on their heads to become indictments of Gonzi's supposed maladministration of the country.
By way of contrast, the Nationalists strove from day one to parry this onslaught with the constant reminder that this was a European, not a national election. Ostensibly the Prime Minister was perfectly right: the purpose of yesterday's vote was not to pass judgement on his own track record, but to elect five (or six) representatives to the European Parliament.
But while one sympathises with Gonzi's argument, it remains inescapable that yesterday's vote was conditioned by a sense of nationwide disgruntlement directed at the government. In this we are not altogether alone: campaigns throughout Europe have tended to focus on domestic issues more than international ones. Evidently, ours is not the only country to treat European elections as an opportunity to "send a message" to the government of the day.
For the party in government, it was an awkward campaign from day one. In a bid to reach out to disgruntled Nationalists, the PN fielded an unlikely array of often conflicting viewpoints. Edward Demicoli, with his anti-spring hunting and pro-divorce stances, soon found himself crossing swords with his own colleague, the pro-spring hunting Alex Perici Calascione. Roberta Metsola Triccas Tedesco raised eyebrows by appearing to contradict her own government's position on the car tax refund issue; and Alan Deidun chose to focus much of his campaign on opposition to projects like the Ghadira road extension – championed by Nationalist minister Austin Gatt.
Apart from these and other mishaps, there was also an underlying sense of discontent simmering within the Nationalist Party, which currently clings to government only by a single seat majority. Traditionally a party which refuses to wash its dirty linen in public, the PN has of late been given to much squabbling of an atypically public nature. Of these, the most conspicuous was a clash between star candidate Simon Busuttil, and PN backbencher Jeffrey Pullicino Orlando – who finally broke his silence in our newspaper today, in an interview which appears to bode trouble ahead.
The image that now emerges – despite concerted efforts by PN strategists to keep up an appearance of tranquillity – is one of a Prime Minister struggling to maintain discipline in a party which is constantly threatening to break ranks. Ultimately, Gonzi has been unsuccessful in his attempts to gloss over or brush aside rumours of discontent behind the scenes. Seemingly abandoned by senior Cabinet ministers, he was left to front the campaign alone: a move which ironically played directly into the hands of Joseph Muscat, who left no stone unturned to paint today's election result as a national indictment of Gonzi.
Admittedly, in so doing Joseph Muscat has gambled slightly. It seems he has pinned all his hopes on an absolute majority for the Labour Party, in a bid to project himself as a unifying figure. Polls have repeatedly indicated that he will achieve this goal, so the risk itself was clearly calculated. Nonetheless a risk it remains: if Muscat fails to rally over 50% of the country behind him, he may conceivably emerge as today's loser.
This however does not look likely. Instead, the overwhelming likelihood is that Lawrence Gonzi will be forced to concede that his policies in the past year have turned a substantial portion of his own support base against him. It is conceivable also that disgruntled backbenchers – and also frontbenchers, if certain rumours are to be believed – may start to view their own party leader as a liability instead of an asset.
If so, the turnaround from March 2008 will be truly remarkable, in such a short space of time. But then again, remarkable things often happen in politics, as we have repeatedly seen before.
---
Any comments?
If you wish your comments to be published in our Letters pages please click button below.
Please write a contact number and a postal address where you may be contacted.
---


All the interviews from Reporter on MaltaToday's YouTube channel.
---
EDITORIAL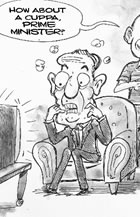 Tremors of unease
---
---