| | |
| --- | --- |
| Editorial | Sunday, 21 March 2010 | |
As economists argue over the Prime Minister's recent claim that Malta "has come out of the recession" – each citing different sets of statistics, which at a glance bear little resemblance to the reality as it appears at ground level – the man in the street may well find himself wondering whether he is in fact living in the same country.
At face value, Dr Gonzi's triumphal announcement last week was based on the revelation (by the National Office of Statistics) that the Gross Domestic Product had grown by 0.5% in the last quarter of 2009, after having contracted over the previous three quarters.
Considering that 'recession' is traditionally defined as "two successive quarters of negative growth", it was entirely understandable that the Prime Minister would respond by trumpeting the success of his own government's fiscal policies, and take full credit for the apparent economic turnaround.
Local experts were however quick to supply their own versions of the 'true' state of Malta's economy. Veteran economist Edward Scicluna – who is also a Labour MEP – poured cold water on Gonzi's claims, arguing that the NSO figures had omitted important indicators such as declines in public and private consumer expenditure, investment, tourism and manufacture.
But this only elicited counter-arguments from another seasoned economist, Karm Farrugia, as well as former finance minister Lino Spiteri, each chipping in with their own interpretations of highly technical financial data – all of which were packaged in the usual, inevitable superfluity of obscure economic jargon.
Viewed from the perspective of a middle- to low-income earner, struggling to cope with utility bills and a host of other unlooked for expenses, the entire exchange of opinions must all seem a little distant, alien and far-removed from the experience of everyday reality.
Truth be told, Malta has indeed weathered the international credit crunch considerably better than many expected – and yes, this must in part be due to the government's economic recovery plan, which dished out a generous €10 million to local businesses in order to stave off a surge in unemployment.
Local banks, too, can take some credit for the early signs of recovery – if nothing else, for having been so conservative in their approach to risk-taking over the past decades (when the going was, so to speak, good).
But let us not delude ourselves. Unfortunately it remains a fact that many of the government's current financial plans are based on unrealistic projections of future revenue, which may or may not materialise as planned; as well as investments in capital projects whose costs, in the long term, may well exceed their initial contributions to the economy.
One typical example is the so-called City Gate/Parliament project, which presumably forms part of the 'capital projects injection' announced by the Prime Minister specifically to counter the effects of the recession.
As has been widely reported, this initiative comes with a hefty €80 million price-tag... and so far, government has stolidly refused to divulge information as to where this sum is actually going to come from. Officially, an investment fund was supposed to be created, and the revenue itself raised from the sale and rent of government property, so as 'not to be a burden on the taxpayer'.
So far, however, no such fund has materialised within the Lands Department – even though the project is expected to commence, on schedule, in just two weeks' time.
More worryingly, it seems as though the revenue in question will have to be diverted from public funds after all. For as has been pointed out by Lino Spiteri, profits accruing from government lands have traditionally always been counted as part of government revenue to begin with.
Add to this the fact that the entire project (much like Mater Dei in 2007) has been earmarked for completion shortly before the next election in 2013, and one would be justified in asking whether its purpose is truly to kick-start the economy, or just to give the party in government a little pre-electoral boost.
Another issue remains the remarkably cavalier way in which the present government has entered into astronomical expenses, while claiming all along to be guided by 'financial responsibility'. Consider the recent controversy regarding the extension of the Delimara power station. Leaving aside the allegations of corruption: can anyone justify the government's astonishing decision to enter into a contract which carries a penalty clause of €300 million – €100 million more than the value of the entire contract – while at the same time jacking up the cost of utilities because it 'couldn't afford' a €55 million subsidy to Enemalta?
For these and other reasons, the Prime Minister's boast last week – while on one level justified – may ring hollow to the ears of those who are struggling to cope with expenses forced upon them by the same government's own questionable economic decisions.
Gonzi would therefore be wise to consider toning down his present triumphalist rhetoric – at least, until such time as his economic policies bear fruit that can actually be tasted and appreciated at street level, where it matters most.
---
Any comments?
If you wish your comments to be published in our Letters pages please click button below.
Please write a contact number and a postal address where you may be contacted.
---
EDITORIAL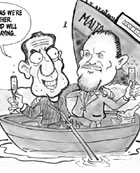 A waste of taxpayer's time and money
---


Anna Mallia
No policy on work permits