| | |
| --- | --- |
| Anna Mallia | Wednesday, 27 May 2009 | |
In Malta, price control during the Labour administration was always equated to communism and state control.
Even job security under Karmenu Mifsud Bonnici was heavily criticised as being a tax burden on the country. Nowadays the tables have turned and the government is constantly harping that security of jobs comes second to none – only this time the government is keeping it a secret (notwithstanding it is our money) as to the criteria it is adopting in helping one and not the other, and as to the undertakings it is signing with these companies.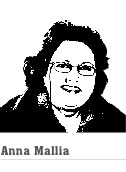 Nowadays I admit that price control is seen to be a deflection from the free-market economy exercised by the EU, but this does not impede any government from helping the consumers in checking prices. Consumers ought to know how much an item is supposed to cost, and how much they are being charged for it.
The government is still unaware of this potential service, and still considers price checking as unnecessary – notwithstanding that Eurostat has just informed us that Malta has retained its negative inflation record for the fourth month, and that Brussels placed our country at the top of the euro area for April, with Malta' inflation reaching 4%.
This means that Malta's inflation in April stood at 3.4% above the euro area average. According to Eurostat, alcohol, tobacco, hotels and restaurants had the highest impact on inflation in Malta last month.
Price-checker
Italy's inflation rate is lower than ours but still Berlusconi, love him or hate him, has introduced the SMS Consumatori service.
With food prices soaring across the globe, consumers are understandably concerned. To help ensure that retailers don't pass on more of the price increases than is strictly necessary, Italy's Department for Agriculture, Food & Forestry is offering transparency by text message. Its 'SMSconsumatori.it' service tracks prices for over 80 types of fruit, vegetables, meat, dairy products, fish, etc., and lets consumers access them when they're out shopping.
To use the service, shoppers send a text message to 47947, typing the name of the product they want a price for. (The system recognises both singular and plural nouns, as well as variations.) They instantly receive a reply listing both a wholesale price and average retail prices in the North, Centre and South. If a product has various varieties, the service sends separate messages for each of the most popular ones. For example: text "pear", and SMS Consumatori will return three separate messages, for Kaiser, Conference and Abate pears.
Taking a thorough approach to getting its prices right, SMS Consumatori sources information from 2,200 different stores, ranging from butchers, market stalls and greengrocers to 'ipermercati' and discount stores, and covers all of Italy. Prices are updated from Tuesday to Saturday. The project's website also shows price development over time, and where the highest and lowest prices for each product were found. Shoppers can even fill a virtual shopping cart and see what its average cost would be; registered users can save their shopping baskets for a personal view on historical data.
The service is free, but to keep costs and traffic down, consumers can request a maximum of 5 prices per day and 30 per month. Since it doesn't look like global food prices will drop anytime soon, this is one to set up elsewhere if you're in government or telecom/mobile.
Discerning Italian shoppers can send a free text message, containing the name of the food item they are shopping for, to the 47947 short code. They then receive a reply listing the wholesale and average retail prices for the item in the northern, southern and central areas of the country. Shoppers are then able to seek out the best bargains and even haggle over the price of certain items with shop owners if they feel they are being charged over the odds.
Every food product has an SMS number, for example bread (31512), fresh milk (22742) carrots (15668), and the consumer can send an SMS requesting the information about the prices. So if the consumer wants to check the price of carrots it can either log in the site SMS consumatori or send an SMS 47947 and the number 15668 (the code number for carrots) and via SMS or on the internet he will receive this information:
As you may note, the information is exhaustive and the consumer is given the prices per kilo of carrots in each region of Italy and the average price which is €1.30 per kilo. It is then up to the consumer to haggle over the price or be contend with paying more for less.
SMS Consumatori indexes prices from more than 2,000 stores including big high-street chains as well as independent market traders. And besides the SMS service, the consumers can also log on the web-site SMS Consumatori and they can check the price for that particular food item.
In Malta, people my age remember the list of food prices which was aired on the media almost every day for the shoppers to know when they go to do their shopping. But this was regarded as a form of price control and it was scrapped because the Prime Minister at that time, Dr Eddie Fenech Adami, told us to shop around before buying.
Now Berlusconi, although a Conservative who believes in laissez-fair, has introduced the SMS Consumatori service, which goes one step further than websites such as MoneySavingExpert or voucher, coupon and discount websites. The former extols the virtues of price-capping energy tariffs and haggling over the cost of everyday items while the latter websites are means for the savvy shopper's first port of call.
SMS consumatori also provides information about the recognised quality control products and what to look for when buying that food item, in our case carrots, and what is the best way to store them. This is something that we do not have in Malta, where the Department of Agriculture provides little information, if any at all, on the purchase and storage of fresh produce.
So for the sake of putting inflation down and leaving more money in the workers' pockets, let us introduce something similar to SMS consumatori!

PRINT THIS ARTICLE
---
Any comments?
If you wish your comments to be published in our Letters pages please click button below.
Please write a contact number and a postal address where you may be contacted.

All the interviews from Reporter on MaltaToday's YouTube channel.
---