TOP NEWS | Sunday, 26 August 2007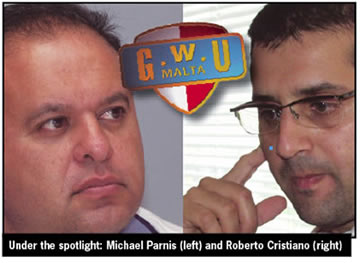 GWU officials' future on the line after internal purge


The fate of two prominent moderate General Workers' Union officials Michael Parnis and Roberto Cristiano is in the balance following the dramatic resignation of the chairman of the union's travel and insurance companies, Untours, last week...
---

Ta'Cenc developer Victor Borg's insinuation that he could have bribed parliamentarians by offering them half a villa each has caused offence to the whips of the two parliamentary groups, with Nationalist MP Mario Galea telling MaltaToday that he was "hurt" and "insulted" by this declaration...
---
Vella's insinuation shot down
Minister Frendo told MaltaToday that the insinuation made by George Vella, that the minister or Foreign Affairs ministry had received correspondence related to Richard Muscat's son's incident in November 2006, was a fabrication...
---
OPINIONS
---
NEWS | Sunday, 26 August 2007
Stats belie Malta's fastest cancer treatment time
Sant's 'interesting' MCESD proposals jars with GWU's stand
Maltacom files protest against MCA over interception system
Air Malta takes 'Ndrangheta victims to Calabria
Are school uniforms in Malta outdated?
Pullicino will ask hunters reps to "self-regulate"
MLP proposes schemes to aid first-time buyers
World Press Photo in Malta for the first time
Two men, two mega projects, one story
Census confirms educational north-south divide
A stroll through Malta's 'no go zone
---

---

A stroll through Malta's 'no go zone'
According to an email doing the rounds, Marsa and Birzebbuga are now off-limits to Maltese citizens after sunset. Raphael Vassallo paid a visit to the Marsa Open Centre to find out if this is true.
News feature- Raphael Vassallo
>
---

Two men, two mega projects, one story
Both Victor Borg and Angelo Xuereb spent a whole decade discussing with MEPA and paying consultants to prepare piles of reports. Like Xuereb before him, Borg claims that no other part of the island had been subjected to so many reports and studies.
News - James Debono
>
---



Fame, I'm gonna live forever…
Between global warming, pollution, over-fishing and the introduction of alien species, the Mediterranean Sea is undergoing a far-reaching transformation. Marine biologist Professor Victor Axiak tells Raphael Vassallo why this is an issue which is of concern to us all... Interview >
---

Census confirms educational north-south divide

Malta's educational north-south divide has been confirmed by the 2005 Census which revealed glaring contrasts between towns like Swieqi, where 25 per cent of its population achieved a tertiary level of education, and Marsa, where one-sixth of is still illiterate.
---
---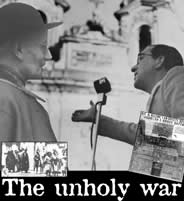 ---

---

---
---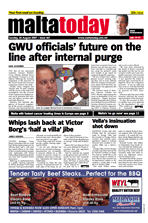 Click to download front page in pdf file format
---

---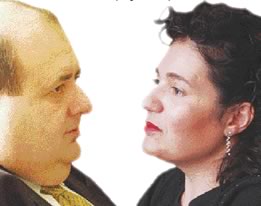 ---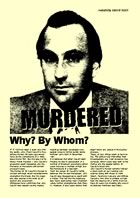 More MaltaToday special reports

---