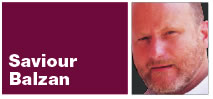 I have never wanted to be a Marxist, or ever professed to being one. But there are those who have somehow embraced the complete opposite of what one would normally expect from a prototype Marxist.
I know that the name Paul Gauci does not jolt people into opening up their dusty Encyclopaedia Brittanica to check out that name against its list of famous personality entries. Indeed, Mr Gauci is neither a famous personality nor an extraordinary ex-Marxist.
But last Tuesday, he made a name for himself by confirming that the tradition whereby environmental impact assessment (EIA) co-ordinators and scientists are connected to the developer, and paid directly by the developer, is a big mistake.
In his biased presentation, Paul Gauci happily forgot all about his role as an independent assessor and went into overdrive, first by accusing MaltaToday of "three-pence journalism", then accusing Harry Vassallo of making political propaganda, and then calling someone in the audience "a liar and a clown".
For a Canadian-trained town planner, Paul Gauci is surely in no need of special advice on how to become a political animal.
Paul Gauci is on developer Victor Borg's payroll. His remuneration is definitely not three pence. To get round to calling people names you have to be rather well paid, it seems.
There is nothing wrong with that. It was also not wrong that Borg's employees attended the public hearing on his Ta' Cenc development proposal. It reminded me of the public hearings for the Hilton and the fish farms, when the applicants dragged all their employees to the hearing. And all of them were obviously willing to show how important the project was to them.
Victor Borg is the man who said: "Had I given half a villa of these 33 to each Member of Parliament I would not have had all these problems."
Borg's stupendously stirring comments confirm one's worst fears: that he is either not advised at all, or worse still… advised to play the part of a Sicilian big shot. If none of the parliamentarians even dare question Borg's suggestion, then really and truly, my grandmother – who by the way was a Cefai and a pure Gozitan – was right when she said that most men simply don't have "them".
As we all know, Borg wants to turn Ta' Cenc into a metropolis of villas and convince the world of how harmless his project is. To coordinate his EIA he hired Mr Gauci, who argues that some of those opposing Mr Borg's dream are either journalists worth three pence, or clowns.
Now Mr Gauci, whom I happen to know, goes back a long way. In his younger days, he was groomed to be a good old-world socialist.
His uncle was the one and only private secretary to Dom Mintoff, the infamous Joe Camilleri – who will be remembered for his interest in the property market in the good old Mintoff-Lorry Sant years. Surely Joe Camilleri's socialist traits must have left a mark on the adolescent Gauci.
And so, and more importantly in the 70s, Gauci ended up as president of Ix-Xirka, the university Marxist grouping that brought together a bunch of intelligent and angry youths who wanted Mintoffian politics to be even more extreme.
It was the time when students were leaving our shores to study in the UK, while Paul Gauci presided over absolute Marxist nonsense which relegates any textbook Marxist to shame.
I also remember Paul Gauci in the founding days of Alternattiva Demokratika and after that, going off to Canada to study town planning before returning and becoming an employee at the Planning Authority.
Now he is in private business. And as all Marxists who get into business will tell you, there is nothing lousier than being an ex-Marxist.
So he joined the office of former Nationalist MP, Carm Lino Spiteri 'ic-Cumpaqq'. That I guess is what one calls a full circle.
The last time I met him, he had only kind words for the newspaper; but last Tuesday he stated that the journalist, whom he later confirmed was a reference to MaltaToday, was a three-pence journalist.
He has of course every right to feel that way, but really and truly he is saying that because it is Victor Borg who pays his fees at the moment. And it is because MaltaToday asks impertinent questions about Ta' Cenc. Such as: why can you develop an area that is not allowed for development according to the Structure Plan?
James Debono, in his feature on Ta' Cenc highlights the tragedy of allowing speculators to continue believing they can get permits in areas which were definitely Outside Development Zones.
If Paul Gauci was singing to Victor Borg's tune, there were others who did the same. There were others who eulogised Victor Borg as if he were the best thing that had happened to the Gozitans since Dragut's surprise visit 500 years ago, when the entire population was sold off into slavery.
But the really exciting moment came when GRTU director-general Vince Farrugia delivered his traditional comment in the public hearing. The man painted Victor Borg as Gozo's Cleopatra – describing the Ta' Cenc hotel as the "queen of Malta's tourism industry", and lauding Borg for striking a balance between environment and the economy.
This was Vince at his best. Rhetoric, open statements and very little content.
Here, the man who (like Paul Gauci) was once a raging socialist, had obviously forgotten what he had extrapolated in such colourful language back in the good old days of Labour, when he ran the government's environment department called IDEA.
Back then, Farrugia was so green it was like looking right into a jar of pesto.
Only months ago, his son justifiably headed a group of long-suffering Wardija residents (or grandiose villa owners) to protest vehemently against a shocking and damning piece of development. That development was not 33 villas, or a hotel extension or some surprise development being justified by the ex-Marxist Gauci.
No, the development was a lonely mobile transmitter ridiculously placed on a stretch of Wardija garigue, close to Vince Farrugia's home.
I too feel that such transmitters should be removed but that would mean we would find it very difficult to use mobile telephony.
But just imagine what Farrugia would have to say if someone were to plonk dozens of massive constructions next to his huge residence. Farrugia, needless to say, would not be lost for words.
It is not surprising that Vince Farrugia extols Borg for finding the magical balance between the environment and the economy. He has in the recent past defended developers such as Sandro Chetcuti, although Chetcuti – a person I first encountered at Dom Mintoff's Tarxien residence as part of the Front Inqumu Maltin – has pushed for tasteless development in some very sensitive areas of Malta.
Campaigning for Victor Borg is of course not a sin. Anyone is entitled to stand up for the man. But in this small world of ours, where land is a rare commodity – and more importantly, where our values have changed and we now care more for our surroundings than we did years back – saying that Ta' Cenc should remain untouched is a belief expressed by the majority.
Victor Borg does not realise that the fact that the property belongs to him does not mean that he can do what he likes with it. That was a right associated with kings and queens, before Robespierre came along and decapitated all the nobility.
Today, not even the Queen of England is free to do as she pleases with her palatial properties. The grounds, the trees, the landscape and the monuments are protected by laws which she is obliged to respect.
Victor Borg has to come to terms with this new reality.
In 1992, I was sentenced to one day's imprisonment by Magistrate Peralta for having refused to pay a Lm5 fine for having protested and blocked a road leading to Ta' Cenc.
Also blocked from entering Ta' Cenc was Richard Cachia Caruana, though he was not there for the protest.
It was a demonstration against the idea of having Ta' Cenc developed. Magistrate Peralta, a freemason who did me the honour and converted a Lm5 fine to one day in prison. It was his way of paying me back for having revealed his masonic links. I will always remember the day I spent in prison under a Nationalist government. It was, as I recall, Our Lady of Sorrows and Kordin's fried oily fish offered on that day was simply yuck!.
Fourteen years later Victor Borg, the new owner of Ta' Cenc, has the same intentions for this pristine area the size of Valletta and Floriana put together.
But this time round there is a coalition of people: tall, short, slim, fat, blue collar, white collar, christians, atheists, priests, nuns, tree-huggers, reds, greens and blues… all against the idea of shafting the structure plan and giving up Ta' Cenc to the cranes and concrete mixers.
People change, and so do places. Yet it is important that we continue to believe in those things we believed in ages ago. And that includes that Ta' Cenc should remain untouched, undeveloped and natural; even though Paul Gauci, the former Marxist, now thinks that the journalism that appears in these columns is only worth three pence.