According to an email doing the rounds, Marsa and Birzebbuga are now off-limits to Maltese citizens after sunset. Raphael Vassallo paid a visit to the Marsa Open Centre to find out if this is true
Albert Town, Marsa, 7.30pm. A bus has just pulled up on Labour Avenue, and some 15 to 20 young men, all from sub-Saharan Africa, alight and make their way towards the former government school they now call home.
I have just parked my car outside the Millennia showroom and walk at a short distance behind them. One of them turns to look at what is evidently an unusual sight: a local (white) man, alone, apparently heading in the same direction as them. But other than that gesture of mild curiosity, I am all but completely ignored.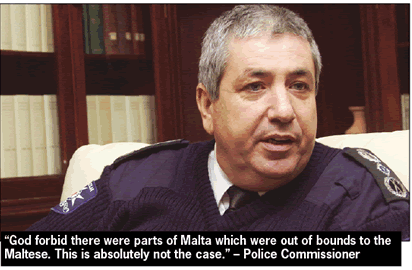 Approaching the Marsa Open Centre, I walk past dozens of the so-called "klandestini" whose presence seems to frighten some of our parliamentarians so much. Most of them have a legal right to be where they are: they have applied for, and received, either Refugee Status or Temporary Humanitarian Protection. Some, however, find themselves caught up in a veritable legal no man's land. Their application has been rejected – in some cases twice, after which there is no further right of appeal. As of 2004, they cannot be held in detention centres beyond a maximum of 18 months. Malta considers them illegal aliens, but they cannot be repatriated for lack of any bilateral agreements with their country of origin, among other complications. They cannot work (at least, not legally), and are expected to live on an allowance of around Lm2 a day. Most of them desperately want to leave – a desire openly supported by many Maltese – but the terms of the Dublin Convention, to which Malta is a signatory state, oblige them to remain in their first European port of call.
They are, in a word, castaways… and I, the outsider, am trespassing on "their" property.
Admittedly, not all the looks I receive are friendly. In fact, I almost feel like I'm in the spaceport of Mos Eisley on the planet Tattooine: conversations in alien languages stop abruptly as I draw near, only to resume the moment I walk past. It is painstakingly clear that mine is an unusual presence, and not just because I am Maltese and white, either. After all, there are plenty of other locals about, such as the man selling vegetables on the street corner, the AFM soldier on duty at the gates, or the Maltese fisherman at the waterfront, surrounded by a small crowd of fascinated foreign onlookers.
I suppose what makes my presence different is that unlike the others, I have no discernible reason to be here at all. I have no wares to sell, no duties to perform and no particular fish to fry. So why have I come to Albert Town in the first place, you might be asking? The answer is simple: to see if I still can.
'Out of bounds' to Maltese
The notion that entire parts of Malta – especially Marsa and Hal Far – have somehow been turned into off-limits enclaves by an army of "klandestini" is now so firmly entrenched in the national psyche that it is almost the stuff of instant legend. Like most legends, however, there is only a very small grain of truth to it.
Certainly, making one's way through a thick crowd of young, black men can be a little intimidating. But there is nothing stopping anyone from trying… least of all, the immigrants themselves, who had no objection to my walking right into "their" little social centre, buying one of "their" drinks; sitting in one of 'their" chairs, and watching an entire competition of American pool played out on "their" billiards table.
But for all this, rumours of Marsa's annexation have been greatly reinforced over the past two months. Labour MP Joe Sammut was among the first to publicly air the misconception… without (apparently) having tested its veracity for himself.
"Marsa has become a no-go zone for Maltese," Sammut thundered in parliament early in July. "I refer to the area by a former school, which has become dangerous for Maltese because it is dominated by all these 'klandestini'…"
One can only wonder how often Joe Sammut has actually been to the Marsa Open Centre after sunset, and what sort of "dangers" he found himself in on those occasions. But it seems that for some people, any indication of trouble associated with immigrants is an indication worth repeating. Invariably, the tale grows in the telling.
This week, an incident involving a Maltese man allegedly surrounded by immigrants – one of whom dented the bonnet of his car with his bare fist – evolved into a veritable circus of mass hysteria. The incident took place on 5 August, when Mario Mamo was driving his family – including his elderly mother – to the Birzebbugia festa. What followed is now the subject of an email which spread like wildfire between Wednesday and Friday this week:
"Suddenly three immigrants stopped in the middle of the road ahead of me, and I had no alternative but to stop and ask them to move, while locking the windows of the car and flashing the lights. Two of them did move but the third one held on to the bullbar of the car and stood there for a while, then moved to the side of the car and started hitting the bonnet of the car with his fist."
Mamo's email account of the incident and its aftermath also provides the following remarkable insight into how a half-baked impression can gain currency, if given undue credence by the authorities.
"The sergeant on duty patiently listened to my request but informed me that he could not help me out unless he is authorised by the inspector of the south region. He also told me that I am 100 per cent right but (quoting) 'try to avoid Birzebbugia and Marsa, as after sunset both places do not belong to us anymore.'" 
Two days after appearing as a news item on e-paper Maltastar, the email seems to have done the rounds of Malta, making scheduled stops at each of our 65 MPs' private inboxes on the way. Its contents have since been analysed, dissected and discussed in every grocer, barber, bank outlet and medical waiting room on the Maltese islands. Many (myself included) seem to be of the opinion that the sergeant in question was simply trying to duck out of a little extra work. But this interpretation hasn't stopped the local xenophobic brigade from making maximum capital out of the implied loss of sovereignty over Marsa and Birzebbugia
Intrigued, I contacted Police Commissioner John Rizzo to ask the most immediate question: is it really police policy these days to advise Maltese citizens to keep away from Marsa and Hal Far after dark? And if so, does it also mean that the police no longer consider themselves responsible for maintaining law and order in those areas?
"If the allegations are correct, then it is clear that the police officer who handled the original complaint was at fault," Rizzo replied over the phone. "God forbid there were parts of Malta which were out of bounds to the Maltese. This is absolutely not the case. Far from it. We carry out regular inspections in all these areas. The fact that there are immigrants in these areas does not in any way influence the way we carry out our work."
Rizzo also hinted that there could be a number of motives for the apparent mass-circulation of the original complaint, but is reluctant to delve into the matter. "Someone might have an interest in damaging the reputation of the police force for whatever reason. There could also be racist motives, as well as other reasons we don't know anything about. But from a police perspective, we are only concerned with criminal acts. In this case there is nothing illegal with the act of sending these emails in itself."