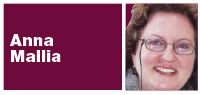 So Suha Arafat, the widow of the former Palestinian leader Yasser Arafat, was in Malta after having been mysteriously stripped of her Tunisian citizenship. And this was withdrawn not from any ordinary citizen, but to Mrs Suha Arafat. Malta, on the other hand, makes no attempt to withdraw Maltese citizenship to those who have given nothing to this country except trouble.
I am not competent to discuss whether the Tunisian government did the right thing or not in its decision not to regard Mrs Arafat as a Tunisian national any longer; but I must applaud the Tunisian government in treasuring Tunisian citizenship so much that no foreigner can take such citizenship for granted. In Malta, unfortunately, it does not work that way.
There are no strict conditions on how can one become a Maltese national, except for those who have Maltese blood running through their veins. As for the others, all they have to do is to marry a Maltese and wait for five years after the marriage, to be automatically given the Maltese citizenship.
The law does not make any qualifications except that you have to be married for five years. It is immaterial if you have spent those five years beating your Maltese wife or on social assistance or in prison. On paper, you were married for five years and you were burden to our taxpayers for five years; we fed you, clothed you, and provided you with free healthcare and social assistance; and we thank you so much for exploiting our women and our money, that we give you the Maltese citizenship.
I had a case of somebody like this. He never supported his wife, financially or otherwise, he never recognised his son who was born before marriage, and his wife was naïve in that she was unaware of her right to report him to the citizenship and immigration authorities. So he waited five years, recognized his son as a tool to further substantiate his claim for citizenship, obtained Maltese citizenship, applied for a separation, obtained the separation, and he has now set up a family with a Russian national in Malta.
It is useless pinpointed to the Director of citizenship and Expatriates that this person never supported his Maltese wife and was only married to her on paper. Once nationality is given, it cannot be revoked, so they argue.
Last week I read the evidence given by the Syrian man charged of killing fellow-countryman, Ebdou Ismail Abod, and dumping the body in Selmun. The police testified that the victim was married to a Maltese national, Lucy Cassar, and his marriage only lasted one month because his wife discovered that he was still married to another woman in his home country.
Lo and behold, Lucy was in a position to discover her husband's bigamy, whereas the authorities, with all the IT technology they boast about, were not. Not only, that but her husband was allowed to remain in Malta because for the authorities, he is validly married to Lucy. And mind you, this is not an isolated case. Some of them go even further. They come to Malta with their children from their marriage and marry a Maltese so that their children will be given free education and free healthcare.
This can only mean two things: one, that the Marriage Registrar still relies on the information given by the applicants in their marriage application form without requesting certification from their home country that they are free to marry; and two, that such certificates, if requested, were false. How we can continue performing such marriages as a ticket to Maltese citizenship, is something that the Maltese government does not seem eager to address.
In the Family Court, annulment decisions taken precisely on the basis that the marriage was purely one of convenience, contracted either because the party was paid to do it or for immigration reasons, are a common occurrence. However, such people go unpunished and their Maltese citizenship retained because there is no mechanism between the Marriage Registrar and the Director of Citizenship wherein such marriage annulment decisions are automatically referred to the Citizenship Department for their perusal.
We speak about the importance of the family and at the same time we give the green light to all a sundry that wish to marry into Maltese citizenship. Other EU countries impose the fiancé visa, given after satisfying immigration authorities that you have a job in your country and money in the bank, and many other conditions intended to eliminate, as much as possible, marriages of convenience. They request authentic papers showing the civil status of the person. They do not allow the spouse or children from the previous marriage to enter the country automatically, as is the case here. Neither is citizenship an automatic right, as it is in Malta. But over here we have always seen the neighbour's grass much greener, and we do not treasure our own citizenship.
How I wish the Director of Citizenship will stop reading the letter of the law and start seriously considering withdrawing Maltese citizenship for those who never deserved it in the first place. People who are lazy, who live on the dole, who do not treasure their family, who paid the Maltese partner to marry him/her, who beat their wives, who are in and out of jail… these people do not deserve to become Maltese. And yet, the system allows these people to continue to exploit us; and like masochists, we seem to enjoy their exploitation so much that we are rewarding them with a Maltese passport.
I have endlessly repeated that the whole system of marriage to foreigners and of citizenship should be revamped. The only slight improvement made so far has been in that citizenship is no longer granted automatically upon marriage (as was the case two or three years ago) but after five years. But this is not enough. Citizenship must not be an automatic right to all foreigners who are on paper married to a Maltese.
There must be more to that: we expect the international world to respect us but how much do we respect ourselves? And if we do not start by respecting ourselves, how do we expect the other countries to respect us? This has to start by restricting the conditions for foreigners to marry Maltese and the conditions for obtaining Maltese citizenship. Moreover, there can no longer be such a thing as a Maltese citizenship for life for these foreigners. Like the Tunisian government, the Maltese government must send the message loud and clear that Maltese citizenship is not for life.
And if the Maltese government does not want to intervene on this issue because it is happy with the fact that certain foreigners are exploiting their Maltese spouses, then it is high time the EU does so, because after all, nowadays, the Maltese passport has become more valuable in that it automatically means EU citizenship. Non-EU citizens know this, and Malta is the best target because Malta has the least stringent rules in the EU both on marriage and on citizenship.
By doing so, we will be investing in our families, our national identity, as well as in our national security.