| | |
| --- | --- |
| Food | Sunday, 02 May 2010 | |
My verdict? GO | Rating 8/10 | Style 8/10 Needs some light | Service 8/10 Very attentive | Selection 9/10 Ambitious and creative choices | Steal-ability I cannot stress how good the swordfish ravioli were
I'm not a fan of exercise. I have (unsuccessfully) tried to find a personal trainer to come bully me at home as I am too lazy to even drive to a gym, but now I have found a machine that claims to save me from this arduous chore and we have become friends. Unless you are 'blessed' with a high metabolism, being a foodie, and a vain one at that, means I had to do something before the seams on my frocks were more taut than an over-botoxed face. So this week I went to a sports club. The Civil Service Sports Club in Valletta. For lunch.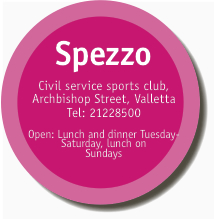 The restaurant of said location, Spezzo, is housed on the ground floor; a catwalk-length, elegant building with original cornices and arches which take you right through to an open plan, über-modern kitchen. The tables are a rich, reddish colour and have dark tablecloths carefully draped criss-cross, plain cutlery and long stemmed glasses, with the best dressed chairs in town like A-listers at New York fashion week, lined up demanding attention. Slightly letting the show down are peach walls: if these were cream, they would show off the decorative touches better, give the dining area light and suit the building better.
We took a table near the front of the building – a table for 40 was laid ready for a function, and we watched as the suited and booted office types traipsed up and down the street. The maitre d' came to offer us menus and explained that new dishes were being created and that the chef would come and talk us through these. He sold us on a mix of starters which, without the explanations, you could have mistaken for sushi. The patience required to build these sculptures is beyond mine and we did suffer mild guilt cutting into them.
On the plate was a lamb fillet in Jack Daniels and rosemary, chicly wrapped in leek. It was tasty and tender and perfectly pink – a juniper berry and rosemary sauce was in a dip in the plate for you to dunk the parcels in to. Next were home-smoked salmon clutches with aubergine caviar and radicchio paste sheathed in the deep purple of the aubergine's skin, topped off with an asparagus hat. This was accessorised with a sea urchin dressing and together, was delicious, a bit neutral otherwise… 'nude' I think they say in the trade. A swathe of crushed peas with a wedge of caramelised onions, with artichoke hearts and peppers teetering on top were also in the collection. I eat mushy peas from the tin so you can kind of guess I enjoyed them. (Starters range from €6.50 – €8.50).
We'd ordered a Vinosia Fano D'Avallino which was fruity and floral, and perfect for our girly lunch (€22.50). It was light and had we not had afternoon appointments, we would have had another bottle. Damn my diary.
Our pasta was from the specials: swordfish ravioli which were triangular and smooth, with a prawn and strawberry sauce. It is the best pasta I have ever eaten, ever. I could have filled my boots, bag and hat, but we had ordered mains already. Knowing I'd be back in Valletta in a couple of days, I pre-ordered a couple of plates.
The mains came and we were not disappointed. A pork fillet with tomato fondue with leeks and standing-up sausage (€14), a fillet of beef on parsnips with a mushroom compote (€19) was cooked to have just crispy edges, but was so tender you didn't need the machete to cut through it, and a duck leg and breast seared and served on parsnip puree with a mandarin and clove sauce (€16), accompanied by chunky chips à la trendy London pubs – these made us feel way less guilty, as you only have a couple!
A message delaying our meeting gave us the excuse to wait a while before ordering desserts (€4 each) which we insisted be miniature. I tried the cassatella which wasn't the usual 'nuclear goo' green colour and had a forkful of the weeny walnut and apple cake, which was moist, crumbly and textured. I also tried a miniscule taste of the home-made chocolate and mint ice cream before we saw the time had flown by and we had to, sadly but giggling, go running in heels up to the car park.
What I can tell you is I didn't have dinner, nor supper, or even my usual cheese and biscuits before bed; so the trip to the sports club was worth it after all.
---
Any comments?
If you wish your comments to be published in our Letters pages please click button below.
Please write a contact number and a postal address where you may be contacted.