| | |
| --- | --- |
| Editorial | Sunday, 02 May 2010 | |
Writing about the state of traffic in Malta invariably evokes a sense of déjà-vu.
Wednesday's accident in Attard, in which two young girls were run over by an overtaking vehicle (one of them seriously injured) on a zebra crossing, appears at a glance to echo numerous calls made over the years for an overhaul of the country's road safety regime – without any noticeable results.
In August 2009, Malta had been similarly stunned when a traffic accident claimed the lives of a family of three from Zejtun. Then as now, the ghastly accident had prompted nationwide anger and remonstration; but once the initial flurry of reactions subsided, the matter was soon overtaken by other events, without any significant action being taken to improve (or indeed change) the prevailing road safety regime.
It is almost as though Malta is periodically jolted out of its somnolence by a tragedy of shocking proportions... only to quickly revert to its former lethargic state, at least until the next tragedy rolls along.
Unfortunately, the only variation to be felt in this otherwise predictable pattern concerns the frequency with which such accidents occur – a frequency that can only be expected to increase in direct proportion to the sheer amount of traffic on the roads.
Clearly, something needs to be done with urgency to improve the standards of traffic management in this country... although to be fair, it is a problem that goes far, far beyond the need for more individual security measures in specific 'accident-prone' localities.
In many respects, what we are dealing with is a deeply ingrained cultural attitude, affecting motorists, pedestrians and traffic police alike. The prevailing mentality among many (though mercifully not all) drivers is that 'rules' are generally inconveniences which are there to be broken, at least whenever there are no law enforcement officers watching.
Among law enforcement officers, on the other hand, the attitude often appears to be one of offering least resistance... raising popular suspicions (all too often justified) that their entire existence is intended to raise revenue for the State and local councils, rather than to actually enforce the law.
A cursory glance at how the so-called 'traffic warden' system has evolved over the past decade illustrates this state of affairs. Originally touted as an arm of Malta's traffic management regime, wardens today are most commonly encountered patrolling the streets in search of illegally parked vehicles. No doubt this is an important function in its own right; but at the same time it cannot be allowed to subsume all other responsibilities. Affixing tickets to parked cars may encourage more prudent parking... but it does not help much when it comes to reducing the rate of accidents on the road, for the fairly simple reason that such vehicles are unlikely to pose any such danger to begin with.
Meanwhile, on a different (but related) level, Eurobarometer statistics published this week revealed that 99% of Maltese respondents did not know the legal limit for drink-driving in this country. In fairness, one need not be unduly shocked by this disquieting figure – the corresponding statistic for nearby Italy was after all a staggering 100% – but it is none the less singularly indicative of our national attitude towards regulations which are seldom, if ever enforced.
Even on the rare occasions when breathalysers are used, their application is often counter-productive. It makes little sense to breathalyse a driver after an accident has already occurred. Indeed, the use of such implements only makes sense if coupled with the concept of roving traffic wardens or policemen – i.e., mobile officers whose job is to monitor traffic to detect dangerous or erratic driving, and (ideally) pull the offending vehicle over before an accident occurs.
If the system does not quite work this way in Malta, it is largely because of a long-standing habit of viewing 'traffic management' in general as a form of local revenue-generating exercise in its own right. In devolving traffic wardens to local councils (without dishing out the corresponding budget to the councils concerned), government can with hindsight be seen to have condemned the traffic warden to the role of indirect tax collector... slapping tickets on parked vehicles, while pedestrians are mowed down by speeding vehicles behind their backs.
Even the installation of speed cameras – which ostensibly do address the very cause of such tragedies as last Wednesday's accident in Attard – can be seen to have backfired. In nearby Italy, the exact same technology is used for an altogether more useful purpose. Speeding motorists are first informed of the speed at which they are driving (by means of digital screens mounted on the 'autostrade') long before the camera snaps into action.
The logic here is an emphasis on prevention – it serves the interest of public safety far more if the speeding motorist is encouraged to slow down, rather than be 'ambushed' by a speed camera and he shoots past at breakneck speed... as appears to be the logic in Malta.
In view of the rising rate of accidents, it is now more evident than ever that our entire attitude towards traffic management needs to change. Ironically, this is one area where 'speed' may be of the essence...
---
Any comments?
If you wish your comments to be published in our Letters pages please click button below.
Please write a contact number and a postal address where you may be contacted.
---


Download the MaltaToday newspaper advertising rates in PDF format
---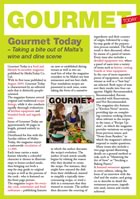 Download the Gourmet Today advertising rates in PDF format
---