| | |
| --- | --- |
| Interview | Sunday, 02 May 2010 | |
When it comes to allegations of filth and corruption, or denying parliamentary pairing, Labour deputy leader ANGLU FARRUGIA is at the forefront; but are his efforts bearing any fruit for the party's journey into a 'new season' of politics?
Labour's deputy leader for parliamentary affairs Anglu Farrugia is certainly no shrinking violet when it comes to corruption allegations or defending the party's stance on controversial issues. However, it's been his penchant to hark on allegations, which at times have emerged as desperate attempts to court controversy, that have diluted his actions in this regard. A case in point are the allegations on vote-buying in the last general election, where he is still adamant that foul play took place.
"I don't need to grab attention, and on this case I reported the allegations to the Commissioner of Police and there have been advances on the case, contrary to what has been reported. There was the case where a person had an ID card issued twice whilst another case is under investigation where a prominent contractor is being accused of corrupt practices. Incidentally I also reported these cases to the Organisation for Cooperation and Security in Europe and held various meetings with their representatives. If you ask me directly, I believe that corrupt practices took place and I stand by that."
Still, now that the Auditor General's report on the contract for the Delimara Power Station extension was quite damning in regard at least to administrative practices, Farrugia believes there is 'soft evidence' of corruption in this saga. So why didn't he or Labour report this case to the police in the same way he did with the vote-buying allegations?
"The Auditor General is not the investigator and the government has the obligation to take this further according to the conclusions in the report. It is clear that government does not want to take this path and simply does not care if there is corruption in the contract."
Farrugia insists Labour is waiting for the outcome of the debate on the power station contract before "taking appropriate measures" – whatever these will be. "The Nationalist MPs who spoke out on the contract before the report's conclusions will have to stand up and be counted," he then says.
But aren't the allegations of corruption in this case similar to the vote buying allegations?
"In the vote buying allegations, people were charged in court but what is clear about all this is that corruption is taken for granted in this country – it has become the order of the day under a Nationalist government. Today, no one is accountable, and to add insult to injury, Austin Gatt asked for the resignation of Joseph Muscat on the power station contract – can you get more arrogant than that?"
The fact is that, even after Labour's campaign on Delimara, the party may still be failing in driving home the point – even the one made by Farrugia – of the endemic corruption inside the administration. Does he even think that people are interested in these corruption claims?
"The people will listen to our proposals after the 6 May debate, although one has to admit that corruption is so rife in this country that almost everyone is fed up of any news on the subject. But these scandals involve public funds, and when you make contracts with penalty clauses which actually exceed the value of the contract, then something must be really wrong. And what about Joseph Mizzi's statement that one "needs to tap a source higher up in the political hierarchy"? Doesn't that allege corruption? What is incredible about this is that no member of government ever went to court on these allegations of corruption – at least to clear their name."
That, as it turns out, will be impossible until a formal report is lodged with the Commissioner of Police.
Farrugia has also reserved the same kind of accusations over the controversial Fairmount contract, the ship-repair contract which observers recognise as one of the final nails in the coffin of the Malta Shipyards. In his eyes, Farrugia is convinced the Nationalist government purposely entered into these loss-making deals to ruin the dockyard and drive it out of business.
"I recently held a meeting with a top research manager from Ireland who was completely appalled at government's policy where thousands of skilled workers ended up laid off due to the shipyards' closure. I am convinced the Nationalist government wanted to put the dockyard out of business – this was a crusade which started in Fenech Adami's times and was completed by his faithful acolyte Gonzi. If one examines the contracts in question, it is clear that there was a concerted strategy to make the dockyard go bust – the value of the work involved did not even cover the cost of the materials."
While Farrugia, an erstwhile aspirant for the Labour leadership, still comes across as the firebrand orator next to Joseph Muscat's image-conscious approach, he says that Muscat's much touted 'political earthquake' is still on track. But was Muscat's earthquake simply a tremor inside his own party headquarters, where he decided to centralise power with a handpicked CEO and the abolition of the party secretary-general?
"I don't agree Muscat is centralising power but everything is being spread about quite equally and I can safely say this, being the No. 2 in the Labour Party. There is a high level of debate and consultation going on, with the Parliamentary Group meeting regularly every Monday… in contrast with the PN's crisis meetings. The group also meets for special sessions when certain Bills are being piloted through Parliament and discussions and debates are quite intense."
Farrugia insists the party has never been in a healthier situation. But how does he reconcile the diverging opinions within the same parliamentary group (Adrian Vassallo and Marlene Pullicino against divorce, Justyne Caruana calling for care orders on pregnant women as a deterrent against abortion) – don't these stands put Muscat's supposedly progressive policies in jeopardy, as in the case of the proposed free vote on divorce?
"The Labour Party is an inclusive party and obviously has representatives coming from all walks of life. One also has to make a clear distinction between Church and State, although due to the fact that over 90% of the country is Catholic, one has to legislate according to the common interest. If one has a moral dilemma on certain votes such as the divorce legislation, then through a free vote these MPs are free to depart from the official line. However notwithstanding their moral beliefs, which may be slightly more conservative, these MPs are giving a valid contribution which is definitely making the party stronger."
Farrugia has also previously pressed forward with an uncompromising stance on denying the Nationalist government pairing during crucial parliamentary votes – an obstacle that was simply circumvented through a ruling which he insists is unconstitutional and irregular. Once again, wasn't his uncompromising stance put paid by this simple procedure? Wasn't his effort wasted after all?
"I would like to make myself crystal clear on this issue – I will not give pairing to the Nationalists. This is being done for various reasons, in particular the fact that almost all consultancies required by the government are being handed to those 'blue eyed boys' who are gobbling up hundreds of thousands of euros in fees. Anyone who is valid and qualified, but has a Labour background, is left out in the cold through what can only be termed as political apartheid, and this is being done with a 1,500-vote majority – practically half a parliamentary seat. When the motion on house business was presented, I moved a counter-motion which was obviously defeated. Notwithstanding this undemocratic change to standing orders, the government was still caught napping when one of its members refused to vote creating a crisis."
But it seems that these efforts have failed to bear any positive results. Labour finds itself fighting a battle on political points that have nothing to do with policy in itself. How is the party going to attract the floating vote, and secure disgruntled Nationalists and Labourites in time for the next general election?
"The Labour Party under Joseph Muscat is now palatable and we are seeing a considerable number of both new and old members coming into the fold. I can also confirm that a considerable number of former Nationalists have registered themselves as members with the Labour Party. This is practically all due to the open mentality currently being practised in the party, with lots of people principally tired and sick of all the arrogance and corruption which permeates the Nationalist government.
"Floaters are also feeling closer to the party and we have also erased our credibility problem – something which I spoke about after the 2008 election. One can see the difference ever since the election of Joseph Muscat, where we practice what we preach: a case in point was the St John's Co-Cathedral case where with a concerted effort, government rescinded the motion."
In the midst of all the allegations of corruption, how can Labour guarantee that a future PL administration will not fall to the same accusation that it will hand over consultancies and prized jobs to its own trusted men and women? How will it concretely enforce its claim of zero-tolerance on corruption?
"Everyone has to be accountable and everyone has to be responsible for their actions. We will enforce a strict code of ethics in every sector and one will have no choice but to resign if they are found breaching this code of ethics. The observance of the rule of law and all ethical considerations will be paramount and there will be no tolerance for any errors. I am confident that the public wants serious scrutiny on how its funds are spent and that will be the calling card for a future Labour government."
---
Any comments?
If you wish your comments to be published in our Letters pages please click button below.
Please write a contact number and a postal address where you may be contacted.
---


Download the MaltaToday newspaper advertising rates in PDF format
---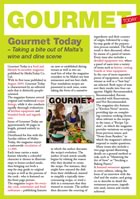 Download the Gourmet Today advertising rates in PDF format
---