| | |
| --- | --- |
| News | Sunday, 01 November 2009 | |
Matthew Vella
The Labour party has accused the government of wasting an entire year in pursuing a major road project running though the Ghadira, in Mellieha, which was finally not included for European Union funding as initially intended.
Labour MP Roderick Galdes said doubts lingered on the real reason behind the decision not to include the road project for the Trans-European Network funds, which he said were not tied to the environmental consequences of the road construction.
This week, roads minister Austin Gatt announced government had shelved plans for the new road in Ghadira, to instead seek funds for the building of a new junction at Kappara.
The construction of the new road attracted great opposition from conservation groups. According to the Malta Transport Authority's (ADT) plans, three of the options included constructing a new route and tunnel beneath the garigue behind the Danish Village; building a bridge and new road behind the nature reserve; and upgrading the existing road. A fourth option involved transforming a country lane into a full-blown road.
"After wasting a whole year in a controversy and confrontation with environmental organisations and the PL, the government is now agreeing with the Opposition's proposal to prioritise the Kappara traffic junction," Galdes said yesterday. "There is no doubt that this government has no political direction."
Galdes said the ADT's technical reports on the road upgrading and reconstruction were "biased" in favour of the government's proposals. "This confusion clearly shows Gonzi's government has no planning vision for this country, and just keeps taking controversial decisions against the will of the Maltese people."
On his part, Austin Gatt said the government had commissioned a technical study by expert Kenneth Pye, who had established the threat of the road to Ghadira Bay's sand dunes. "The report's definite conclusion is that the natural process of the sand dunes and the bay can only be regenerated if the road is removed."
Gatt said that if the road stays as it is, Ghadira Bay's fate will be the same as that of Xlendi, Marsalforn and Balluta's, which ended up absorbed by higher sea levels.
---
Any comments?
If you wish your comments to be published in our Letters pages please click button below.
Please write a contact number and a postal address where you may be contacted.
---


All the interviews from Reporter on MaltaToday's YouTube channel.
---
EDITORIAL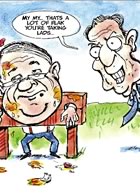 Coming down to earth