| | |
| --- | --- |
| Editorial | Sunday, 01 November 2009 | |
It should come as no real surprise that, of all Lawrence Gonzi's Cabinet, it had to be Investments Minister Austin Gatt and Finance Minister Tonio Fenech to fare the worst in our regular 'Rate the Minister' survey.
For vastly different reasons, both appear to have been saddled with the lion's share of popular discontent, at a particularly trying time for the government. And while their dip in popularity may in part be attributable to their own individual antics – Fenech for his ill-advised flight to Spain last April, and Gatt for his ham-fisted attitude during the utility rates saga earlier this year – both can just as easily be seen as victims of the present administration's bad habit of promising more than it can actually deliver.
Let's start with Tonio Fenech: a minister whose portfolio has always been (let's face it) something of a recipe for unpopularity among Cabinet ministers. With the possible exception of Gonzi himself, none of his predecessors ever saw his popularity soar while still occupying the post. These include John Dalli (who presided over hugely unpopular decisions, such as the introduction of both capital gains tax and VAT) and George Bonello Dupuis (in whose time the Maltese lira was devalued), as well as successive Labour finance ministers in the 1970s and 1980s, when Malta registered its highest-ever unemployment rates since the Independence.
It therefore appears that the Finance Ministry is, by its very nature, doomed to infamy... but only the seriously deluded would attribute Fenech's flagging fortunes to his economic efforts alone. Clearly, recent revelations of his camaraderie with Malta's most successful entrepreneurs have not gone down too well among the electorate in general. Nor did his rather weak attempt at self-defence, in the course of which he let slip that it was actually the Prime Minister, no less, who had consented to his jaunt abroad with George Fenech and Joe Gasan... thus calling Gonzi's own judgement into doubt alongside his own.
It would be unwise to try (as several of his colleagues did, including – regrettably – the PN whip David Agius) to minimise the seriousness of the implications. Whether he ever admits this in public or not, Fenech's flight was in clear breach of a written code of ethics for ministers, which in turn exists for a very important purpose: to reassure the public that serious economic decisions are indeed taken for the right reasons... and not simply reached over a friendly "football" conversation, in the comfort of a private jet.
From this perspective, the survey results speak volumes about the changing expectations of the general public towards politicians. Evidently, Malta is no longer as tolerant as it once was of such close connections between politics and enterprise. The David Agiuses of the present administration would do well to bear this point in mind: if nothing else, because it is as clear an indication as any of the public's aspirations ahead of the next election.
This brings us to Austin Gatt, and here too we see a similar congruence of different factors, not all of which are in the Minister's direct control. First off, it can be argued in Gatt's defence that the Investments Minister has (unwisely) allowed himself be blamed for the shortcomings of others in the Cabinet: not least, the minister responsible for the Malta Resources Authority, which, contrary to popular perceptions, does not actually fall within Austin Gatt's own remit.
That minister is George Pullicino, who somehow managed to escape censure for the MRA's remarkable behaviour during the utility bills saga, leaving his more outspoken colleague to bear the full brunt of public outrage.
But then again, this only accentuates the underlying cause of Gatt's growing unpopularity, which appears to stem directly from his own, carefully cultivated 'larger than life' persona.
Incredibly, it appears that Gatt has not yet cottoned on to one of the most conspicuous recent developments in Malta's political history: i.e., the demise of the old-fashioned concept of the 'cowboy politician', who, like the 'lone gunslinger' from those old John Ford Westerns, makes a virtue out of gruffness, misanthropy and implacability, while justifying his flamboyant excesses on the grounds that 'a man's gotta do what a man's gotta do'.
Well, this notion has very emphatically gone out with the covered wagon. It is no longer fashionable, as it was in the days of Dom Mintoff (with whom Gatt is often unflattering compared) to simply bulldoze over all opposition to stand in one's path. This strategy may have yielded dividends in the Cold War years, but the truth is that those years are now far behind us... and thank Heavens for that.
In both cases, the writing on the wall is visible for all to see. People's patience has now worn thin, and they have made it clear they are no longer willing to put up with the 'old ways': be they the cowboy antics of Gatt, or Fenech's cavorting with the rich and well-connected.
---
Any comments?
If you wish your comments to be published in our Letters pages please click button below.
Please write a contact number and a postal address where you may be contacted.
---


All the interviews from Reporter on MaltaToday's YouTube channel.
---
EDITORIAL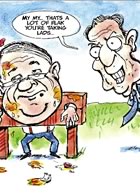 Coming down to earth