| | |
| --- | --- |
| Interview | Sunday, 01 November 2009 | |
Chamber of Commerce president HELGA ELLUL is telling government to look after business's interests amid the recessionary storm and the threat of job cuts
For Helga Ellul, president of the Chamber of Commerce, Enterprise and Industry, the prospects for an economic turnaround hinge squarely on government's next moves for Budget 2010. She half-smiles at the impossibility of predicting when the tide will turn for business.
"It will depend very much on how we tackle our small economy – how dynamic and courageous we will be in giving the right incentives for business to come out faster from the recession. We need to be competitive, and this is related to the actions that will be taken in the next Budget and the way the government will put taxpayers' money to use."
The background to this statement is the Chamber's recent demands on the cost of living adjustment (COLA), the mechanism which since 1990 has guaranteed an annual adjustment in wage levels in both the public and private sectors, to mirror the inflationary increase in the retail price index. For business employers, COLA remains controversial not so much for the fact that it exists – and is now an established part of Malta's economic reality – but rather how it is worked out in practice.
As Ellul later tells me, she acknowledges that COLA has played its part in securing a certain industrial peace of mind, and allows employers to know – at least to a certain extent – the future cost of labour.
But as recessionary times strike hard upon industrial export books, and now also on smaller enterprises, Malta's employers are calling on government to 'shoulder' part of the COLA, expected to touch the €6 per week mark.
"We felt that as the Budget was approaching, time was getting tighter, and that we could not endorse a position that had been established at the MCESD. We have made it clear that in principle, we are not against COLA. What we are against is that there are no concrete measures to offset the cost of living adjustment on business this year. We understand that the high inflation this year will push COLA upwards. But it means that everyone – unions, government, and employers – must get together and see how to both adjust the cost of living increase, and offset this increase for business."
In simple terms, Ellul explains the Chamber's position on this year's COLA increase: part of it should not be passed on to business. The reasons lie in the low profit margins registered this year. According to the Chamber's COLA survey held this September, the adjustment is expected to negatively impact particular industries, risking "hundreds of jobs" due to the increased wage cost.
The Malta Employers' Association has also quantified the cost: €38 million across the board, with jobs at risk in strategic sectors such as tourism and manufacturing. Granted that the cost for employers is exorbitant at face value, but are workers expected not to demand an adjustment in their wages – given that COLA itself serves as a buttress for employees against inflation?
"No. We always link any wage increase and wage negotiations with productivity. The government has clearly come out saying that the Budget should focus on creating jobs and growth. We think we are still in a recessionary period and not yet out of it, despite some positive developments on the market.
"But we are competing with the dollar as well, which is weak, and on the global market – so we must be competitive. Nobody but employers can create jobs, so you have to look after business's interests. You cannot ignore the fact that if we increase prices we won't be competitive."
Among the Chamber's proposals is to grant COLA as an allowance rather than as part of the salary, so that employees would still get their increase, but it wouldn't be a total burden on the wage bill; and that the COLA element will also be tax neutral.
But additionally, Ellul insists on the need to apply COLA according to business sector.
"COLA is given right across the board. Maybe we should see which sectors do not need COLA – such as those sectors in the high value-added chain, where the adjustment would make little difference to wages: banks, i-gaming, insurance – which have many highly skilled people.
"At the same time, we cannot ignore the negative effect of COLA on particular sectors such as manufacturing and tourism. Applying the adjustment as is will drive competitiveness in these sectors down."
Ellul says the negative effects of COLA on these sectors will mean that companies will be unable to afford it, and will either have to lay off workers or, worse still, close shop.
Ellul also insists that the Chamber is not demanding a "subsidy" from government. "We knew the recession would hit Malta, so we asked government to focus on those businesses which would need help, and help them invest to ensure growth. I think it's done a very good job of that. But there are small and medium enterprises, which are not very visible right now, which need help. It's a few employees here and there, but they need help, and they are feeling the recession now."
Ellul adds that many companies have so far resisted laying off workers, in favour of shorter working weeks and natural wastage. But then she raises the question: "How long can they hold out?"
I ask her how real the prospect of massive job losses can, be if businesses are unable to factor in next year's COLA. Ellul replies: "hundreds."
I point her to the Malta Employers Association survey, which clearly revealed a predisposition by businesses not to lay off workers, and instead to demand a moratorium on government-induced costs (which is also being proposed by the Chamber). So were the employers employing a bullish threat in order to abscond the obligation to adjust wage levels?
"No, we are being factual. We conducted our surveys, we heard our members, we got their feedback. Now it is our duty to pass that on to the government. We're doing what is expected of us."
Ellul says the matter is not as simple as tapping into business profits, to find some padding for the COLA. "Profitability is down," she insists. "Companies may have held out, but they have much lower profit margins. How much longer can they hold on? You are ultimately in business… surely not for the loss-making!
"Specific business sectors are reporting a decline in the ratio of investment to profitability. Which means the return on investment, is basically falling drastically. You can only grow if you are profitable and reinvest that money to make your business grow."
Ellul admits that COLA has helped in stabilising certain costs, but calls the mechanism into question. "We cannot always meet at MCESD just two months before the budget to see how much COLA is going to be. We should discuss the mechanism straight after this year's budget."
I put it to her that according to the Centre of Labour Studies director Saviour Rizzo, every year since 2000 – except for 2001, when there was a collective agreement in place within the public sector – the rise in salaries never exceeded the rate of productivity. Rizzo quotes statistics saying that Malta's purchasing power is at 67% of the European average, and that it was not company profits that went down, but the dividend share received by company owners at the end of the year.
Ellul simply shakes her head. "No, we have statistics showing the opposite," citing studies conducted by Central Bank governor Michael C. Bonello; and although she says that the Chamber would mail me the studies, the figures never make it to my inbox.
When I push her on the fact that Malta has one of the lowest minimum wages, Ellul comes back saying that: "some countries don't even have minimum wage at all", narrowly giving the impression that it's a blessing bestowed upon the workforce.
But it's not just the recession that is hitting business hard. Ellul claims unfair competition and illegal parallel trading is further crippling legitimate business. And without an indication of how they can plan their costs, especially with an impending increase in energy prices, business is finding it difficult when it comes to fix its prices for the year and long-term contracts.
With energy prices promising to return to 2008 levels, Ellul says the worst for business is incurring a shock that cannot be absorbed.
"We want to see how government will handle it so that we can factor in the cost. Business in Malta is a double price-taker – we cannot shop around for electricity so we take the price from Enemalta, and Malta does not influence the price of oil. So we want to know how this oil can be bought and hedged. And we have to look at a holistic energy policy where we tap into alternative energy sources. Otherwise it will just be a crisis all the time. Business must be able to plan ahead."
When we turn to inflation concerns, Ellul expresses caution over market surveillance pledges by the government. While she says she finds no problem in having consumers fully armed with information on prices, she expresses concern over how government intends conducting its market surveillance.
"We are dealing with illegal parallel trading where importers, for example, purchase milk cartons in Sicily with one week of shelf-life left. Now that is illegal, but the product makes it to the market and undercuts those products imported by legitimate traders. Now, the idea mooted is for a certain agency to have a website to recommend prices at which products be sold, and to add insult to injury, our bona fide traders will be penalised because their products are undercut by illegally imported products."
But there are other products, legally imported, that have been sold at prices double those in the EU – such as medicines. And the exorbitant prices of some have even attracted accusations of a cartel of medicine importers by people such as Nationalist MP Jean-Pierre Farrugia.
At the same time, the Chamber's medicine importers are pressing government to honour its payments for medicines faster, and are calling into question the feasibility of the Pharmacy of Your Choice system – the devolution of free medicine dispensation to community pharmacies.
The Chamber is asking that instead of people collecting their free medicines, they should pay for it first and then be refunded by the government.
"We want to curb abuse," Ellul says. "What's free has no value. Our healthcare section was the first to say that the POYC scheme was unsustainable, and it came out with a solution. There are people who do not have problems in paying for medicine, so they should pay for the medicine straight up. Lower-income people can be issued with a payment voucher. The system should be means-tested. If everything is treated generically, it will never be fair. It doesn't need to be across the board, like COLA. We are small enough to know which sectors must be targeted with taxpayers' money."
But isn't the Chamber's proposal linked to the fact that government is not keeping up with payments to its medicine suppliers?
"The POYC is simply unsustainable, and because of this there is a problem to pay back medicine importers. But the real matter is the over-use of medicine – and additionally, it leaves suppliers waiting 150 days for government to pay them."
Faced with exorbitant price levels on medicines, shouldn't government go straight to a foreign supplier for its medicines – rather than rely on middlemen?
"Should we go back to old practices? What is business for then? That is something we certainly could never endorse. We are in business in order to do this function in the first place," Ellul says, although it leaves the question unanswered as to why government should use taxpayers' money to pay middlemen.
---
Any comments?
If you wish your comments to be published in our Letters pages please click button below.
Please write a contact number and a postal address where you may be contacted.
---


All the interviews from Reporter on MaltaToday's YouTube channel.
---
EDITORIAL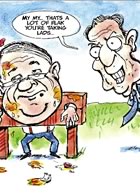 Coming down to earth