| | |
| --- | --- |
| News | Sunday, 01 November 2009 | |
Matthew Vella
Gruesome images of decaying teeth, blackened lungs, tumours and even dead people, will become the latest additions to the warnings on tobacco packets in Malta, this newspaper has learnt.
The colour illustrations are officially scheduled to be printed on cigarette boxes by April 2011, and on other tobacco products by October 2011.
The rules will implement European Union laws introduced back in 2003 on using photographs to depict the health consequences of smoking.
Tobacco packages will now carry a combined warning with pictures, which will be rotated at least once a year to guarantee the regular appearance of all of the additional warnings.
Pictures will warn smokers of the prospects of lung and throat cancer, accelerated ageing, the harmful effects of second-smoke on family relatives and infants, and dental decay.
Tobacco deaths account for over 500,000 deaths every year in the European Union.
According to a March 2009 Eurobarometer survey, 26% of EU citizens aged 15 and over smoke daily. But another half claim they have never smoked and 22% say they have quit smoking.
In fact, 54% of Maltese respondents claim they have never smoked.
The proportion of smokers is the highest in Greece (42%), followed by Bulgaria (39%), Latvia (37%), Romania, Hungary, Lithuania, the Czech Republic and Slovakia (all 36%).
Interestingly, the Maltese rank second after Italy in mostly favouring the smoking ban in restaurants at 80%. They are however less enthusiastic about the smoking ban in bars, with 65% in favour of the ban.
A great majority of Maltese (65%) also think anti-smoking messages are not very effective in Malta.
Support for labelling
Supporters of pictorial health warnings on cigarette packages believe more smokers report getting information about the risks of smoking from packages than any other source except television. Pack-a-day smokers are potentially exposed to the warnings over 7,000 times per year.
Pictures increase the vividness of health communications, and are consistently rated by smokers to be more effective and engaging than text-only warnings, because they arouse emotion through "graphic" depictions of health risks.
In 2002, a survey of 9,058 smokers was conducted across four countries to determine the effectiveness of such images on cigarette packages. In Canada, where pictorial warnings on packages included information about the risks of impotence, smokers were nearly three times more likely to agree that smoking causes impotence when compared with smokers from the US, UK and Australia where there were no such images.
The results confirmed that warnings that are graphic, larger and more comprehensive in content are also shown to be more effective in communicating the health risks of smoking.
---
Any comments?
If you wish your comments to be published in our Letters pages please click button below.
Please write a contact number and a postal address where you may be contacted.
---


All the interviews from Reporter on MaltaToday's YouTube channel.
---
EDITORIAL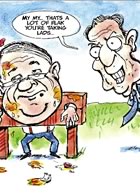 Coming down to earth