| | |
| --- | --- |
| News | Sunday, 01 November 2009 | |
A "very high ranking" Cabinet minister told Nationalist MP Jeffrey Pullicino Orlando that Philip Azzopardi, the former chairman of MEPA's development control commission and Anthony Mifsud, a former DCC member, had criminal charges brought against them "simply because of the public outcry on the Mistra issue."
This shocking revelation was made by Pullicino Orlando during a fiery telephone interview with MaltaToday over his reactions to this week's court ruling, that acquitted the DCC officials on charges of trading in influence on the permit they issued for an open-air discotheque on the land in Mistra owned by the MP.
Pullicino Orlando reproached MaltaToday for having "believed" what he called "nonsense deliberately fed by people from within [his] own political spectrum."
While he mentioned no names, the MP singled out TV presenter Lou Bondì as having been "strategic" in the entire affair.
But his accusations involve a senior Cabinet minister, PN officials and others close to the party who "whipped up a public outcry for their own interests."
Pullicino Orlando found himself at the centre of a storm unleashed by then Opposition leader Alfred Sant during the 2008 election, over the controversial permit for an open-air disco to be constructed on his land in Mistra.
From being flanked by then secretary-general Joe Saliba and PN information secretary Gordon Pisani in an attempt to confront Sant during a televised press conference, after the Nationalist election victory Pullicino Orlando found himself pressured by people inside his own party to resign.
In an ironic twist of events, Saliba would later admit that Pullicino Orlando's fiery show of defence had led the PN to victory, but still declared that the MP should have resigned.
When asked for his reactions to the court acquittal of the two men, Pullicino Orlando – who never had any charges filed against him – at first refused to answer, but later stated that it was "shameful for what the two men have been put through."
The transcript of the interview is as follows.
If the DCC members were acquitted, why do you think they were arraigned?
"Look, I just told you that they should have never been arraigned…"
Explain…
"Read the judgment and it is all explained…"
The court said there was no case.
"Exactly… so why are you asking me?
I am asking you why the two men were arraigned…
"If you really want to know, a very high-ranking Cabinet minister told me they had to be arraigned simply due to the public outcry…"
Arraigned due to public outcry?
"Correct."
And who is this "very high-ranking" Cabinet minister?
"No comment."
But did this ministry tell you this?
"Definitely…"
And how do you react to this?
"It is totally unacceptable…"
What is unacceptable?
"It is unacceptable because I know for a fact that the public outcry was whipped up by certain elements in the media that were fed misinformation by certain elements who are supposedly on my side of the political spectrum."
On your side of the political spectrum?
"Yes, and I do not consider these people to be… PN."
And do you know who they are?
No comment
You say these people have spread misinformation about you…
No comment
Do you know why they would possibly have done this?
"I know why…"
And?
"I have discussed this with the Prime Minister…"
What did you tell him?
"No comment."
So you don't want to explain the reasons why people in your political spectrum whipped up the public outcry?
"All I can say is that the reasons were totally irrelevant to the PN's interest or to the national interest."
So what is it?
"Time will reveal."
Let me ask you again. Who are these people?
"I will say this for the last time. We are still surrounded by these people who caused the media frenzy that obviously led to the media outcry…"
But this is a serious allegation…
"Sure, but it's not an allegation, it's a fact…"
What is a fact?
"That these people led to two innocent men being arraigned in court and made their families go through hell."
What would you tell these people in your "political spectrum" now that Azzopardi and Mifsud have been acquitted?
"They steered the campaign and they should be ashamed of themselves…"
But are you blaming it on the media?
"No, I wouldn't say it's the media's fault… the media was deliberately fed with misinformation."
But by whom? Politicians, government or party officials or what?
"Do your homework, it was your paper also that wrote about the issue as well."
We seem to be going round in circles – can you give me a name?
Laughter followed by silence
So?
"Lou Bondì…"
Lou Bondì?
"I gave Lou Bondì all the facts. He had everything in his hands…"
And?
"Well, he used two programmes to suit the ends of the people I'm talking about…"
At this point Jeffrey Pullicino Orlando insists that he has said enough and vows to "say more" when the time is right.
Mistra timeline
2008
30 February – With speculation rife over a Labour 'bombshell' that will expose new allegations of corruption, Labour leader Alfred Sant summons the press to the MEPA offices. Surprisingly, Jeffrey Pullicino Orlando presents himself at the press conference but Sant says nothing of the case.
1 March – Sant holds his damning press conference in Mistra, right next to Pullicino Orlando's land, to reveal that a permit had been issued by MEPA for the construction of a disco in the protected valley. Pullicino Orlando arrives soon after Sant leaves, and categorically denies knowing anything about the project or the lessee of his own land. He retaliates to Sant's allegations, alleging that Labour deputy leader Charles Mangion and MP Karmenu Vella failed to declare earnings from apartments rented out to Malta Freeport.
2 March – On Sunday, Pullicino Orlando presents himself at a party activity in Mosta, where he openly cries and accuses Alfred Sant of mudslinging.
3 March – Pullicino Orlando, supplied with a 'temporary' press card by the Department of Information, is fielded as a PN journalist to face Sant at the BA press conference. Sant leaves the PBS studios as the MP refuses to budge. After the PBS ruckus, Pullicino Orlando never made another public appearance again.
6 March – On Thursday evening at the PBS debate between Gonzi and Sant, the Labour leader discloses the Mistra lease agreement, the final nail in the coffin that proves Pullicino Orlando's direct involvement in the case. But the evening broadcast is not seen by party supporters out at the mass meetings; while the day after is the day of reflection, when no political messages can be issued. Labour's coup is too late in the day to create its desired effect.
8 March – The Nationalist Party wins the general elections with a relative majority. Pullicino Orlando's spectacular defence gets the MP elected from two districts, gaining 5,131 first count votes despite the publication of the rental contract for his land to be used exclusively as an open-air disco.
19 March – Alternattiva Demokratika calls for the resignation of Pullicino Orlando, saying the Nationalist MP had misled the public when he was aware of his involvement in the development of a disco on his land.
26 March – Resources and Rural Affairs Minister George Pullicino denies the involvement of a former environment ministry official in the allegations of influence and pressure made by George Micallef, a tourism consultant, over the Mistra permit.
Lawrence Vassallo, the MEPA complaints officer, is said to have pressured Micallef, a former MTA consultant, to give due attention to the Mistra disco application on the MP's land.
6 April – MaltaToday's first survey after the election shows the number of Nationalists who believed Jeffrey Pullicino Orlando's version of events on the Mistra Spin Valley Disco application had fallen from 58% to just 24%, a month after the election. The number of Nationalist respondents who believed that Pullicino Orlando was not saying the truth increased from just 19% before the election to 31%.
30 April – The Labour Party has accuses Nationalist MP Jeffrey Pullicino Orlando of "persisting in lies", referring to an internet post the disgraced MP submitted to The Times' website on the Mistra disco project. Labour reiterates that Pullicino Orlando was the driver behind the rental of his land for the disco, thanks to a contract signed on 17 January 2008, from which it was stipulated he would earn €1.9 million over a 15-year lease.
15 June 2008 – Gonzi announces he will not appoint Pullicino Orlando to a Cabinet post, after the police arraign three people over the controversial Mistra disco project that was earmarked for development on land owned by Pullicino Orlando. "I have made my political judgement on this case when I appointed the Cabinet. I see nothing new that makes me change my judgment. Correctness in public statements has to be maintained given that criminal proceedings will start in the courts," Gonzi says. The three men are former DCC chairman and member Philip Azzopardi and Anthony Mifsud, and a former Malta Tourism Authority George Micallef.
2009
February – Pullicino Orlando mounts a veritable rebellion, which includes Nationalist backbenchers and former ministers, against the proposed €16 million underground extension for St John's Co-Cathedral, which is masterminded by Malta's ambassador to the EU Richard Cachia Caruana. Lawrence Gonzi was later faced with no alternative but to backtrack over the allocation of millions in EU funds for the Cathedral's underground museum, as he faced a rebellion from Pullicino Orlando, Censu Galea, Ninu Zammit, Jesmond Mugliett and Robert Arrigo.
4 March – Pullicino Orlando ruffles feathers again with outrageous comments that reveal a hardline stance on illegal immigration, provoking reactions from Ranier Fsadni, chairman of the PN think-tank AZAD and PN candidate Georg Sapiano. Pullicino Orlando suggests sending immigrants back "when the weather is fair, and at the earliest opportunity they should be towed back into international waters."
31 May – Pullicino Orlando is in defying mood when he assists a press conference organised by Alternattiva Demokratika at Mistra Bay to condemn the decision by MEPA to grant a permit for an open-air party in his field which was scheduled to be held that evening, for the MEP election campaign. JPO is seen watching the AD candidates, with a cup of tea.
1 June – Pullicino Orlando fires a broadside at MEP Simon Busuttil that a party he organises during the MEP election week on his land in Mistra, had been "in bad taste". Pullicino Orlando does not mince his words when he goes public and hits back at Busuttil: "I refuse to be judged by others whose primary concerns, when it comes to their political involvement, are manifested by their behaviour. Busuttil snubbed Gonzi when he offered him the post of secretary-general and chose instead to retain the lucrative position of MEP… It is in even greater bad taste when the criticism is levelled by someone who, by his own admission, puts his personal interests before those of his party."
5 October – Pullicino Orlando appears on Bondiplus alongside MPs Robert Arrigo and Franco Debono, where the three MPs are later accused by Beppe Fenech Adami of playing into the hands of Labour by hitting out at the prime minister. Pullicino Orlando, reacting during the PN parliamentary group meeting, says the Bondiplus programme, which focused on the backbenchers' ministerial ambitions, was clearly "instigated" by "acquaintances".
"On the two Bondiplus editions Jeffrey Pullicino Orlando came on, he was the only guest. He had every opportunity to answer every question I put to him. None of the facts that we uncovered in those programmes has been, or will be, erased.
"Furthermore, Jeffrey and I had an agreement that he would come on a third Bondiplus, after this (court) sentence came out. For reasons of his own, he broke this agreement. I rest my case."
---
Any comments?
If you wish your comments to be published in our Letters pages please click button below.
Please write a contact number and a postal address where you may be contacted.
---


All the interviews from Reporter on MaltaToday's YouTube channel.
---
EDITORIAL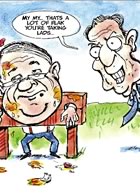 Coming down to earth