| | |
| --- | --- |
| Letters | Sunday, 01 November 2009 | |
I would appreciate if Mr Winston Zahra refers to both the Malta and Gozo hotels, or is he just referring to his hotels?
Considering this year's recession, I can personally name one five-star hotel in Gozo in which I usually spend Easter with my family. When I called in to check availability and cost, I got a cold shower. The price went up by at least 15%, and when compared to a holiday in Greece with Air Malta flight, taxes and accommodation and hotel transfers included, it came 15% cheaper.
The mind boggles when I read Mr Zahra's statements. The tourist industry in Malta needs to pull its socks up and face reality.
---
Any comments?
If you wish your comments to be published in our Letters pages please click button below.
Please write a contact number and a postal address where you may be contacted.
---


All the interviews from Reporter on MaltaToday's YouTube channel.
---
EDITORIAL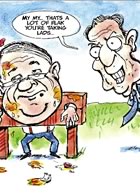 Coming down to earth