| | |
| --- | --- |
| Letters | Sunday, 01 November 2009 | |
Dr Robert Hewitt (25 October 2009) presumably prides himself in being an open-minded and inquisitive person who treasures fairness but who occasionally, it appears, finds it convenient to plagiarize from internet. The title of his letter – 'Not every relic that is above all doubt must be false' – is a convoluted way of saying that, basically, something above all doubt must be genuine. I may also add that anyone who thinks otherwise is probably either a moron or an idiot, unless the individual is under the influence of drugs. Big deal!
The good doctor then proceeded to counsel me not to worry too much about "The truth and the Truth according to the faith". But who is worried? He subsequently informed me that no church or religion can ever produce "certainties" and that he felt amazed by my interpretation of the Church Fathers' written declaration that there are two kinds of truths, "The Truth and the Truth according to the faith".
Why the amazement? It is perfectly clear that Clement had in mind two possibilities where truth was concerned, and no sane person could possibly understand this in any other way!
As for the relics, it is obvious from your writing that you value traditions more than truth, and apparently you also pride yourself in telling which is the real McCoy when considering preposterous claims that to the majority of mostly gullible and indifferent persons are fed as simply authentic truths, that must be believed or else! It is physically impossible for me to delve into the subject of relics in this short letter. The material is vast and a large part of which has been proved throughout history to be faked. For ages, credulous people throughout the world have been deceived time and again by phoney artefacts that even today are venerated or held in awe, despite the evidence to the contrary or worse still no evidence at all.
Finally, Dr Robert Hewitt, you accused me of arrogance and of being a pseudo-intellectual who writes half-truths. Not very charitable, I must say. I have a strong feeling that one day, probably not in our lifetime, truth shall be triumphant and then the manipulation of the human mind through superstition and tradition will become history. Only then could we expect a real exciting future in which human beings are freed from the cobwebs that have fogged their brains since primitieve times.
---
Any comments?
If you wish your comments to be published in our Letters pages please click button below.
Please write a contact number and a postal address where you may be contacted.
---


All the interviews from Reporter on MaltaToday's YouTube channel.
---
EDITORIAL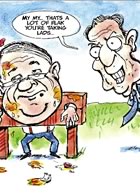 Coming down to earth