| | |
| --- | --- |
| Letters | Sunday, 01 November 2009 | |
I attended the Malta Home Fair at the MFCC Ta' Qali and found it informative and interesting. Unfortunately, my enjoyment of the event was spoiled by an arrogant individual – who happened to be one of the participants in the said fair.
On Sunday evening, my fiancée and I were going through the various stalls along with two other couples, looking for information and quotes for potential purchases. The atmosphere was really nice, and all stall attendants were very friendly: some even offered us cake and coffee!
At one point, however, we walked through a stall, and as is the norm, we paid attention to all details. One of my friends sat on the sofa, while another was observing the detailed work on the wall unit.
We were abruptly interrupted by the stall owner (as he claimed to be), armed with a rhetoric of: "Do you think it's polite to sit on someone's sofa?" At first we thought it was some kind of joke or pick-up line, so we just smiled back. His tone, however, got angrier and replied the same question. We responded with: "What are we supposed to do? This is a fair after all – you can't expect someone to buy if he can't even get a feel of the product!"
He got angry and started yelling at us, swearing and saying that if we didn't leave there and then, he'd throw us out. Amazed at the reaction, we simply walked away. At 9p.m. we decided to head back home. On our way out we passed by this same stall, and the owner once again started to provoke us. We decided to ignore ignorance, and kept on walking. Surprisingly enough, he got angrier with such a response, ran towards us and punched one of my friends. Two other persons (most probably his relatives) also came to his rescue. We were in six… could have easily answered back, but decided not to react, so once again we just walked away.
The purpose of my complaint is twofold. First of all, I would have expected some kind of security at the stalls. This cowboy harassed us twice with verbal attacks and later also physically. May I ask where the security was was during this whole time (if indeed there was any)? This all happened between 8:30-9 p.m., by which time most people had left, so we could have easily been heard.
Secondly, I know my legal actions are limited, even non-existent, as there is no proof. This guy's conduct was beyond what anyone would reasonably have been expected to tolerate. Insults, verbal and physical abuse are totally unacceptable, especially when the person involved runs a business where he's in constant contact with people.
I simply hope other shop owners get to read this letter (I'm assuming the concerned individual thinks too highly of his product to read letters from laymen). I hope that shop owners realise there's much more to running a business than simply promoting a product and baiting a customer. Luckily enough (to us customers), Malta is quite small, so businessmen like this one can be quickly identified through the grapevine. I, for one, know I will do my part.
---
Any comments?
If you wish your comments to be published in our Letters pages please click button below.
Please write a contact number and a postal address where you may be contacted.
---


All the interviews from Reporter on MaltaToday's YouTube channel.
---
EDITORIAL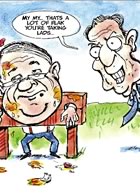 Coming down to earth